"At the beginning of December I went to Brussels to meet with Edgeryders during the second Living on the Edge (#LOTE2) conference – an event that significantly changed my take on how governments and nonprofits should be working with citizens, particularly with citizen experts […] Edgeryders as a project by the Council of Europe is coming to an end in a couple of weeks. Apart from the guide for policy makers, the project served as a platform for creating a strongly knit self-driven community that is only now really taking off, with impressive enthusiasm and audacious projects to be realized in the months to come. A reasonable thing for us now would be to watch them actively and explore their model in various parts of the continent and beyond" -Justyna Krol, December 19th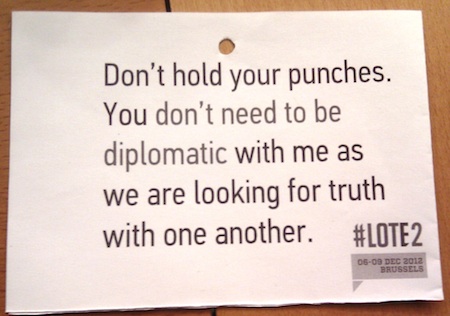 What we want to do…
A chance to get down to business, working together with a diverse community of policy makers, radical thinkers and lifehackers to debug Europe's next generation of policies around innovation, sustainability, education, labour and employment, social cohesion and resilience. The Policy Hero Challenge is an event brought to you by the Edgeryders community. It offers an environment in which a diverse group of civil servants, citizens and policymakers can engage in constructive discussions and collaborate to produce concrete, pragmatic and fully vetted policy measures. The broad policy recommendations are devised on the basis of data and insights generated through Edgeryders, a distributed think tank advising European and national institutions on policy reform. It explores how young, and not so young Europeans are navigating their transition to active adult lives in the most challenging socio-economic climate in decades. Participants are self-selected, join without permission and coordinate through an online platform built on free software.
To date the Edgeryders community has over 1500 members (and growing) from over 40 countries in a nurturing environment where individuals come together to inspire one another, learn from one another and help one another. In 2012 The online conversation on Edgeryders was integrated with an offline event, the Living on the Edge conference, which took place in in on June 14-17 and drew over 200 citizens and policymakers from all over Europe: the about 5,000 entries offered by citizens through the platform were taken on board and enriched by a team of researchers. This process has singled out a number of areas for improvement. With the Policy Hero Challenge, we aim to turn each one into an actionable: a course of action that policy maker can feasibly take to produce positive change in that area.
The Policy Hero Challenge does not end with the event. Following #lote3, members of the Edgeryders community, with the help of partner institutions, will engage more people in fleshing out the policy measures that come out of the Policy Hero Challenge. As well as attempt to build a network of insitutional actors who are willing to explore the possibility of adopting the policy measures. The Policy Hero Challenge team behind the most widely adopted policy measures will be awarded the Edgeryders Policy Heros Prize at a widely publicised ceremony to take place at the Living on the Edge Event scheduled for September 2013.
We tested the first iteration of the process at the second Living on the Edge event, #lote2, in Brussels in early december 2012. Before picking up where we left off with the Policy Hero Challenge in December it would be great to pick up some of the impressions of people who participated. As well as suggestions for what we should do differently, or further develop, this time. Where you there? What do you think?