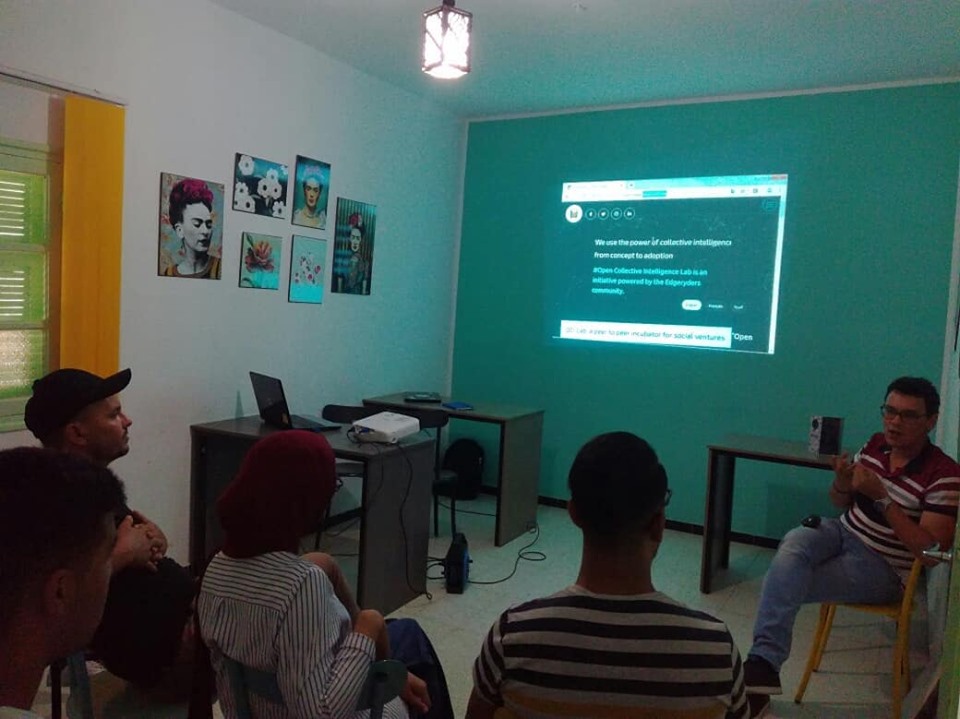 During this week, we have organized our first info session to present OCI Lab initiative to aspiring social entrepreneurs and skilled people in Medenine. The session took place at OurGhema coworking space. Actually, we have chosen OurGhema as a starting point for our series of info sessions for two reasons:
OurGhema is a symbolic place for Edgeryders. It was almost the place where Edgeryders has started its activities in the MENA region. Edgeryders cofounders, and many community members have already visited the place, and are enthusiastic about building something in this region.

OurGhema community are quite familiar with Edgeryders and the work is doing. To have our info session there aimed also at collecting feedback on our vision, our program and offers, how to conduct the info session and how to enhance our message. We needed these insights before going to new spaces and partners in Tunisia and in the MENA region.
9 participants have attended the info session, including 5 who wish to apply as project leaders, 2 as contributors and the other were just curious.
Bellow are the main feedback we have collected:
All participants asked to showcase different projects which were supported by the Edgeryders community. Lucky us that @Yosser was present, and she shared her experience and the different events she has organized starting from the platform and the community calls.

A participant asked if he can apply, as he is only 16 years old. He has a coding club that is teaching kids in rural schools how to code. We have encouraged him to apply.

Other participant, who is studying at a medical school with a specialty in psychology, suggested that she could join the coding club and offer psychological assistance to their programs.

A member of the board committee of Alinov Tunisia, @Nidhal was present during the info session. He suggested that we could collaborate in the future. Actually, they are launching next year different programs to support social entrepreneurs in North Africa, and eventually in Sub-Saharan Africa, including boot camps, incubation and acceleration programs. He was interested in benefiting from the Edgeryders platform and OCI Lab program to offer mentoring to their future beneficiaries.

Most participants were quite interested about assisting the Open Village Festivals for inspiration, networking and meeting their peers and mentors from around the world. I believe, since I have attended the Open Village Festival, I have been able to share my experience and enthusiasm, which made participants quite interested in participating.

Some modification will be made on the website according the feedback and the discussions with the participants.
Other partners that I have spoken to, are getting curious and interested in learning more about OCI Lab and Edgeryders. We will be meeting them during next week to discuss further areas of collaboration. We will be also organizing other info sessions to bring aspired social entrepreneurs to the OCI Labs and to the platform.