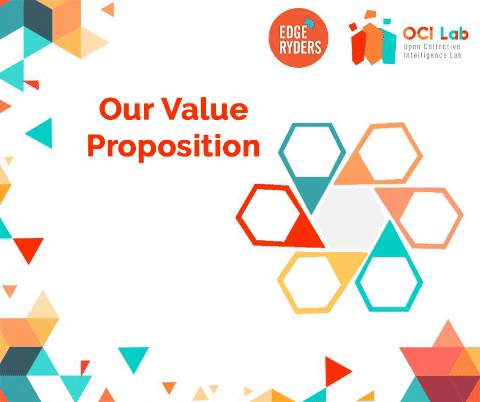 This is a post to share the progress made so far in OCI Lab project. As you know all, Zmorda and I, with the supervision of Nadia and the support of the Edgeryders Team, have started working on implementing OCI Lab, the first P2P online incubator in the MENA region. The program which was co-designed collaboratively comes as continuity for the OPEN VILLAGE program. It has taken into account all the lessons learned during the its first phase that included the community calls, the festival, the reef house in Morocco and the Social innovation camps organized in OurGhema.
We have started OCI Lab in last May. We have adopted a strategy pretty similar to "Lean Startup Strategy", in order to make sure that what OCI Lab has to offer, answer the real needs of social entrepreneurs in the targeted countries. This will not only encourage them to adhere at a later stage but also it will effectively support them start and grow their social ventures and so achieve the desired outcomes.
We have started interviewing and discussing with young entrepreneurs since the month of June. Zmorda and I have participated in several events, like "Cloture du programme Safir Lab", "Forum Convergences", "Enactus Tunisia national closing ceremony", "StartupgateX" etc. where we had the chance to chat with these young entrepreneurs, and briefly pitch the idea of OCI Lab to collect feedback and enhance our offer. Flexibility and accessibility, international exposure, belonging to a multinational community that can provide continuous support and the simplicity of the processes were quite attractive to these young entrepreneurs. They believe that these dimensions could bring them valuable support to develop their ventures locally, but with a perspective to go globally. The online community part was also an exciting idea, but they would need a little bit of assistance to navigate through it.
These discussions helped us refine our offer and the processes of OCI Lab, and how it can support social entrepreneurs in the MENA region. They were very helpful also to develop our branding, our communication plans, and our outreach strategy. Accordingly, we have elaborated our first logo and branding, and the first version of the website went online in June.
After our first info session organized on the 13th of August, (you can check it here), we have worked on refining further our branding and the design of our website, to end up with the final version of the logo more colorful which reflects the how enriching collective intelligence can be. We have also developed with Owen, much more attractive website that is available in three languages: (English, French, and Arabic).
Thanks to these efforts, we have launched last Friday the call for applications, and a communication campaign to thrive more people to our Facebook page, and eventually to the platform. So far, the communication campaign is having really good results thanks to our cool branding, the strategy we have adopted in our social media communication, where we have started with animating the facebook page before going to sponsoring, and last to focus on the key added values of OCI Lab that would attract active social entrepreneurs in the targeted countries. So far, the number of fans jumped from 400likes to 2150likes in only 3 days with, 35k people reached in the 5 countries in the same period and over 515 clicks to our OCI Lab website. All of this proves that people are getting really curious about OCI Lab, and our project is getting interest from a lot of people, including potential partners who have started to follow our Facebook page.
That is being said, but there is still a lot of work to do. It is true that OCI Lab has started to gain notoriety in a very limited period, thanks to our effective communication campaign, and to reach our network in Tunisia, Morocco, and Egypt where Zmorda and I have contacts. However, now our main challenge is to gain the trust of participants to start applying massively to OCI Lab. In order to achieve this, we are planning to organize:
Outreach events
Info sessions in community spaces (coworking spaces, incubators, fablabs, universities etc.),
Sending emails to almost 100 young people whom we have talked to during the Artificial Intelligence Hack and AfricUp events which happened lately in Tunisa, and who might be interested to apply, and finally
we will go and meet potential partners starting next week, for sourcing project leaders and contributors, but also to explore how OCI Lab and Edgeryders can collaborate with them. We will start with Tunisia for now.
To conclude, I think we are on the right track, we have started to make noise around the project, now it is time to build a network of partners, and work on driving more young social entrepreneurs and contributors to apply by showing them the team and the organization behind it, and how this might be one of the most exciting experiences can ever have in their journeys