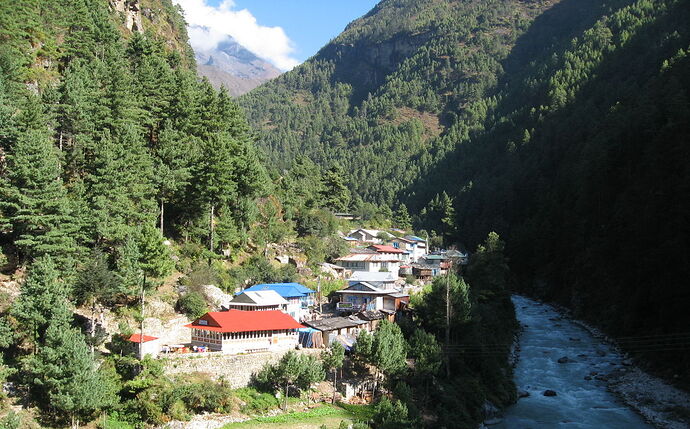 Jorsale village, Nepal. Based on a work by Dario Severi, licenced CC-BY-SA 3.0 Unported.
Content
1. Introduction
2. Literature Sources
3. Selected Works
---
1. Introduction
What is the Autarky Library? This is a collection of material to learn autarky (economic self-reliance / self-supply) for individuals, households and villages. All materials relevant for that can be included here, as long as they are more comprehensive than the ubiquitous article format. Only material that is free to download is of interest here (with a few exceptions). Here is what we found so far, and you're welcome to extend it (just edit away, this is a wiki).
Licence. This work is licensed under a Creative Commons Public Domain Dedication CC0 1.0 Universal licence. This means "no rights reserved." By contributing to this first wiki post, you agree to licence your contributions likewise. Note that this licence only applies to this page "Autarky Library", while edgeryders.eu content by default is instead licenced under CC-BY 3.0 Unported (see section 3.1. here for details).

Audience. Due to the nature of the materials available for free download, this library is for an "educated" audience: those who can read English, have the equivalent of secondary education, and access the Internet with a computer and not "just" a smartphone. Reason: virtually all included e-books are in English and in PDF file format, not properly navigable on smartphones (it may work with tablets though).
Why only in English and PDF? These limitations are unfortunate, but that is the only material available for free download. Our ideal case would be a "Khan Academy for autarky", with all materials available under open licences and in local languages in the default e-book format to be readable on phones, combined with a synced audiobook version in the same EPUB file. However, that is an amount of work that we simply can't manage without significant funding, as it would require licencing negotiations (paying the publishers to get an open content licence for works). That will often fail, as it is notoriously difficult to find the copyright status of works and make contact with the rights holders. In these cases, we'd have to write new books to fill the gaps. Note that paywalled works are not acceptable: cash-poor people in villages simply cannot afford them, and they would be read only by a tiny fraction of those who need them. Another issue is the translation of books to local languages – we don't think we can find the resources to do that for 500 - 1000 books. We would be able to legally provide a script that converts PDFs to EPUB format, with optimizations for each work. However, due to the English language and reading level, it would still be for an "educated" audience, and this audience can handle PDF files as well.
How can Autarky Library help in villages? The real audience of the Autarky Library are people in low-infrastructure villages, most of whom are without significant help from government or NGOs. However, it has to reach them indirectly. One way is that "educated" people adopt one village each, to live there and consult the locals on appropriate technology solutions etc. found in the Autarky Library. With one person or couple for one or a few villages of ca. 5000 people, one million people can be served by 200 "autarky experts". And to make at least the most relevant content available to villagers directly, we plan to provide a Stack Exchange style Q&A site in parallel to Autarky Library. It will be mainly in English, with semi-automatic translation to and from local languages so that locals can ask questions and get advice. Providing the essential bits and pieces of information when and where villagers need it will also be more adapted to how they like their content delivered, instead of in long books.
Consulting services available! If you face a challenge in one of the areas covered by the Autarky Library and are looking for expertise, you might find it here in the Edgeryders Community (4,700+ changemakers and innovators). Especially around innovations in appropriate technology and projects for ecological restoration, the main author of this autarky library provides research, innovation and project management services.
Search engine keywords.
homesteading ebook library, homesteading literature, …
farmsteading ebook library, farmsteading literature, …
self-supply ebook library, self-supply literature, …
prepper ebooklibrary, prepper literature, …
2. Literature Sources
The following is a list of the collections in which the literature listed below has been found, as named in the references from that literature list. These collections are huge, so you'll be able to find gems that we did not discover yet – welcome to add them here, of course.
The collections below are roughly ordered by how "great" their content is for our Autarky Library, where "great" is the product of quantity and quality.
New Zealand Digital Library. An absolutely amazing collection of relevant works – nearly everything there is relevant here. Probably exceeding one million pages if printed. However, nothing is in EPUB format.

Practical Answers Resource Library. Absolutely amazing collection with hundreds of free e-books about everything in development collaboration, agricultural extension and appropriate technology. All e-books are recently written, well researched material provided by Practical Action, a NGO focused on appropriate technology solutions.

CD3WD. This is an amazing collection of more than 800 MiB of books on self-supply and appropriate technology. (The link goes to a mirror. The original version was hosted on cd3wd.com, but not anymore. Another working and potentially more complete mirror is available at archive.org.)

Free Google eBooks. Basically a filter in Google Book Search that allows to find those that can be downloaded as a PDF. Basically all out-of-copyright books resulting from the (otherwise failed) Google book scanning project.

Note that the Google Books search will only find books digitized by Google (i.e. on the books.google.com domain), and that this does not include all out-of-copyright books available digital somewhere : the other sources in this list may have additional ones. But the Google OCR and digitization quality tends to be the best, so if you can choose, get the version from Google, except where a manually proofread version is available.

OpenLibrary. A different kind of interface to the free e-books of the Internet Archive. They allow everyone to contribute to adding descriptions to any book, whether it is available as an e-book or only in print. All e-books can be either read online or borrow for free (means only one person at a time gets two weeks of access to it, and there is a waiting list). There are various advanced search operators, but unfortunately none that allows to filter for freely readable e-books only (those you can only borrow are always included when filtering for e-books only).
The most interesting feature is that you can search by date range, allowing to easily find books that are out of copyright but not so old as to be worthless. Examples:

Internet Archive: Texts. These are 16 million texts that can all be read online. Many are not yet included in the more structured and convenient Open Library interface (but might be added there by anyone); see above. Especially if interest are some of their collections:

Internet Archive: Books to Borrow. 690,000 e-books that can be borrowed. Probably all of these are also available in the more structured and convenient Open Library interface (see above), so this collection does not really add anything.

Hathi Trust Digital Library. A common project of multiple U.S. university libraries, providing online access to books. Provides a great full-text search.

Interestingly, it allows access to many books "digitized by Google" that are not accessible via Google Books (example – compare Google Books record).

PDF downloads are usually only available to institutional partners, but page images can be saved without issues. Works within 1878–1922 that were published by a non-U.S. publisher are only accessible with U.S. IP addresses since their copyright status outside the U.S. is unclear (details). Often however, the same work is available both from U.S. based and U.K. based publishers, for example.

The Online Books Page. A listing of more than 2 million freely available e-books from around the web. Best is to search by title. Does not host books on its own, but lists works from Hathi trust, Google Books, Project Gutenberg, archive.org etc.; still, a great way of comprehensive search in all of these at once.

WikiSource. A Wikipedia-affiliated project to put out-of-copyright and openly licensed works online, in a way that everyone can contribute to and edit. Currently includes ~400,000 English books and other texts, all of which can be exported automatically to EPUB, PDF and MOBI formats.

GIZ Publications. More than 30,000 high-quality publications of the German Society for International Cooperation (GIZ). Often short documents, but also containing long books. All in PDF format. Note that this content is not currently indexed by Google – you can only find these PDFs directly in their online database. A second database by GIZ providing access to the same content is the GIZ Publication Database. Most of the best e-books also appear in other collections (NZDL, see above; and CD3WD, see below), but mostly not as PDF files, in contrast to here.

Soil & Health Library. A very valuable collection of several hundred works, for download as full-text PDF. Many are new-ish, still-in-copyright but out-of-print works that are made available under a clause of Australian copyright law that allows this "for purpose of study". Some of the works are unscientific (biodynamic growing etc.), so be selective. The collections of value are: Agricultural Library (120 works), Herbal Medicine Library (50 works), Homesteading Library (35 works).

Practical Action Development Bookshelf: Open Access Books. An index of about 50 high-quality free to download books about topics of development assistance and appropriate technology.

The National Academy Press. All Reports of the U.S. "National Academies of Sciences, Engineering and Medicine", available free to download as PDF and often also EPUB and MOBI. Contains amazing works on obscure agricultural topics.

The Anarchist Library. A library of all kinds of anarchist texts, mostly classical theoretical works.

OpenEdition Books. A library of ~7800 scientific books in the humanities and social sciences, with more than half available under Open Access.

LibreTexts. About 400 open access textbooks for all subjects and levels of higher learning, collaboratively developed by several universities. The licence for all works seems to be Creative Commons BY-NC-SA.

World Organization for Animal Health: English books and publications and documentation. Highly valuable material with everything essential to know about diseases of at least the "economically important" animals.

Dissertations and master theses. In contrast to journal articles, these documents have book length, and are almost always provided for free.

Project Gutenberg. A large collection (ca. 50,000 books) of digitized out-of-copyright works, proofread by a distributed community of volunteers.

WikiBooks provides many Project Gutenberg works in a manually derived version with improved formatting and automatic, high-quality EPUB export (example).

There is a problem with access in Germany. Because of absolutely silly German laws, access to all works from German IP addresses is blocked by Project Gutenberg (details). As a solution we provide links to works from Project Gutenberg not directly to the gutenberg.org files but to a mirror. Which is, oh the irony, hosted on the servers of a well-known German university.

Journey to Forever. A large collection of short book reviews in multiple sub-pages. Sometimes with download links. The navigation is somewhat confusing, but interesting sub-lists include:

E-Pustakalaya. The best digital library project in Nepal. Contains mostly English works. Most books are not part of any collection or other index lists, so the best option is to go through everything.

Hesperian Health Guides. An organization that specializes in producing medical books for use in low-infrastructure regions ("development countries"). They are often translated in multiple languages, and often they provide the English version for free to read online and in PDF form. All of these freely available books have been included in the "complete library" list below as of 2018-12-17.

Self-Sufficiency-Guide e-books. Small (5-50 pages mostly) e-books about various aspects of self-sufficient energy, water and gardening.

WikiBooks. Wikipedia-affiliated project to create original, open content licensed e-books. Most of the ~3000 books are far from being finished, but probably 20-50 of them will be worthwhile considering. Start with the list of books by subject.

Village Earth Appropriate Technology Library (offline). Consists of 1050 books on a USB thumbdrive, for 69 USD. The online checkout is broken at the moment, both here and here (2018-06). All contained books are listed in the Appropriate Technology Sourcebook, and the version on Appropedia sometimes has links to online versions of these works. Other works might be available through the collections above that are freely available online, so it is not (yet) clear how much "exclusive" content one would get when purchasing. To be checked.

FAO Documents. English documents by the Food and Agriculture Organization of the United Nations. Mostly high-level / abstract material, but some will be of direct practical use. In late 2018, about 30,000 documents were available from here, but the publication search has since undergone a rework and only includes ~1400 documents, starting from 2008. This excludes many older, valuable books (example, from around 1983). These other documents are still publicly accessible but have to be searched in other ways, including via Google and "hidden" lists of publications on the FAO website. Such lists include:

United Nations Information Centre Kathmandu. A digital repository of ca. 10,000 documents about the work of UN in Nepal. Most are short or abstract documents, but there will be some gems for direct use in a library like this.

Scribd. This is not anymore the PDF sharing platform it once was, but now contains thousands of books, incl. about topics like homesteading. These are not free to access, but there is a flatrate access for ~9 USD/month. Often, a DRM-free PDF download is provided and if not, saving the page images to disk and creating a PDF from that is a simple job (that can also be automated). So a paid subscription is not required permanently.

Smithsonian Libraries: Books Online. All the free-to-read books from the Smithsonian Libraries. However, they simply embed the Internet Archive reader for all these works, and do not offer any better search option, download formats or meta info. So we will better simply link to The Internet Archive in these cases.

OverDrive e-book lending. This is the world's largest digital reading platform for libraries and schools, used by 40,000 libraries worldwide. It's basically a service for libraries and school libraries to allow them to start e-book lending, providing both the software infrastructure and "the largest catalog of its kind" of e-books, audiobooks and other digital media for lending.

Now the idea of e-book lending is rather hilarious since it's a blatant incarnation of artificial scarcity. But still, it's a free and legal way to read commercially sold e-book – as e-book lending from the library is free. You have to go through a lot of hoops though: it requires a (usually cheap) membership in the local library, which may only be available to people living in that city, and in most countries that's just not your city. So you need a friend in the right city. And then libraries offer only a subset of the OverDrive e-books, so you might need to become a member of multiple libraries to get to the e-books you want. And then, the e-books are DRM protected and will be "returned" so you can't access them anymore, which is another annoyance to deal with.

Hardcopy-only works and paid e-books. These works are not directly useful for the library, as licence issues prohibit their distribution. However, we might be able to negotiate an open content licence, and otherwise can use these works to create own works with information provided in them.

Free Google Play E-Books. This is currently the worst collection, containing mostly trash romance literature and not a single work relevant for autarky (the closest is Smoothie Recipes ). However, this library is well integrated into every Android phone via the Google Play app, so it might be a good idea to publish open content works of the Autarky Library there if we create or convert them some time in the future.

Special mention: 405 free books about permaculture and agroecology (Spanish). All these books are in Spanish, but if you understand Spanish or perhaps use automatic translation, the collection will be highly valuable.
3. Selected Works
The "selected works" below are the books we recommend to read, download and store offline in your personal "autarky library". It is a fraction of the complete library list in the chapter afterwards, and each work is linked into that full list for additional information such as publishing metadata, a short description, a review etc…
Requirements for inclusion.
only books in English language (we'll make an exception for exceptional works though)
only books that are free to download
only the best and most up-to-date book about each subject
avoiding overlap between works as much as possible
Specification-only entries. In addition, some selected works are only specifications – means, we could not yet determine any freely available e-book that could fill this spot. These items can be recognized by starting with "(spec)" and not having a linked title.
Progress marker. The "complete library" list has been processed up to and including item no. 399 for inclusion of works into this "Selected Works" list.
3.1. Introduction, Multi-topic works
3.2. Housing, General Construction
3.3. Water Supply, Wastewater Management
3.4. Ecology, Forestry, Orchards
3.5. Farming, Foraging
Soil science and fertilizers
Vegetable and grain gardening
Pest control
Animal Husbandry
Other farming topics
3.6. Food Processing, Cooking
3.7. Energy
3.8. Information Technology, Education
3.9. Hygiene, Medicine, Pharmacy
3.10. Transportation
3.11. Handicrafts
3.12. Woodworking, Metalworking, CNC Machines
3.13. Chemical Production
3.14. Sociology, Philosophy, Big Questions
4. Complete Library
In no particular order. New works are simply added to the bottom and get a new number. This way, the number can be used as an identifier / reading list marker, including in links from the "Selected Works" section above.