Summer 2015. It was nearly the end of August when Kos Island turned into a battlefield during a registration procedure. Hundreds of protesting migrants demanding quick registration began blocking the main coastal road. The local police attempted to break up the crowd with batons and by spraying foam with fire extinguishers. An officer was being filmed slapping and shoving migrants queueing outside the local police station.
My grandmother came to mind and her story as a refugee child from the area of Pontos (Northern Turkey) in 1922. I just couldn't believe that something like that could happen again. Despite the fact that Greece, in the throes of its worst ever financial crisis, was straining to accommodate the inflow, most Greek islanders were doing their best. But still there was an ominous feeling in the air.
And then I saw that photo. A young woman with her two frightened children hanging onto her arms. Walking to nowhere, barefoot. Beyond endurance, angry but determined to survive the crush. Fearless, though! Imperious! I got angry. I stood beside her, out there in the dust. I'm just one step away from being like her.
That moment I realized that there isn't any Deus ex Machina to save them. To save us.
So, I started thinking… What would I need if I were there? What should I carry to help my children withstand it? What should I bring with me for a little break? …and their feet! What will happen to their feet? And the sun? It's hard being a parent in peace. In war and in refuge, only a hero.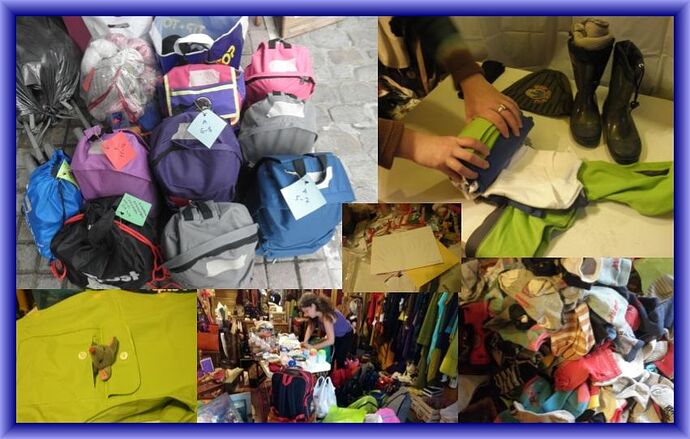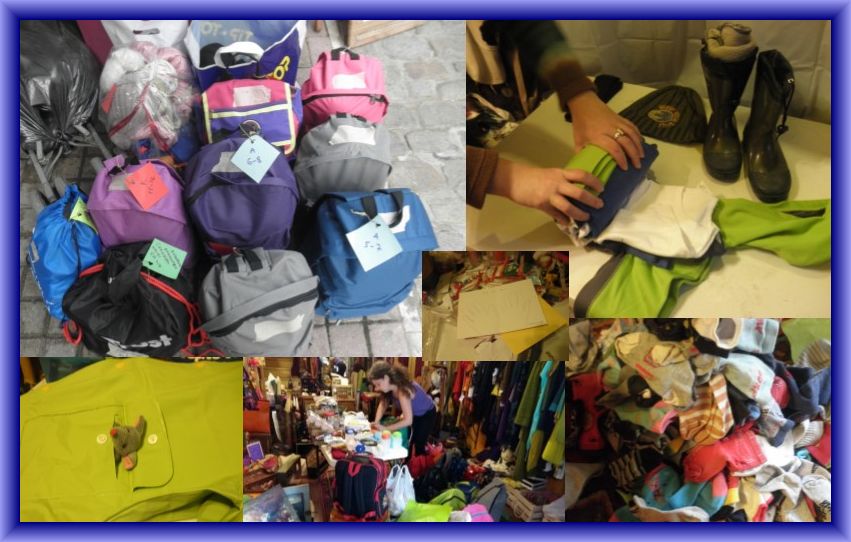 I wrote a list* with the necessities. The obvious, the necessary, even those things that seemed unnecessary. The goal was to ease the burden of parents, to give a smile to children. A breath until the next aid. A hope…
I post the list in my private facebook profile. I couldn't imagine the impact of this simple action. In a few days people were coming to my place, bringing bags full of nearly everything! Friends, neighbors or strangers were coming to help. We've been preparing backpacks and sending them to Idomeni, to the islands or anywhere they were needed. Many schools adopted the idea and soon the campaign went viral. In around 8 months, hundreds of people became mobilized and focused on helping this endless wave.
It seems that we could tell a lot of stories about, and because of this, but the point now is what emerged from this need. There's a lot of information coming out in the aftermath of this experience.
There's a mountain of questions that we didn't answer…
Is there any kind of system in the world that could cope with that amount of people?
What was wrong and why didn't anyone know how to react or to organize?
Why weren't we ready? Why didn't governments, NGO's and independent groups cooperate? And when they did, what happened?
What socks are most appropriate for their long trek?
How can we fit all the necessary items in a backpack?
And what about the weight?
How can we gather the right clothing from the world?
Have you ever try to sort thousands of clothes?
Is it true that women from Syria didn't want to wear rain boots?
And what about UNHCR's wool blanket?
And all those tons of food wrappers, wet wipes, bottles…?
Sadly, it turns out that there was no rescue plan in place. Greece seems to be inefficient and Europe appears like an impregnable fortress. This brings up the question "What if a sudden disaster left millions of Greeks or other Europeans homeless and helpless?"
Local authorities and their services operated superficially while the government was obviously unprepared. On the other hand, citizens reacted vigorously and passionately despite the fact that they didn't mobilize immediately.
It's also notable that many conferences, workshops or unofficial brainstorming meetings took place and new technology-oriented groups were created. New ideas and solutions were proposed and innovative applications were developed from people all over the world. However, most of those didn't fall on fertile ground for wide use, thus must be investigated thoroughly in the future.
Due to my profession as a fashion designer and manufacturer, when I heard about all those calls for clothing needs I started wondering who will manage all these diverse supplies. When facing a disaster, food and medical aid are considered top priorities but it's not widely known that wearing inappropriate clothing under extreme conditions can become life threatening.
It's noteworthy that if we focus on specific issues we can come to interesting conclusions e.g. Public misinformation by "official" announcements that were based on internet searching or common knowledge about clothing. As a result, there was a shortage of A-shirts (tank tops) while, considered useless, thousands of used socks were gathered although it costs less to buy new ones. Also, acrylic socks were suggested as the most appropriate. But when there's no luxury of changing them anytime, other materials are more suitable like; wool, bamboo, cotton, tactel etc.
Obviously, a problem, arisen from common everyday items, is more complicated than initially thought and requires an expert's opinion.
So, without surprise, no one reached out to experts from the clothing sector for professional advice and assistance. Moreover both government and UNHCR ignored any proposals or contact efforts.
Surely, the day after was going to be a nightmare. Inexperienced volunteers struggled to adequately classify, pack and distribute huge amounts of donations. Very often the same material had to be sorted again and again for multiple times. The inadequate coordination among government authorities, NGOs, solidarity groups and other stakeholders in combination with the anxiety of refugees led to a disappointing result. Large amounts of food, clothing, medicines and a lot of useless things (that could be a separate funny story), were being carried around Greece like a giant pinball machine. Unnecessary shipments, aid wasted, corrupted by mold, insects or still remain in inappropriate warehouses. A serious waste of resources.
In conclusion, the refugee crisis gave rise to a strong solidarity network and also an opportunity for local communities and the society in total. An innovative strategic plan seems to be a necessity, in order to coordinate and manage all the available resources successfully.
We should focus on organizing and training ourselves for cases of emergency. Based on the strength of these sharing communities, we should work, in innovative ways, which could bring people together around common concerns, recognize and increase their skills and knowledge and instill in them a belief that they can make a difference.
In addition, it's important to develop a survival handbook with the aim to provide "how-to" guidance based on practical experience in combination with academic knowledge. And the challenge is to respond to all these arisen questions. Or add new.
"Could humanitarianism be evolved as a profession or it could be a new way of living?"
P. S.
More than 1/5 of donations is unsuitable for the refugees, thus is channeled to other vulnerable groups directly or in cooperation with already existing structures.
Most of the volunteers gave up, burned out or feeling unable to help. Meanwhile the main responsible for this failure get paid.
More than 60.000 refugees stuck in Greece. The majority were transferred to military camps, old factory warehouses or other abandoned and unhealthy places. Out of sight, out of mind. Lost and forgotten.
*The winter list for children: Small backpack, waterproof poncho, aluminum blanket, flashlight, socks, rain boots, sports shoes or plastic clogs, underwear, a tracksuit or a change of clothes, cap, gloves, scarves, lunch box, plastic spoon, fork, knife, a bottle of water, cookies, nuts, dried fruit or other snacks, wet wipes (small package), tissues, toothbrush, samples (of sunscreen, shampoo, toothpaste etc.), a toy, note or drawing pads, crayons, pencil, sharpener, eraser, a whistle and a wish (!!) (We also ask for big scarves to use them as ring sling baby carriers or as sheets)
The production of this article was supported by Op3n Fellowships - an ongoing program for community contributors during May - November 2016.