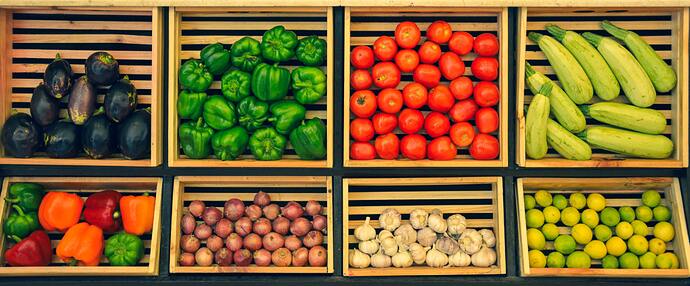 Dear Friends and Community,
The current pandemic has certainly shone a light on the volatility of global supply chains and how unsustainable they really are - particularly when it comes to food.
While most of us know that the items we pick up at the supermarket may have flown hundreds of miles before they reach the shelf, it became more evident when the world grinded to a halt and certain stock began to dwindle.
At Edgeryders we talk a lot about how we can help certain sectors recover from the economic shock of Covid-19. We've spoken about the co-working sector and explored ways in which we can build economies that incorporate green energy, but another way we can aid recovery - and use the situation to rebuild broken systems for future generations - is to focus on the localisation of food.
Why would we import vegetables from the other side of the world, when we can support a local farmer that plucks them from the ground on the very same day that they can hit the bottom of our pan?
Throughout the pandemic, producers that have lost customers - due to the closure of restaurants and cafes - have been really innovative in bringing their fresh products to locals in their communities. We have seen this happen across the world.
People have willingly returned to this more traditional way of food buying. For some it's a way of life that never truly fell away with farmers' markets still a part of many cultures but an upsurge in this way of shopping has happened in recent months and perhaps new habits will now form that continue to support local farmers and producers into the future.
At Edgeryders we have previously carried out research on food security and profiled areas in Serbia which have given way to large-industrial farming. This has inevitably made it harder for smaller farmers to survive.
We are running a webinar this Friday, 30th October, to discuss some critical questions relating to food sustainability, organic farming and agri-business. So please sign up here and come along if you are part of the industry and have ideas on how it can be reordered to better suit the needs of many.
While you're here…
Tell us about what's going on in your part of the world below or here. Our "What's Up With You"? section is a safe place where our members share everything from the latest pumpkin they have carved to major events in their part of the globe.
---
Photo is by Adli Wahid