Hello team and friends,
OpenCare is now entering another big engagement phase - over the next 6 months we will be working to onboard participants at the project event in Brussels. For details see menu link to OPEN VILLAGE FESTIVAL 2017.
Can I ask that you include the following materials in your communications during this week?
Use the following hashtags or add your own, so we can follow online and re-share:
opencare openvillage community welfare healthcare diy migration #mentalhealth housing
Thank you.
Email invite
No small group of people can tackle problems in complex, adaptive systems where every issue is connected to many different issues. OpenCares are a global community of individuals working together to make health- and social care accessible for all, open source, privacy-friendly and participatory. We start from the assumption that state and private institutions will be unable to meet the demands for care in the 21st century and that new, more open, participatory, community-based methods are required.
As a valuable contributor working on the topic [add here said topic/ context], this is your invitation to the OpenVillage Festival: Meet the OpenCarers, on 19-21 October, in Brussels.
Moreover, there is a call for session proposals which are led by community members and partners (see link below). It would be great to see how your work can benefit from exposure and support from our international network. Let us know what you think and if you would like to get involved, and we will try to make it happen.
A quick way to get up to speed is to join the Wednesday community calls, including the one today, at 18:00 CET: https://www.facebook.com/events/1360678894015789/
Warmly,
More Info
Register and Submit Proposals
Full Festival Pass
Social media shares:
Deadline May 5: Up to 15,000 € in bursaries for Open Tech + Health & Social Care + Communities https://edgeryders.eu/communityfellows openvillage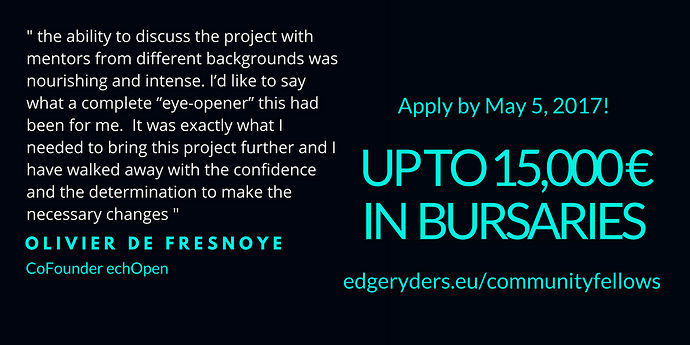 How do we take care of one another when welfare systems fail? http://bit.ly/2o2VXb1 #openvillage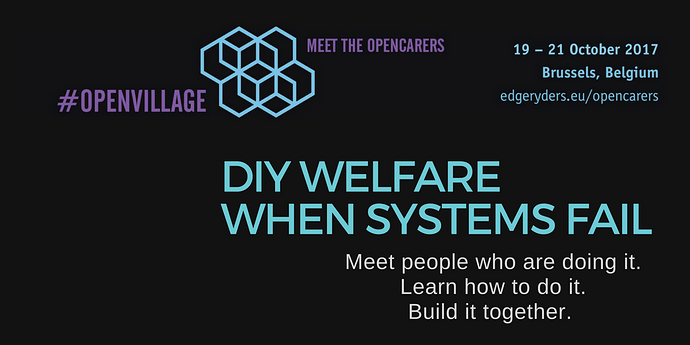 Call for submissions! Free tickets & fellowships (up to 15,000 € in bursaries) up for grabs! http://bit.ly/2pcJkHD #openvillage
Meet The OpenCarers at our upcoming community festival 19-21 OCT. Hands-on showcases of community care projects get a ticket to #OpenVillage Fest! Submit your proposal here: https://edgeryders.eu/en/openvillagefest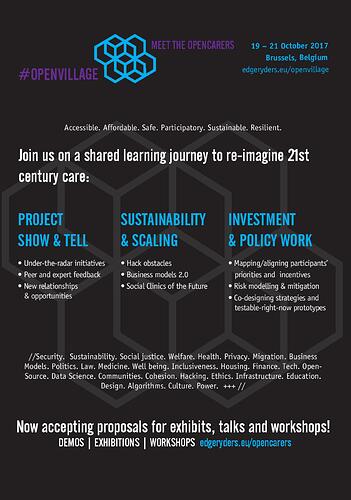 P.S. The header in the community space is now changed in order to promote participation at the festival.