The first interview I had last Friday with one activist Alexey Ovchinnikov from Slaviyansk, whose project in collaboration with a similar in the region are break - through to the community of the Eastern small cities. Slaviyansk was the first city where war has started, and people in Slavyansk are torn and divided in the response to the conflict. Many has lost a lot, and via different development projects, volunteers are trying to restore trust, vision, communication easiness and open-mindedness of people. "Teplica" or The "Greenhouse" alongside another famous Eastern region project - "Vilna Hata"
After all the events that took place in my country I wanted to implement a project that would help the city and the country. This project works in conjunction with a similar project in nearby bigger town Kramatorsk that is called "Free House" (also new to the region), but we here there are some differences: "Teplica" project is not only doing master classes and lectures like "Free house project" but they recruit people, often young people for various initiatives and projects in Slaviyansk. Roughly speaking, if people want to paint benches, the project is initiated by Teplica volunteers and all people around would need to participate too.
The project is implemented in the old building, which is over 100 years old. They have several rooms that are reserved for different activities. As well as the days of the week: Tuesday - master classes and hand-Maid events, onThursdays - cinema, where films are shown that are non-commercial and that aim to develop vision and skills
What are your goals and steps in development?
"Teplica" main direction of development - is uniting people, training of new skills that are useful in the new reality. They also bring up in people - initiative, the ability to help, expanding horizons
different number of people come to their project. The biggest number is 300-400 like on exhibitions of hand-made, which is very significant for the Slaviansk events.
They teach people to be responsible for their life and the city (improving communication between people). People may watch and learn and be involved. Among many projects are bicycle parking, painting shops, tours of the city that in the current realities of the conflict are very important (Slaviyansk is an - Ukrainian merchant city in the past and history can teach people how to confront conflict); Book crossing, evening tango nights etc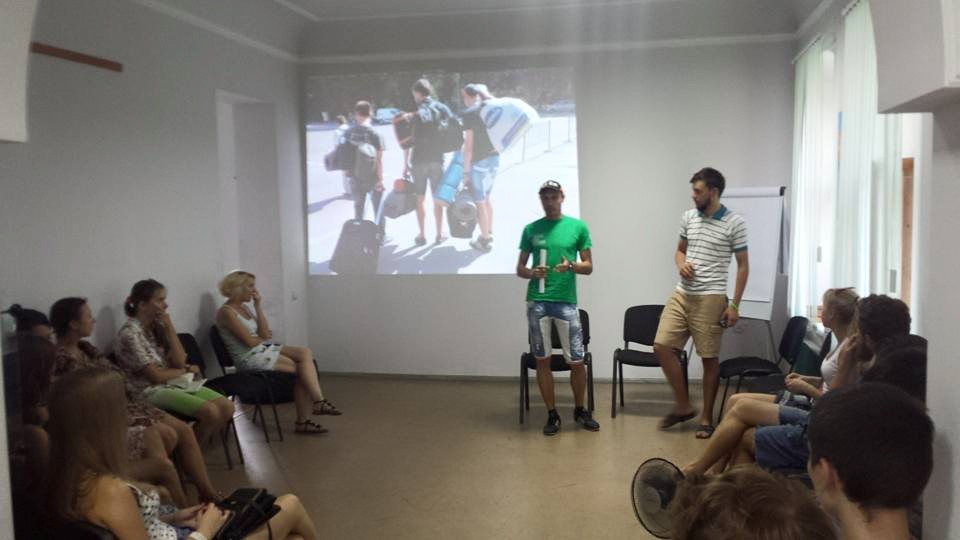 How many people are in your team?
I have initiated the list of activists to promote public civil activism. My reason was the desire to change people for them to take more care of their lives and to combat some of the consequences of the war. I am in charge of the collaborative space yet we have other activists that are involved in project management and administrative things.
Contacts:
https://www.facebook.com/groups/teplycya/about/
Alexey Ovchinnikov alexdance7@gmail.com