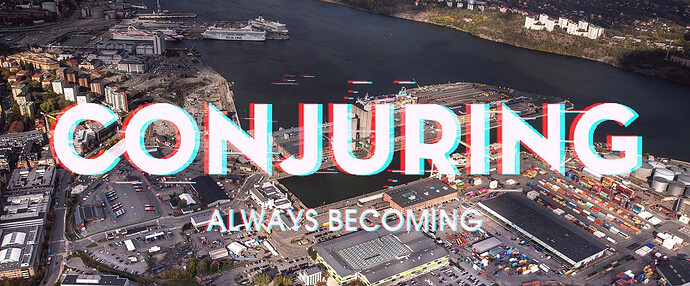 Cross-post from the Blivande forum:
Imagine a time when we can have festivals again. Imagine that we use the awesome power of co-creation that our community possesses to build something permanent, a community-run art space every year with a new festival bonanza. Imagine that we end the strangest summer yet with a Big Bang and the dawn of a new era for a more co-created grassroots run rough and playful Stockholm!
Yes: We're planning a festival! Yes, you read that right. We've decided to go against the grain and aim for a big co-created bonanza at Frihamnstorget in September - hoping for the situation to allow for it. However, if it doesn't, we are planning for that too. This festival will be called "Always Becoming: The Carnival of Change" and its tagline will be "the longer we wait, the better it gets". We might have to postpone until 2021, but whatever happens, this summer will be full of building and creating at Frihamnstorget to prepare for the Always Becoming festival and to create an amazing new container park full of art and excitement in Stockholm.
This festival will be something between a "burn" and a city-festival. Its focus will be the co-creation of Frihamnstorget, and there will be music and food. It will be an all-day party that continues in House Blivande during the night. We will be celebrating change and becoming.
Like a burn, a significant part of the budget will go to dreams on a Dreams platform, voted on by the participants. Like a burn, this will be co-created. Not like a burn, we will allow for food to be sold, for market stalls and for some commercial activity.
And you won't have to wait until September. Every Friday from now on, we will gather the friends of Blivande and Frihamnstorget to our weekly Work Is Play events of music, barbecue, and drinks in the sun outside of Blivande.
Every Friday at 18:00, we invite you to come to celebrate change with us and to dream up the vision for the Always Becoming festival. Teams are forming, and there is a lot of fun stuff to be done. Let's make this summer count!
Of course, we're trying to keep track of that there won't be too many people. We will be trying to keep it safe. Let us know if you will come or might come, as we are going to make sure that we're not more than 50 people.
RSVP on the Blivande forum post, your Edgeryders login works there too.