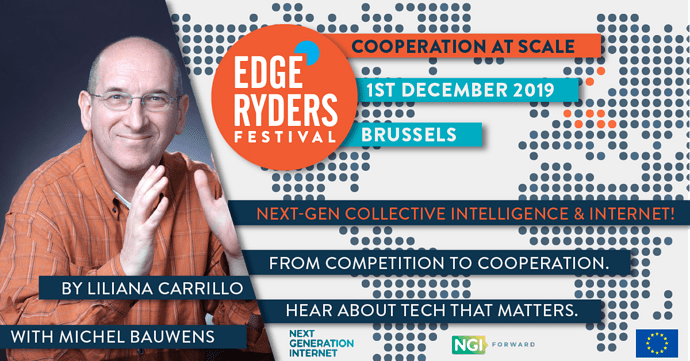 From Competition to Cooperation. Hear about tech that matters.
Organizer: @lylycarrillo
Co-organizer: DigitYser, Edgeryders
Location: DigitYser, Boulevard d'Anvers 40, 1000 Brussels
Language: English
About this Event
"Breakthroughs in our capacities to communicate and coordinate restructure society. Language birthed culture and hunter-gatherer tribes. Writing forged kingdoms and agriculture-age empires. Printing enabled nations and industrial-age economies. The Internet launched a new restructuring of society, but is constrained by computing tech designed for centralized control. Learning from nature's blueprints, Ceptr provides an evolvable, fully distributed framework for coordination and sense-making on all scales." Arthur Brock
"If we are to preserve the democratic and creative promise of the Internet, we must continuously diagnose control points as they emerge and devise mechanisms of recreating diversity of constraint and degrees of freedom in the network to work around these forms of reconcentrated power." Yochai Benkler
---
Each of us wants to have control over how and with whom we interact. In order to evolve and thrive, our communities must support everyone's uniqueness. Yet today, our online relationships are dominated by centralized corporate web sites.
In this event, you will learn about some peer-to-peer projects based on blockchain and holochain technologies that enable a distributed web with user autonomy built directly into its architecture and protocols. Data is about remembering our lived and shared experiences. Distributing the storage and processing of that data can change how we coordinate and interact. With digital integration under user control, these technolgies liberate our online lives from corporate control over our choices and information.
Come and hear about Collaboration, Collective Intelligence and Next Generation Internet technologies that facilitate this to happen!
Schedule and Content:
09:00 am - Registration, coffee and networking
09:30 am - Welcome words, data and collective intelligence. By Liliana Carrillo
09:45 am - Keynote: Decentralized cooperation at Scale. By Michel Bauwens
10:15 am - E-Women, safer access to e-democracy. By Anna Melenchuk
10:30 am - Global border-less democracy, Open Source. By Paula Berman
10:45 am - Panel: Intelectual Property for Collaboration. How to protect your ideas and inventions from theft? With Alain Souloumiac, Dick Van Gelder, Elena Bachert, Reinhard Dhondt Moderator: Philippe Van Impe
11:45 am - Coffee/tea break - Networking
12:15 am - Holochain Meetup: Introduction and Q&A. By Raphi See.
12:45 am - Closing words & networking
13:00 pm - Doors close.
---
Who will attend the event?
Edgeryders community members
DigitYser community members
Hive.Brussels community members
Digital Leadership Institute community members
Women In Tech Brussels (WIT 1819.Brussels) community members
You!
Who will follow the live-streaming of the event?
---
Purpose of the event
Bring people together to hear how the Artificial Intelligence in the hands of the GAFA group has led us to the centralization of data and therefore centralization of power that is affecting our democracy at global scale.
Create awareness of recent technological developments that have the potential to decentralize the internet, protect our privacy/data, create transparency and openness for inclusive collaboration at scale and therefore create a collaborative decision making system.
Teach the basics of several open source technologies (Holochain, Democracy.Earth, E-Women) to the Open Source community in Brussels, and invite them, active them to shape these technologies for a better Europe.
Discuss how Intellectual Property may need to change to enable a collaborative Internet to happen, and facilitate the creation of open knowledge (open source, white/green papers) with respect for the authors while enabling collaboration to scale.
Facilitate networking between different actors for collaborative projects around raising technological and social opportunities.
Frequently asked questions
How do I get an invitation/ticket to this workshop?
Get your entrance ticket at: http://tiny.cc/cooperate
At the venue, we will register on Edgeryders' platform to share our learning, questions: https://register.edgeryders.eu/
How is this event being organised?
This event, and the festival it is part of, is coordinated on the edgeryders platform (where you are now) and co-curated through a series of community video calls. We have allocated a collaboratively managed budget for the festival and operate on a solidarity basis. Participants who need some financial support to organise or be able to participate in the festival are eligible provided they contribute towards making it a meaningful and generative experience for all - in the run up to, during and/or after the event. If you would like to join us but are unsure as to how to contribute, don't worry. Create an edgeryders account , then tell us a bit about yourself here and we will guide you along from there.
How is this all financed?
This event is part of the NGI Forward project Generation Internet (NGI) initiative, launched by the European Commission in the autumn of 2016. It has received funding from the European Union's Horizon 2020 research and innovation programme under grant agreement No. 825652 from 2019-2021. You can learn more about the initiative and our involvement in it at https://ngi.edgeryders.eu
Does getting involved mean I endorse the funders views or actions?
No. What you are doing is contributing to an open consultation on the topic of how to build a next generation of internet infrastructure, technologies, business models etc that promotes the wellbeing of humans and the natural environment. The consultation methodology is designed in such a way as to allow for diversity of views, premises, disciplines, themes and contexts. We employ open notebook science principles and the results will be presented in the form of a research report accessible to everyone after the event. You can follow the process, review the methodology and open source tech we are using and engage directly with the research and coordination team here: https://edgeryders.eu/c/ioh/workspace
What is the code of conduct?
It is important to us that everyone in the room feels welcomed and safe; if you have any particular concerns or needs just send me a PM here on the platform or write to nadia@edgeryders.eu .
The Edgeryders online platform technology and activities are intended for people to cooperate within and across projects trying to build a better world. The word "better" has here a fairly broad range of meaning. These Community Guidelines are here to help you understand what it means to be a member of Edgeryders. Don't forget that your use of Edgeryders is subject to these Community Guidelines and our Terms of Service.
What happens with my data?
You can read about our Terms of Use and Privacy Policy here. Also: