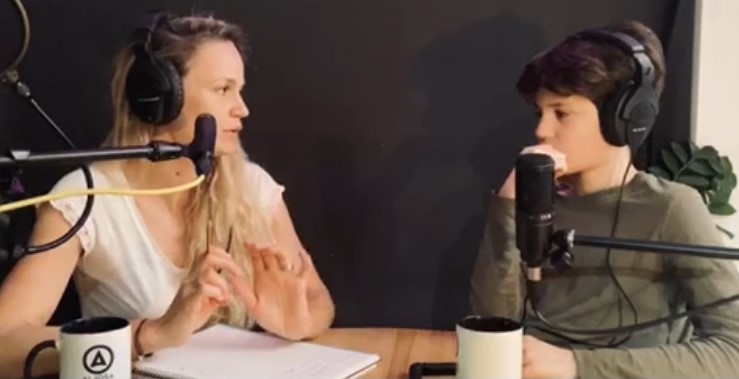 Me and my older sun in our improvised studio. We were setting all up, so I can continue to share info and knowledge that way while we are in quarantine…and we had a lot of fun! It seems like the good way to have the full attention of your teenager for al least 10 or 15 minutes, but the topics also need to be inspiring for them too

"What are you doing in life?"
Work status follows just a part of my doing :). As a mum of two boys, both almost teenagers, a lot of doing is faced towards them. I am also an architect and a project manager of The National Green Roof Asociation in Serbia. During my 12 years of architectural practice, I have focused on rethinking urban development as it shows today. Questioning primarily on how to bring nature closer to people.
All the activities that I have planned, such as seminars and workshops regarding urban nature especially green roof and wall implementation, need to be delayed. At the moment, I am thinking about how to make our website more interactive and with more options to make the ongoing changes. Also, I am considering making short videos and sharing them through our channels in order to continue working on raising awareness about the high importance of urban nature/green infrastructure…
"What worries you the most about your situation now?"
It is a greatly challenging time. Primarily because we don't have an idea what the future brings, how this pandemic status will affect our life once it is over (whenever it is…). Also, we can not rely on any help now. At this very moment, we are being absolutely in charge of everything, the microenvironment that we are closed in, health, proper food, good education, bills to pay, energy level, the atmosphere, etc. with very few things that we can change or influence.
Therefore, for those who are entrepreneurs and/or a single parent, this situation brings the most difficult, existential issues. Since this state of emergency started, I keep asking myself what can I do to help those who need help now.
"What makes you hopeful about the future?"
I believe that we will all learn a lot (starting from the basic insights on how much our everyday actions are sustainable!!!, to that question of being in the present moment.). Hopefully, we will go out with new skills.
Additionally, we all go through different phases of our life. The fact that more women are being "stuck" now hopefully doesn't refer to going back. This is just where our energy is needed the most at this very moment. To heal and to uplift others too. I rely on open communication, calls to action, and bringing awareness on what we as human beings are responsible for.
"If you are becoming more communal or not, are you going to do things differently? which ones?"
This question brings me back to the first part. Since this state of emergency started, I keep asking myself what can I do to help those who need help now. At this very it is far more about we than me. I will share my knowledge as much as possible, without worrying about the perfection of my words, or other actions.
---
a lesson that life is teaching you: The question of being in the present moment - How we skipped that lesson and when? Meditation brings back peace in a chaotic mind, and I believe that it is what we miss and need the most now. I would recommend meditations and books from Dr. Shefali, especially for parents. For this specific situation she shares meditation once a day within the open group on Facebook: https://www.facebook.com/groups/getsuperpowered/permalink/1257423434446327/