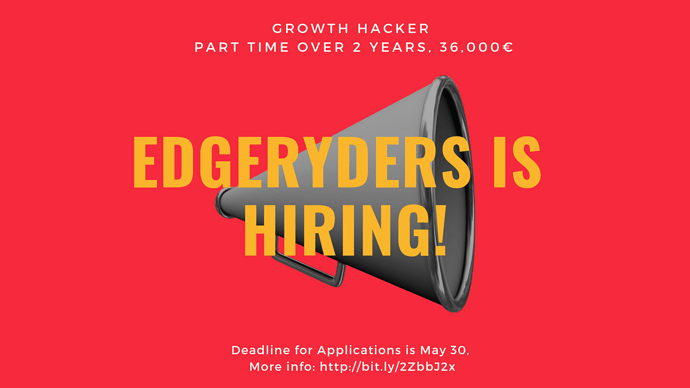 About the work
Edgeryders is a company living in symbiosis with an online community of individuals from different walks of life who wish to make a positive difference. Hackers, activists, radical thinkers, doers and just regular folk. We believe that a smart community outperforms any of its members; this is the result of people working together, improving on each other's work.
We are on a journey to help one another find the right ways to navigate the changes that are happening in different parts of the world.
How are we building good lives against a backdrop of massive social, economic, political challenges?

How are we creating opportunities for ourselves and where can we support one another better? In work, health, family, community life.

How can we build the evolution of the Internet and our digital technologies so that they support these efforts?
To support this work, we are hiring freelance online marketer to collaborate with us on a number of projects for circa two years, starting May 30 2019, on a part-time basis (approx 20% of your time or about 8 hrs/week).
They include a project focused on developing a more human-centric Internet, a project exploring how we can improve wellbeing for all in Europe as well as a festival which takes place both online and offline in a number of cities.
About the role
An important part of our work is reaching out to a diverse range people who have aligned interests, and engage them to get involved in our various activities.
The Growth hacker/marketer will:
Be responsible for driving (the right kind) of traffic to the stories, calls for participation, event invitations, and other materials published on the edgeryders.eu platform.

manage our social media presence and ensure that our outward communication activities result in our meeting the set targets for each story or call for participation on our online platform, as well as each Social Media Status update.

coordinate tightly with the community management team and outreach events coordinators via the Edgeryders online platform and the biweekly team calls.

Embrace our work culture.
The Team supporting your work
Content curator
Community management team managers
Outreach events coordinators
Remuneration
Total budget for your time to meet the targets we set together is 36,000 Eur
Additional budget for copywriting, graphic design, translation in different languages, third party services etc. is 10,000 Eur
Some other stuff you should know:
Our Working Culture/processes
We communicate asynchronously in writing on our online platform which is stewarded by a team of experienced community managers to ensure that it is welcoming to all, safe, respectful and friendly.
We are diverse bunch in terms of gender, ethnicity, geography, lifestyles, education and politics. The online platform is our own home on the internet and day to day working environment.
How to apply:
Our recruitment process is simple. We want to see what you can achieve with a 100 Euro advertising budget and less than 3 hours of work spread over a week's time.
Create an account on edgeryders.eu and introduce yourself in "reply" to this post.
We will give you a url to a post which we ask you to read carefully.
Make sure you understand the target group and what is considered a conversion for that URL.
Create a complete strategy (funnel) pointing to the URL. You have a budget of maximum 50 € for advertising to spend- we will give you access to our social media accounts and pre-charge them with the budget for you
When you are done, leave another comment below with a summary of what you did, the number of visits and % conversion.
Don't hesitate to ask us any questions you need answered to complete the steps above - we are here to help you do your best. Just post them in a comment below, we usually answer within a day or so.