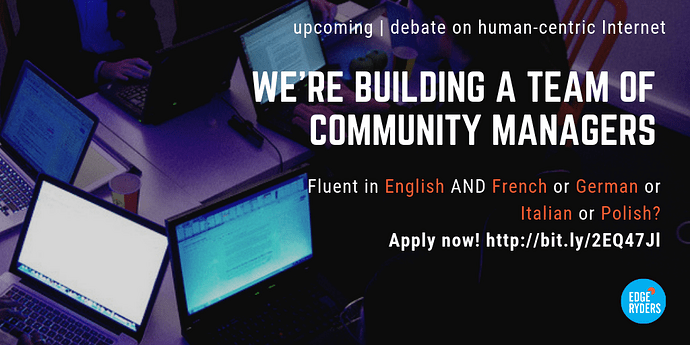 The NGI Forward project, part of the topic Next Generation Internet - An Open Internet Initiative is a EC Horizon 2020 project focused on developing a more human-centric Internet: supporting values of openness, cooperation across borders, decentralisation, inclusiveness and protection of privacy, as well as giving users the ability to help create an Internet they trust. We are focused on understanding people's own perspectives on the Internet and desired futures for it to inform long term strategies and policies. We intend to convene a set of 5 large online conversation spaces, each in different languages where people discuss these issues. We at Edgeryders will, at the same time, perform continuous ethnographic analysis on each of the conversations. This analysis will then be used by NGI and the EC in their policy initiatives.
We are looking to hire online community managers to collaborate with us on this project. The project runs 3 years total but this work will run for circa two years, starting May 2019, on a part-time basis (approx 20% of your time or about 8 hrs/week).
Requirements:
Experience desirable, but not strictly necessary if you are an experienced participant in online communities.
Fluent in English and one/ more of the following: French or Polish or German or Italian
Able to work part-time without set hours, during the day or night - strong time management skills.
Good writing skills - able to get to, and make, points succinctly. Good storyteller. Able to advance a conversation by interacting constructively with others.
You need to be open, accepting, tolerant and a good listener. At the same time, you need to be able to maintain civil discussions and manage conflicts when emotions run high.
Passionate and reasonably knowledgeable about the subject matter of NGI's goals.
A good collaborator who works well with a team and takes direction from management when needed.
Your professional and personal network includes people active in NGI's scope of interest.
Tasks:
Participate in, moderate and be responsible for ongoing online conversations about the future of the Internet and related issues.
Add to conversations by providing links to reference material, articles and papers when appropriate.
Maintain a lively and civil atmosphere. Mediate conflicts when necessary.
Organize the topics to minimize clutter.
Help other participants with the platform when they need or request it.
Assist in outreach efforts that include scheduled group video calls and attending local live NGI events organized by Edgeryders.
Workplace
You can do the work online, from wherever you are, but you may be requested to participate in one or more physical meetings. And there will be a required two-day training session in early April. Your travel expenses for these meetings will be covered.
We coordinate and communicate through the Edgeryders platform.
How to apply
Study the NGI website and do a search for NGI and follow some of the links so you understand the project and its scope.
Sign up with an account on: https://communities.edgeryders.eu 8
Post a reply to this topic below, and tell us why you are motivated to join the team, about your interests and current work, or any life story you think is meaningful. When you write it, consider the following questions:
What experiences have you had that are most related to the NGI mission? What stories can you share?

Is your own network of colleagues and friends involved in technologies, issues, policies orgs or projects in harmony with the NGI mission where they have a deep interest and involvement that furthers one or more of the goals of the NGI mission such as openness, inclusivity, transparency, privacy, cooperation, and protection of data?
Include a link or reference to your CV (preferably online).
Applications will be reviewed as they are received until openings are filled.
UPDATED POST 18 March: Most promising candidates will get an invitation to the Community Management training we are hosting at the Edgeryders office and community space in Brussels, 8-9 April 2019.