I have an idea for a small-scale project that could be funded by the Europe for Citizens scheme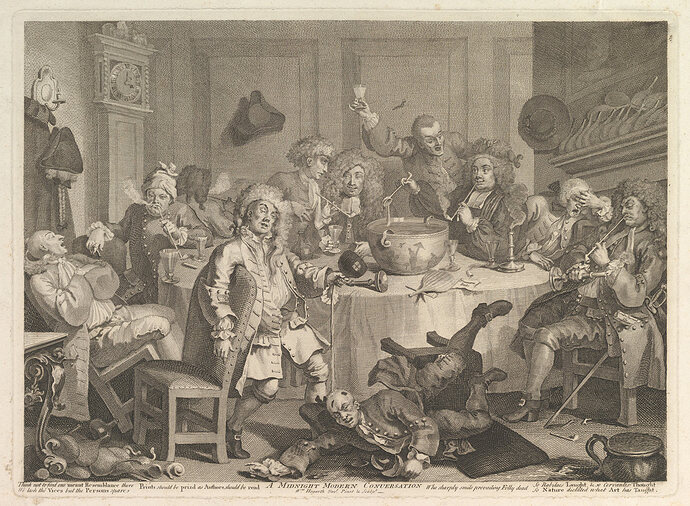 William Hogarth,
A Midnight Modern Conversation
(1732),
Civil society projects – supporting projects gathering citizens in activities directly linked to EU policies, providing an opportunity for direct participation in the policy making process. Funded activities may include: promotion of societal engagement and solidarity, gathering of opinions, volunteering
It combines a few elements: artistic and cultural production; discussion about political issues and opening for new perspectives; international research and storytelling.
The rough outline would be:
2-3 partners, besides us, in various countries: I would like to maybe work with an art space Gouvernement in Ghent, where I have friends and they do relevant work; Timisoara Civicultura and possibly Art Burst in Berlin (female curatorial collective) (or Experimentelle Zukunftlabor)

1-year duration

Part 1: call for art residencies in the partner cities. The idea is to create European conversation pieces that deal with some burning issues that have both local and European implications in these places (or maybe elsewhere?). Artists stay for a month and develop these works, possibly in as open and inclusive, participatory way as possible

Part 2: these works now travel the country, or internationally, and are hosted in homes as part of a Library (needs a good name), inspired by NBK's artothek - citizens from aroun the country or continent can access these works and host them for a short period, and part of the idea is that once the work arrives, we host an event around it - workshop, discussion - with experts, neighbours. A conversation about issues at hand, and how do we address and deal with those.

Part 3: we create a map of where these works have traveled, combined with stories that they sparked. This is where edgeryders' role kicks in mostly, and as a project manager.
I would like to make this into a project that:
opens new ways for people to communicate in their private spheres and creates opportunities for new types of dialogues, new topics

democratizes access to art, but also emphasizes the educational aspect and value of art and the need to open it maybe even more radically to the public

has some kind of empowering and practical value to it - how to turn these encounters into action/recommendation/involvement? This is to be answered

it has to do with positive visions for the future

Part 4: how do we end this? A bigger exhibition? A gathering? A festival?