On the 23rd of December, OCI Lab Incubator hosted the second Online Lab named "Define your solution and your project value proposition."
We are pleased to have had Dr. @Wajdibr as the mentor of this lab who have assisted and guided the selected project leaders in learning how to sketch a set of hypotheses and the right methodology to validate them as well as how to define the value proposition of their solution.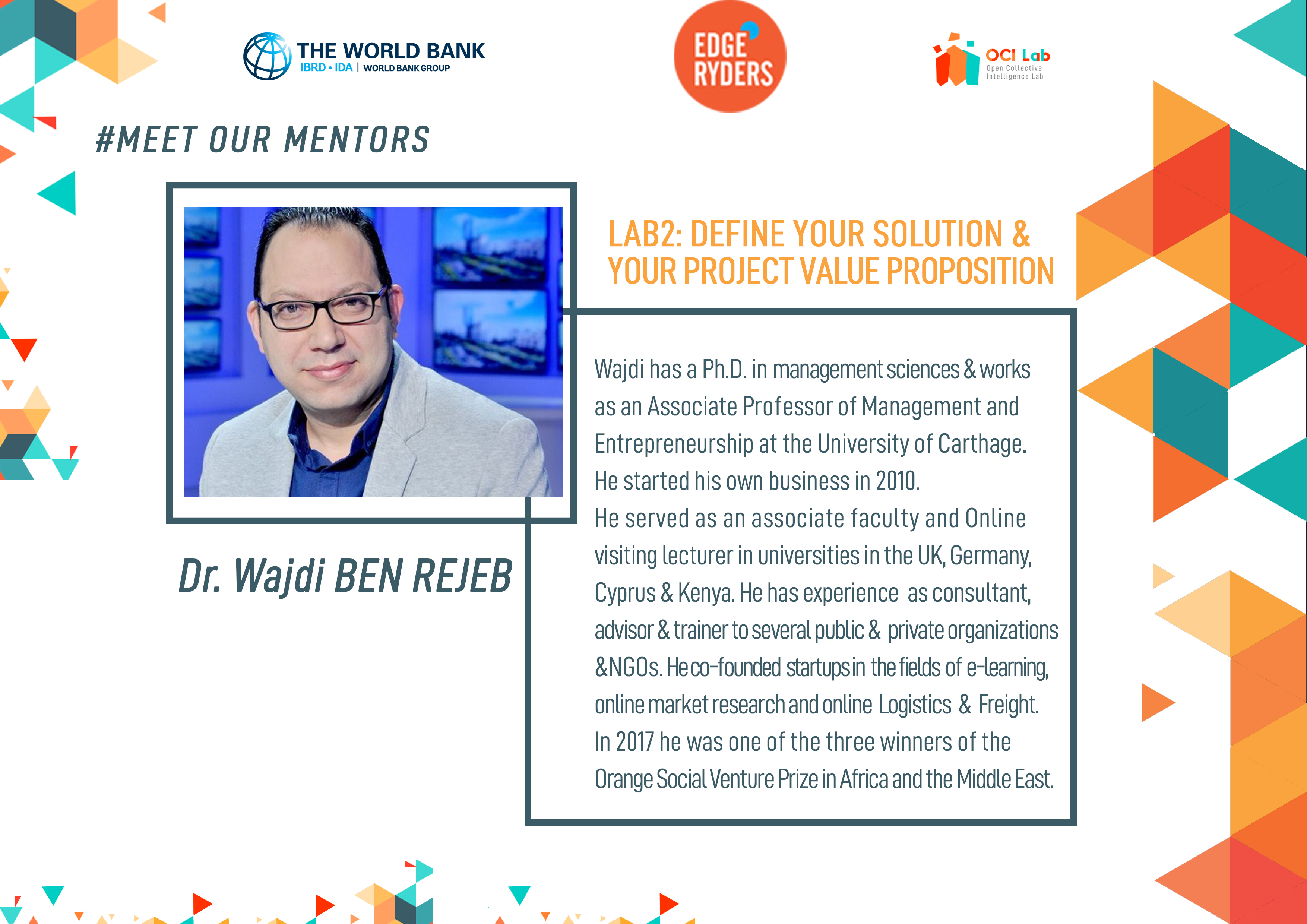 The participants started checking in via the Zoom conference room around 4 pm, and introduced themselves by stating their names, countries and projects using the chat room. Then @khouloud.ouesleti being the moderator and the storyteller of the lab, started welcoming the attendees and displayed the lab's agenda.
After presenting the code of conduct in order to assure the ethical handling of the reunion, I commenced by introducing OCI lab and its mission, as it is the first online incubator to support social and green entrepreneurs in co-creating self-sustaining projects through mentoring, peer to peer learning and collective intelligence.
The main reasons why the focus was on the MENA (The Middle East and North Africa ) region is that it combines the world's youngest population with the world's highest unemployment and underemployment ratios in the context of poor quality service delivery. More than ever, MENA youth suffer from social, economic, and political exclusion.
It was also brought to their attention the four main components on which the incubation program is articulated that are: the online labs, the offline tasks, the webinar conducted by our experts and finally one to one labs with OCI lab mentors.
Afterwards, Mr Wajdi started displaying the objectives of the second online lab, then he continued to explain the concept of a lean startup and its methodology which is a rigorous process of iterating from plan A to a plan that works. Following the explanation of lean learning, he moved to the next part that treats the sketching of the hypothesis that represents an essential part and therefore there were many examples and templates to illustrate the point.
He also showed them how to create a hypothetical customer persona which a representation of the ideal customer.
At that point, we took a short break to ask the participants for their feedback or their questions. We have received many relevant questions and a positive feedback.
At the end, he described how to define the value proposition of their solutions and the best practices to establish an effective one, followed by an illustration of the value proposition canvas and its Ad-lib.
At last, we had a questions and answers session then we invited our mentor Emile to present himself and finally send the offline tasks to the attendees and invite them to continue the discussion via the follow-up lab link on the Edgeryders platform.
Special thanks to Dr Wajdi and the relevant interaction from our brilliant project leaders for ensuring such a productive and fruitful lab.