I have been very pleased to have this second lab with project leaders from the MENA region:
@HadeerGhareeb , Egypt, Didi-Asks
khadija Ouabdelmoumene, Morocco, @Alphawomen
@salaheddine Ogontayo, Tunisia, Identity Co.
@sirine_bouslama , Tunisia, Datascience Academy
@ayari.taha , Tunisia, Artificial intelligence for alzheimer's and dementia predicition
@MohsenMahdaoui ,Tunisia,PaillEco
@saif.eddine.laalej Morocco, Zelij Invent
@mohamed75 , Egypt, colex
@HIBA Sedouane, Morocco, diyafa
As it was the case in lab 2, lab 3 has been moderated smoothly and efficiently by @khouloud.ouesleti
Here's a short debrief of what we have done during the lab.
Lab 3 is about helping you to start planning your business through the creation of a lean canvas (LC).
When we mention planning, the first thing that often comes to our mind as entrepreneurs is preparing a business plan (BP). The issue is that A BP requires several weeks or months while time is our scarcest resource. Also, the majority of successful entrepreneurs changed their BP along the way, so why wasting time and energy writing something that will not survive the first contact with the customers since it's built on guesses?
So, at this stage you need business planning and not BP. This would help you avoid the innovator's bias and to get emotionally attached to an idea that has not been tested and validated.
Here's a very interesting video of Steve Blank the godfather of leanstartup methodology in which he explains why no business plan survives the first contact with customers: https://youtu.be/_eUoae9lHpY
So, business planning takes 1 day and it helps you to have a single diagram of your business or a 1-page 'living' business plan you can continually update. This can be a business model canvas (BMC) or a LC.
Now, why I recommend that you prepare a LC instead of a BMC? Actually, LC was created by Asch Maurya, an entrepreneur who was frustrated with the BMC because he finds it descriptive, "too simple" and it doesn't explain how to gain learning to move from idea to success. So he made an adaption of the BMC by changing the content of 4 blocks.
To find out more about it, here's a link to a video in which Maurya explains the difference between BMC and LC: https://youtu.be/obX5yjFWnIM
So now, how to fill out the canvas? Where to start?
Here's the recommended sequence to fill out the canvas.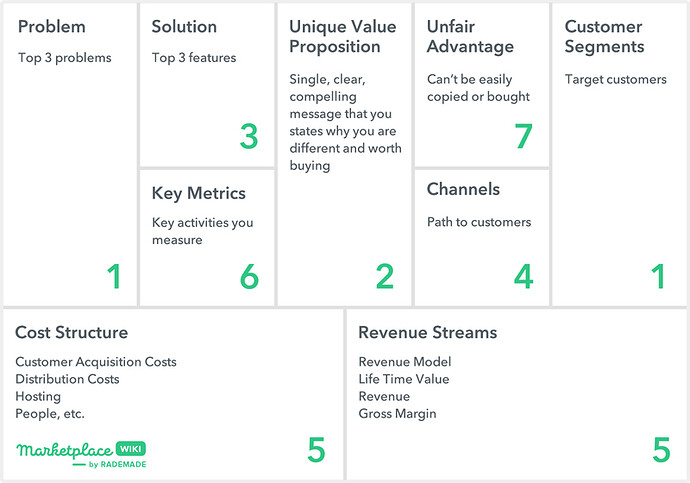 Our starting point should always be the customers and the problem they have. Then we should move to our value proposition and how the solution that we offer solves the problem through 3 features at maximum.
Next you have the channels or touch points to reach the customers when it comes to raise awareness, to sell and deliver the product and to ensure customer service. Then, the revenue streams and cost structure and finally, the key metrics (to measure the success of your business) and the unfair competitive advantage.
So what next for you?
Your job is to fill out the LC with your hypotheses to test them later one.
You don't have to test all the LC's hypotheses but the most important ones, this is why I recommend that you use a validation board (VB) to get ready for the customer interviews.
You find the VB template attached to this post. Here's a link to a video on how to use it: https://youtu.be/HhoducyStMw
At this stage, you only have to write down the hypotheses about the customer, solution and problem from your LC once created.
At the end of the Lab we had a very interesting interaction of Q&A. Questions were about how to fill the LC.
As an example, @ayari.taha asked about the best revenue streams model given that the customer can be doctors or end users, i.e. patients. In this respect, I answered that if you have more than one customer segment, it's possible to have different revenue model for each customer segment. Also, within the same customer segment such as doctors, I advised Taha at this stage to set the hypothesis that he considers best based on his current knowledge and to test it later on when he will conduct customer interviews because the answer must come from the customer who will pay for the solution.
Another example, we got also another interesting question from @HadeerGhareeb about the unfair competitive advantage. Since her product is a card game, she asked if the quality of the card printing can be considered as an unfair competitive advantage. I answered no since the competitors can use the same technology to offer the same quality of the cards however, updating the game on a regular basis by adding new questions can be an unfair advantage since the competitors cannot copy it.
The main insights from the Q&A is that you should prepare a LC for each customer segment if you have more than one and if they are different in term of problem to be solved and also if you have a multisided platform.
A special thank to all the people having attends the lab and I hope that you found it helpful and useful.
Wish you all the best!
Wajdi
Lab3 Presentation.pdf (2.5 MB) Validation_Board.pdf (379.8 KB) lean-canvas.pdf (197.4 KB)