Thank you for signing up for Friday's workshop
this is the public version of the same message sent to the attendees. If you haven't got this - please message Chris Adams / mrchrisadams
There is now a resources wiki page too for this event - feel free to add your own resources for others to use.
Hi there, it's Chris here - one of organisers for Friday's workshop - Service Design in a Climate Emergency
Thank for you fighting you way through that signup form, and filling a bit about why you joined up - I feel like I know some of you already now!
Please read on for some more info about the event, and what is expected of you on the day. Once again, thanks for taking the time out to come.
When - 1 til 5pm
We're opening doors at 12:30, and starting the workshop at 1pm. We'll be finished, at 5pm.
Yes it's Berlin, but we don't have very long together, and so please arrive promptly - we'll really do have to start at 1pm if we want to be finished by 5.
If you are unavoidably running late, please SMS or call Chris on 01578 474 4792.
Where - Muskauer Straße 24, Berlin
We're running this event on the ground floor workshop at Spacebase. Once you've followed the instructions below, here's what to look for. The same yellow bike will likely be there: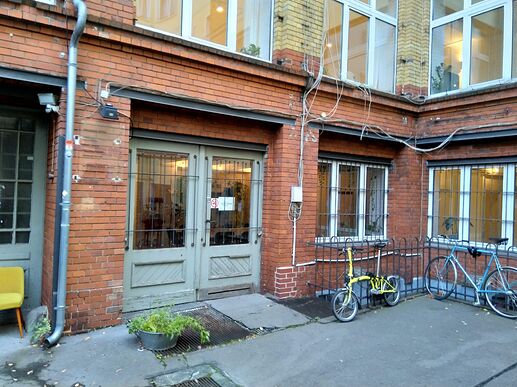 Spacebase Campus - Workshop Space (Back)
Muskauer Straße 24, Berlin,

The Space is located on the ground floor. Walk through the main entrance gate, past the first courtyard.The entrance to this space is in the second courtyard.
I've created a shared google photo album with more pics of the space, that you can add your own pics to for the event to. This is to make it easier to use in blog posts and so on after the event.
Who's running the day
In a private message, listed who else is coming for attendees to see who they'll be carrying out the exercises on the day with.
OK, see you on Friday!