Hey you all,
Together with Global Shapers Bucharest and the Aspen Fellows Network (from the Aspen Young Leaders program), @Alex_Stef, @oana.toiu and myself have cooked up an event on open networks where we get to talk about the EdgeRyders model globally, and of course Spot the Future. The crowd should make for an interesting one - for me it will be new just like everything in the city. Join us? If you'd like to represent the emerging Futurespotters community even better, we could do the presentation together.
Email registration is open until June 28th, at bucharest@globalshapers.org. Mention your interest in the event and network affiliations if any. Contact: Ciprian Stanescu, Curator Global Shapers, 0752199149
Also keep an eye on the event page on facebook.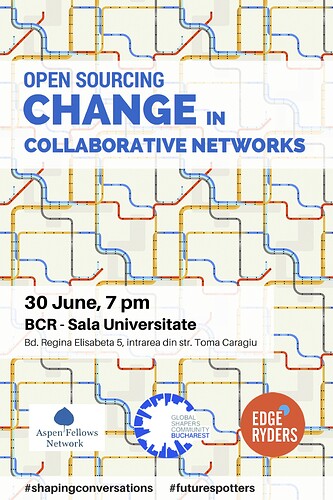 Poster by our own @Alex_Stef <3
Date: 2015-06-30 16:00:00 - 2015-06-30 18:00:00, Europe/Bucharest Time.