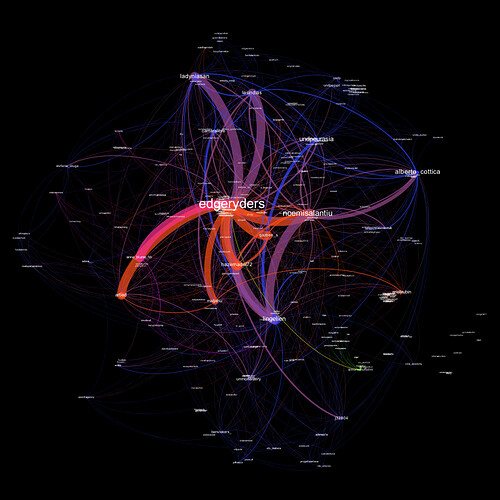 The wonderful Marc Smith at NodeXL has kindly provided us with data on the network(s) specified by the use of the #futurespotters hashtag during today's Twitterstorm. The graph extracted by Marc shows that 258 Twitter accounts were involved, and that a total of 1776 relationships were involved (but 248 were self-loops, so about 1500 really). This includes relationships of three kinds: retweet, reply and follow.
Marc has an interesting analysis here. The bottom line is that he sees 7 main clusters; notice G1 and G3 are predominantly Western European, whereas G2 has most futurespotters in Armenia, Egypt and Georgia (but some Western Europeans too). G4 is mostly unMonastery and Italians, many of them from Matera. G5 seems mostly institutional people grouped around UNDPEurasia; there's a bunch of "deep greens" around Simone Muffolini in G7. I am not sure who the people in G6 and G8, 9, 10 and 11 are: hello there!
I tried a quick analysis too, but I could only do a very coarse one for boring technical reasons of mismatching data types. Using a different algorithms from Marc (he uses Clauset-Newman-Moore clustering, I Louvain modularity) I find two main subcommunities, one grouped around Edgeryders, noemi_salantiu, artied and arieljrubin; and another one grouped around ladyniasan, alberto_cottica, lasindias, undpeurasia, unmonastery and j32804. @brenoust and I will look further into it and get back to you if we find some cool stuff.