On 22 August Team Inclusion had a meeting with Luc Lampaert from the "Kenniscentrum Wonen Welzijn Zorg" (translation: Knowledge Centre Living Wellbeing Care).
Luc presented a Powerpoint that focused on what the possibilities are.
Here's are my take-away points that I think may be useful in the future (also for others). Detailed notes are also included in Team Inclusion's minutes (internal link). Thanks @Sophie_Beese!
Introduction
Luc started his presentation with an interesting point on the difference between equity, diversity and inclusion (slide 3-5). I found the venn diagram he used (credit to Krys) interesting to distinguish the different concepts.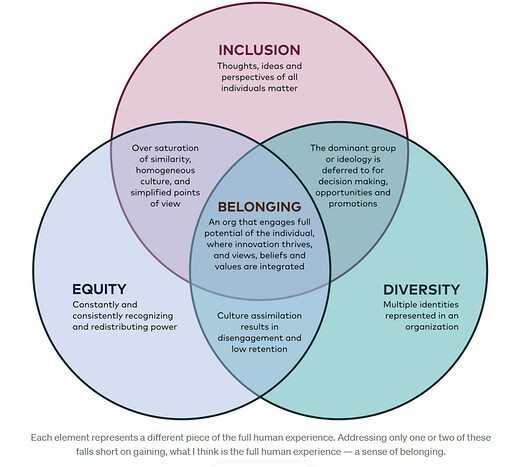 He then continued by presenting some projects of the Centre for Care & Living's projects such as Project Samenhuizen, Maison Biloba Huis, Casa Viva and Calico, and some other projects in Flanders and abroad (Okelaar, De Vierklaver, Eikenberg, LILAC Leeds, Kalkbreite Zürich, Mehr als Wohnen Zürich).
Some more detailed notes I would like to keep track of:
Eikenberg: Wooncoop (3 units) + investors (private and social housing companies)
LILAC: some owners paid 110% of the price of their unit to finance part of the inclusive units, so that others could pay 90% (slide 14 circle diagram on financing)
3 questions
He then referred to Simon Sinek's Ted talk about "The Golden Circle" and invited us to ask ourselves 3 questions: why, how, what?
This he added because most groups apparently decide to have an inclusive unit at the very last, when they have one unit left they don't manage to sell. So we should definitely do this, but we should probably also not overthink this recommendation.
Points of attention
In slide 26 he pointed out a couple of points we should bear in mind (though not all points apply to the approach of The Reef):
Who will own the units?
Who will take care of the inhabitants?
For colivings: pay attention to social rights
Select the adequate partners
Q&A
3 stages
In a nutshell he recommended us to approach our inclusion project in 3 stages:
Be clear on the why, how and what.
Do a first round to pitch your projects with potential partners (care organisations and investors). Expect that they will say "Hmm, that's very interesting. How about you come back once you have a site and a more concrete project?"
Once we bought the site, do a second round to talk business. He recommended to not be shy and go all in. "There are lot of people who are willing to do this, you just have to find them."
Financing
I also noted a couple of things I want to remember in terms of financing:
Be clear on the ownership. Joint ownership of one unit can lead to problems if somebody wants out.
Use the GA's of other asbl's => they may have a lot of members, some of whom may be willing to finance The Reef like it was done in Okelaar's cooperative
It's harder to get subsidies for cooperatives than for asbl's
Go for the big fish first (ask for 250k in one go)
Once you bought the site things need to go fast, so you need to be well prepared
Possible partner: Inclusie Invest