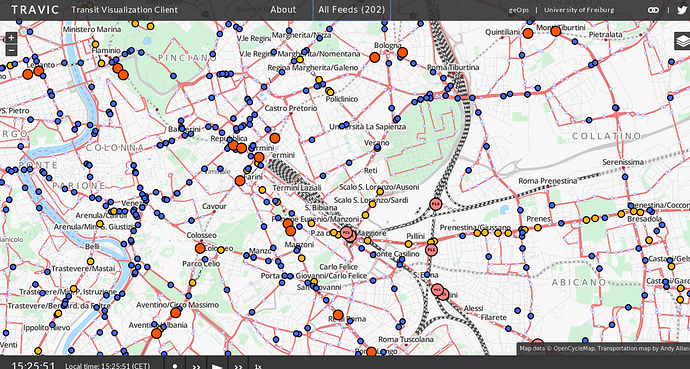 Some of you may remember work on public transport @mstn and I did in Matera. While we've put a lot of effort into it, we never properly finished that endeavor. Lately Marco had some time again to dedicate toward this work, and with small help from me and @Alberto we managed to take it few steps further. As a result you can find first version of GTFS feed on matera open data portal. We also deployed prove of concept visualization of bus lines in Matera. Marco then submitted this work to the Contest Open-Matera and it received 2 out of 3 main prizes. This prize includes inconvenient ~1000 euro, which comes of no use for me and Marco also would prefer not to simply accept.
In last couple of weeks, we made two attempts to get together in same place and work for few days together on this project. Both time various circumstances contributed to not making it happen. On my side among other reasons, an extra effort and time consumed by hitchhiking my way to Trento, plus possible overhead of arranging food. Marco both times generously offered accommodation and workspace at the place he lives! IMO we both might have tendency to abuse our own generosity. Not only offering our time and talents for community work, but also taking all the effort on ourselves, to secure all the direct needs which our capacity to do the particular work depends on.
Yesterday we had short call and decided to propose co-organizing development sprint in Matera, possibly 1-2 weeks early in January. We hope that Open Data Matera community can keep euro they offered for the prices of mentioned Open-Matera Contest, and instead in unMonasterian spirit secure our accommodation, food, travel and working space

Personally I would really like that we all stay clear that we don't do exchange/barter here! As I tried to explain in conversation on fb with @Matthias
"I don't work with concept of paying! One can enable me to work on something, for example by securing food (a dependency of me having capacity to work on something). I offer my contributions for the very outcome of them and for social impact of that outcome, not to get food or something unrelated to the contribution itself."
Already one more person engaged in that work via github, and we hope that we can do this dev sprint together, at least 3 people. I see it in a way non-humanitarian to work alone on projects aiming for common benefit, especially when world population reaches 7bln people…
We will share more details of our agenda soon. One of the most interesting for me possibilities relates to replicability of all the work we've done so far. We develop toolkit which integrates with Open Street Map and which people can use in any other place. When it comes to Matera, after finishing our work on bus lines there, we can help people in other cities near by to get started with mapping public transport there. I hope it could take viral approach and they would later help people from yet another city get up and running, that time without any further involvement from me or Marco (yay!) Miccolis agency itself serves 16 cities in that region, we could also evaluate challenge of mapping connections between cities!