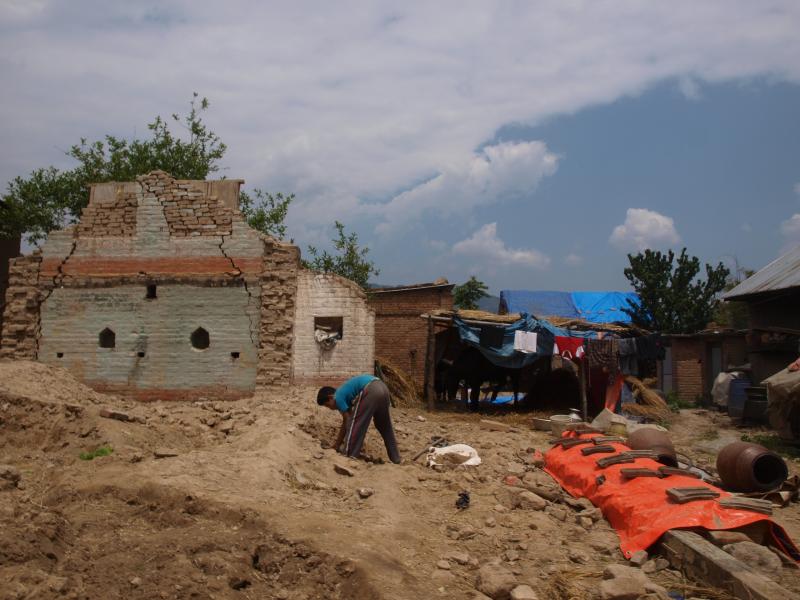 I am following the situation in Nepal, mostly in Kathmandu, by both volunteering in different places and seeing how things work - or they do not, and by reading about it and talking to people. It is still a mystery to me what shape will the Rebuilding program take - and how effective it will prove.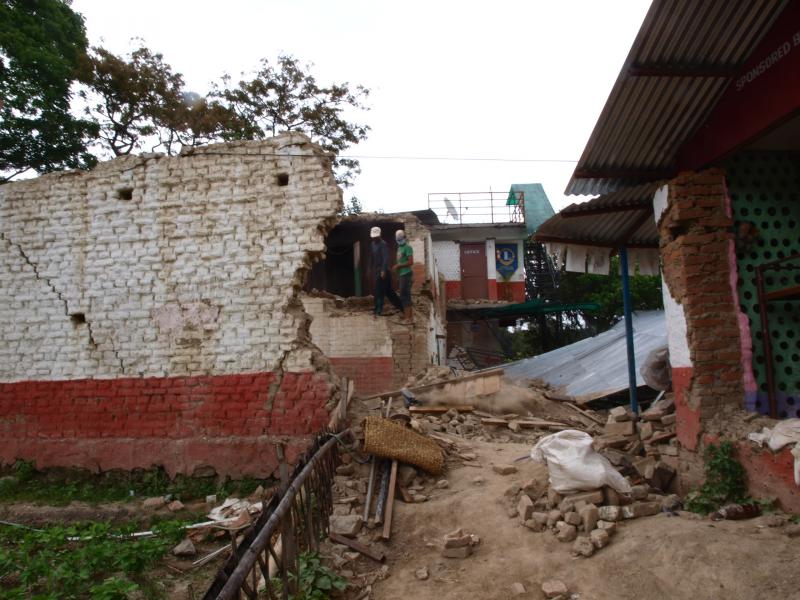 Yesterday me and Maria went with MCube artists to Bottle House in Nayapati, a few kilometers north from Kathmandu - and we saw a horrible landscape, where basically no house survived the earthquake. These were both traditional houses and new buildings, of which we know already very well that they do have all sorts of ridiculous decoration but lack simple earthquake-proof basis.
People sleep in overcrowded tents and temporary shelters, which leak and break. Some of them decided to take down the leftovers of their houses with their own hands. I am also not sure whose responsibility will it be to demolish what is still standing, like a menace to people around - is the state helping with it, or they hope that people who already lost everything will also cover these costs? Or maybe one more 7.something earthquake will come and spare people some work and money?
In the Bottle House kids of age from 2 to 16 sleep in two big tents from China - around 11 in each, and some of the adult boys have small tents to share by two. This is a lucky coincidence that some of them could have been sent to their relatives for some time - otherwise, instead of 26, they would have to squeeze in 46 children. Houses in which they slept and took lessons are all broken - but they're built of cheap materials, basically recycled glass bottles and clay, and maybe if the technology could be improved, same concept would be replicated. People running the Bottle House collect glass all the time.
When I asked sister Merry who runs the place since its beginnings in 2011 what are the main challenges the place faces now, she said all they need is skilled hands and materials (and money to buy them) - especially now, when workforce is scarce, young people migrated in high numbers to other countries, and access to goods is more limited due to horrible state of roads and their accessibility. She also hopes that the school which the kids attend will be rebuilt.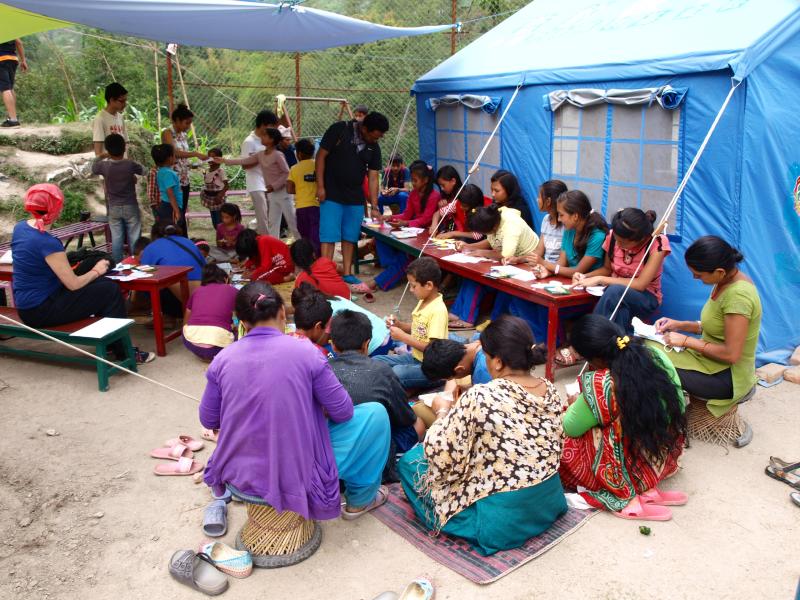 The visit was full of joy and great discussions (the kids knew where Poland is on the map, and they even asked me if I know Witek, a boy who volunteered there and painted Bolek and Lolek on their walls - that's one of the key oldschool cartoons in Poland!), they also all supported Barcelona and wanted to meet Messi, and maybe even go to Argentina, talked with me about Ghurka warriors, difficulties of reading Nepali, roxy and other nice things. But when they decided to open, it turned out they are afraid of thieves roaming around, and sleeping in tents does not make them any safer, and that they cannot decide whether it's the gods taking revenge on Nepali by creating earthquakes, or maybe gods don't exist and they should start praying to nature instead. Question "Why earthquake happens?" was the issue Maria had to scientifically cover, not sure though with what effects. And that already opens a whole new question: what to do with traumatized people who lack professional help and assistance?
Media say there is no consensus yet to the form of the body that would supervise the process of rebuilding. This week marks one months since the earthquake and it seems right about time to solve some of the key problems, such as sowing season, temporary strong shelters for upcoming monsoon, and effective planning for the actual reconstruction. I have a feeling the DIY, low-level help might remain the main source of help for quite a while still. But I really wonder, what do Nepali think about it?