Edgeryders are proud to announce our next massive online event: a twitterstorm to introduce and connect individuals who are building the future in Georgia, Armenia and in Egypt: skilled engineers, journalists, social and development workers, designers, eco farmers, environmental activists, collaborative consumption entrepreneurs, urban researchers, human rights activists, open source, open data enthusiasts and many more. We think of it this way: the more we share individual experiences, the better our chances to build support around change-makers work in local communities and internationally.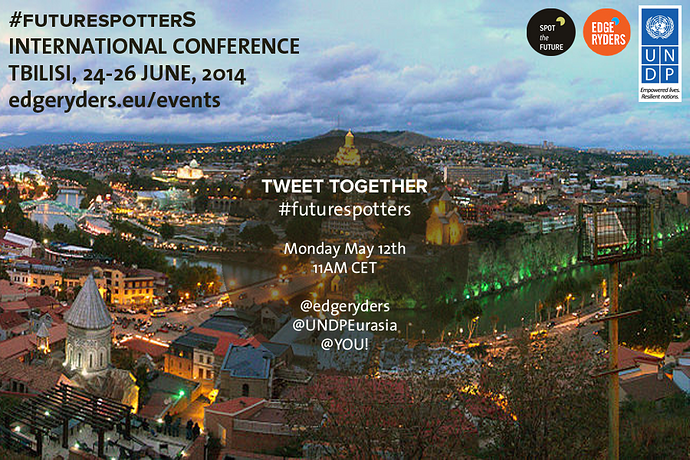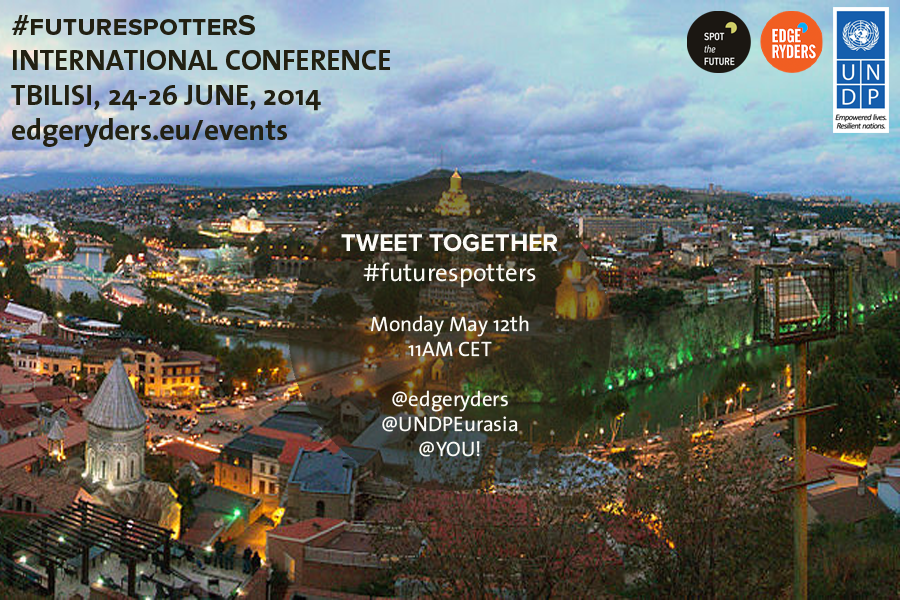 Join us and tweet \#Futurespotters globally!
The twitterstorm will take place on Monday, May 12th at 11 AM Central European Time. Dozens of individuals across the globe will come online at the same time and tweet #futurespotters in sync for one hour.
Everyone and anyone is welcome to join, why should you?
you can catch up on groundbreaking work happening at the edges
you can give a shout out to projects you care about in the Caucasus and Egypt region
you are part of a global network and support Edgeryders as we march to spot the future.
Spotlight: We will also take Monday's twitterstorm opportunity to release an open call for participation at the international gathering of the newly formed Futurespotters community - in Tbilisi, Georgia on the 24th-26th of June 2014. Save the date!
Event background
Spot the Future is a foresight exercise implemented in the spring of 2014, commissioned by the United Nations and driven by Edgeryders. It aims at detecting trends in the activist and social innovation scene in Armenia, Egypt, Georgia, as depicted by the citizens who drive them. Read more.
Over the past month we have gathered at workshops in Armenia, Egypt and Georgia. Each event has had a heavy focus on driving initiatives forward, generating new knowledge and building around the challenges individuals or organisations are facing. It was this kind of event Edgeryders hosted in 2013 that birthed the unMonastery concept based on hackers' residency projects, as well as the Viral Academy based on peer to peer online learning. We think we can build many more community projects like these, and in June we are all coming together in Tbilisi, Georgia to compare notes and build on each other's initiatives.
About Edgeryders: We are a global community of over 2000 individuals experimenting with solutions to social, economic, ecological challenges. We collaborate online on our open, free and self-hosted platform, and gather physically about once a year in whole-community scale events. In 2013 a social enterprise was created to further the work of Edgeryders members and better support initiatives that need an organisational resource and infrastructure to leverage their impact. Read more
Help spread the word!
If you like the initiative and would want to invite friends and organisations to participate in the twitterstorm this Monday, here are:
[Instructions] How you can be part of the storm, too!
On Monday the 12th of May at 10:55 am CET tune in on Twitter. Open a window with a search for \#futurespotters – click here to do so in one click. If you don't have a twitter account yet, consider creating one, by June you'll get the chance to follow all relevant updates
While you are at it, follow @edgeryders, @UNDPGeorgia, @UNDPArmenia, @UNDPEgypt.
At 11.00 am sharp @edgeryders will start tweeting the relevant content. It will be, well, tweets. There will be links to the most relevant pieces of information: the Spot the Future project, our past workshops in Georgia, Armenia, Egypt and what is coming out of them, who the protagonists are. Retweet them or PICK TWEETS FROM THIS DASHBOARD! Tweets will be rotated at least 3-4 times: don't be afraid to retweet every iteration. In Twitter this is not a violation of netiquette.
Tweets will go out in English, Georgian, Armenian, Arabic. If you are from these countries, and most of your followers are nationals, focus on retweeting the content in that language.
If your native language is none of the above, feel free to translate one or more tweets into your language. It would be so cool if we got tweets out there in 10-12 languages! Don't forget the \#futurespotters hashtag: media people who participate will be following the hashtag.
Also, be creative. RT is good, but MT (Modify Tweet for those new to Twitter) is better! Make jokes, add your point of view, it's all good. The more you do so, the better.
After a bit of this, we will take questions through Twitter. Again, RT both questions and answers.
Don't stop at Twitter! If you like Facebook, by all means reshare links through your Facebook account. We will do the same.
Live coordination space
Date: 2014-05-12 09:00:00 - 2014-05-12 10:00:00, Europe/Berlin Time.