I do not have a call to action in this blog post.
I just wanted people to know that some of us are re-thinking the web copy that will explain how a revenue making arm of Edgeryders will present itself to the world. As a corporate communications guy, I am especially hands on at this stage of the game and pay close attention to the rhetoric that brands use to sell ideas. I have noticed that up until now, the concept of the "hacker" has risen to prominence as a way to describe how the philosophies and principles of the Edgreyders community would naturally inform a revenue-making arm and entity. In light of the fact that we are considering moving this entity to its own web domain and importing fresh new sets of conceptual language to the web copy, I am offering a word cloud of various concepts that build upon conceptual foundations of what this is going to be. It's a quick way to visualize and define the contours of what we think we represent, and it might stimulate further ideas that will help move along our strategy and positioning in the market. Some of these words you will see re-used and integrated into our content marketing, about us, and service propositions. It could also help us narrow down to a domain name (in the case that we are not interested in pursuing the subdoman option.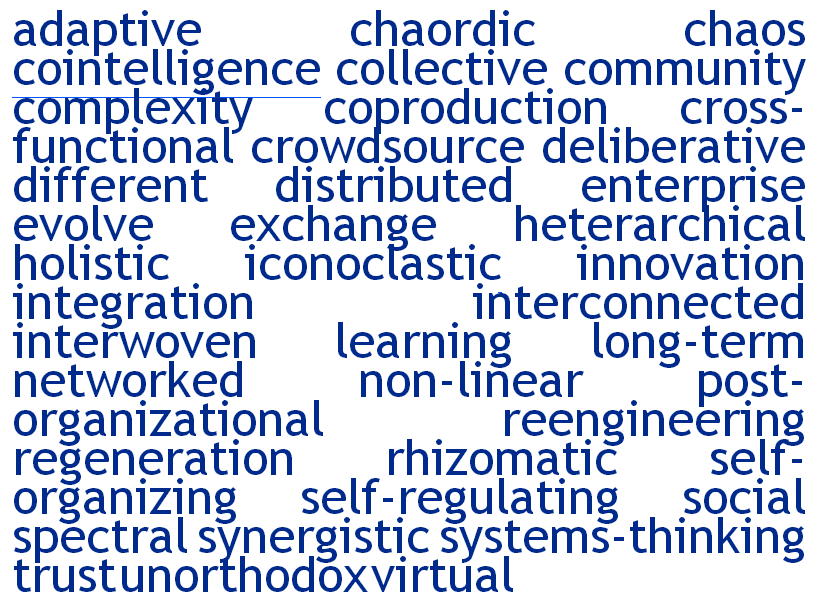 I will also attach some academic papers covering ideas and topic that interlap with how we think we see an Edgeryders approach to client services.
Similar business models found in academic literature:
(the "chaordic organization/enterprise" seems to mirror a lot of the language Edgeryders) uses http://www.myrgan.com/Inc/Literature_files/The%20Chaordic%20Organization.pdf
Hybrid Organization 

 (email me for .pdf

)

Social Enterprise/Entrepreneurship 

 (email me for .pdf

)

The Networked Enterprise and Collaborative Management (email me for .pdf)
Virtual Enterprise Network (VEN) or Multi-agent VEN 

 (email me for .pdf

)
​questions or requests can be sent to saidkassem at gmail