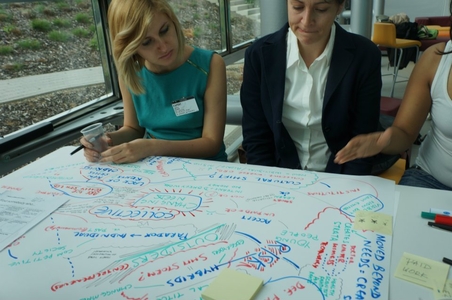 Some of us within Edgeryders have floated the idea of creating a documentary which brings into relief many concrete cases of unemployment suffered by real people all across Europe. Film is an extremely powerful medium: capable of reaching wide audiences and stimulating new discussions and participants on a larger scale, thus bringing a level of speed and urgency that is appropriate.
When Nadia first approached me about the idea I thought of ways that a documentary today can live beyond film and become an interactive, living breathing vehicle of sorts. A project that always evolves, getting bigger and inspiring others to interact rather than simply be passively entertained or informed.
I know that we won't have problems finding people who would love to be involved, people who are passionate about film making, journalism, problem-solving and the topic of unemployment in Europe. Or perhaps others who wouldn't mind being the subject of the documentary.
But first things first. Let's think design!
What can an interactive documentary achieve within the resource constraints we deal with today? A few thoughts.
A documentary need not be linear or full-length format. Rather there could be episodes, and the narrative heterarchical and de-centralized rather than being directed through a single voice.
Problem/solution moments can be operationalized and extracted from film and embedded into other spaces. Interactive ones that create a feedback loop, from spaces of collaboration and discussion and ending up right back into the "documentary", which could evolve in versions.
The content within the documentary can exist in many parallel formats: for example a case example of one young European being challenged on film can also be explicated in a community wiki of sorts where problems/solutions are laid bare and analyzed.
So what do you guys think? Your ideas are highly valued at this stage. This could be an interesting opportunity for some of us to get first hand experience in journalism and interactive film production methods: to say the least.