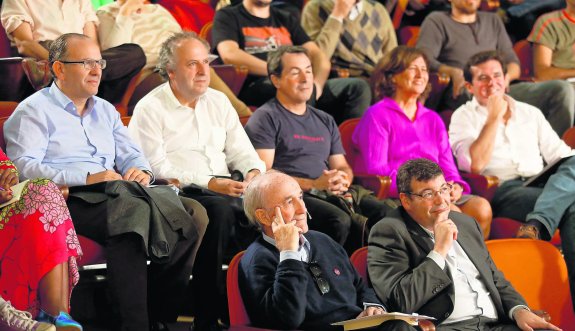 This week I participated in Achovoliga, an event in Gijon organised by @lasindias and attended by a diverse crowd ranging from people you will recognise from the internet as well as entrepreneurs, activists, ministers, bankers etc from across the Spanish and Portuguese-speaking world.
Five days of communicating across languages, contexts, historical references with Natalia, David, Carolita, Maria, Neal, Matt, Antonin, Alberto, Javi, Juanjo, Jean-Pierre and many others. The most rewarding part was the many conversations bringing together people involved in founding Las Indias, Shareable, Zero Waste, Ouishare, @Filé_Aesir, Darwin Ecosystem and Edgeryders. Not only was it a much needed time for us to exchanging experiences and learning from one another's successes, and failures. It also gave us time explore where we could align work and activities to contribute to achieving goals of helping one another and the communities we care about to build interesting, meaningful and resilient lives.
Why this topic, why now?
The hype machine is struggling to come to terms with the growing backlash against the large centralised actors like Airbnb and Uber. Forget the sharing economy, we are recommended, for different but same same. Unless they mature to the point of sharing resources and power with the very community members who generate value for the owners and investors, platforms like Airbnb or Uber can be seen as part of the problem.
I learned that certain Latin American and Spanish cities are following a separate trajectory from the North American ones. Realising they could never compete with other cities if they follow the growth-driven model, they are exploring alternatives which may serve as more realistic models for cities around the world. In the competition for talent and creative energy focusing on increasing citizen happiness and quality of life is more promising than contrived efforts to grow Silicon Valleys in every city, region and town across the planet. The Valley is a particular place with a particular culture which was a hundred years in the making, as Neal puts it. Why are we not asking what is a hundred years in the making in our own cities and start there?
Also, there are signs that the combination of lousy infrastructure, unchecked speculation in the housing market, and lack of social cohesion between the tech community brogrammers and other inhabitants is putting the model under severe stress as others try to emulate it.
The city of Bogota is a good case study of the positive consequences of following a development model in which the city is framed as first and foremost a place for citizens to build good lives together, rather than a marketplace. And it seems to be generating promising results: over the past ten years Bogota has gone from one of the most dangerous cities in the world to one which offers its citizens a high quality of life. This is no coincidence. The city has a recent history of adopting policies lead by creative mayors that draw their ideas from histories, thinkers and ideological foundations different from those underpinning US-centric models.
Sharing, resilience and Stewardship: When communities step to the forefront
This excerpt (thanks Millie!) sums up the trend emerging from stories shared with me while traveling in the US, Germany and Spain:
"New opportunities for sharing create new opportunities to enhance trust and rebuild social capital. But commercial sharing is also creating new spaces in which commercial interests can force workers into casual contracts, privatize public services and drive up land values and rents through gentrification. In these ways the emerging sharing economy can deepen both social and spatial inequalities and deliver injustice. City leaders need to support and emphasize communal models of sharing that build solidarity and spread trust. Sharing systems designed around equity and justice will naturally shift cultural values and norms towards trust and collaboration. This can deliver a further dividend, as increased trust increases social investment in public goods and the public realm". Source: Smart Cities, should mean Sharing Cities
When we started building LOTE4 it was based on an observation that networked communities are playing an important role in helping us all navigate social-ecological, economic and political crises:
"Stewardship manifests as the gardening of an ecology. In so much that it is not curation or archiving. Stewardship can only relate to that which is active - it acknowledges and works towards the preservation and growth of use value, exclusively. "
"work against the sense of just working for today"
"act as carrier of the learnings of what we develop around Stewardship to communities who…could benefit"
"creating conditions for real support and mutual aid" [including mental health]"
"responsibility of stewards to ensure something doesn't get fucked up by externalities"
In the Edgeryders/LOTE4 take the protagonists are communities. It is they who deal with public goods and services. However there is a catch: in the experience of many of us, it is easy to lean too heavily on communities and their more generous members (open source projects, anyone?), involuntarily causing them to burn out. Edgeryders is no exception. So, our version of stewardship is about communities taking care of public goods, services and community members themselves. This twist makes the mix sustainable. And what underpins that is taking a good hard look at the economic and lifestyle choices we make. The reality is people are working under very precarious economic conditions with costs skyrocketing in some of the major cities and that is detrimental to our abiltiy to participate actively in community life: social as well as economic. After Gijon it is clear that community-run businesses that service the basic needs of inhabitants are a key ingredient in resilient cities and communities. One example to learn from is that of Seikatsu Club Consumer's Cooperative in Tokyo, Japan:
"A network of buying clubs with over 300,000 members, the Seikatsu Club in Japanoriginated in 1965 as a way for families to get a bulk rate on milk. Over the last 50 years, it has expanded to include thousands of organic, non-GMO foods and environmentally-safe household products. In 1995, Seikatsu formed its first worker coop. It now has 600 of them, employing over 17,000 people in food distribution, food preparation, catering, recycling, childcare, education and more". Source: 16 Worker Coops Redefining the Cooperative Movement.
The way Seikatsu Club works is that neighborhood leaders get orders from their neighbours and then they bulk buy whatever they need. Seikatsu Club has over 1 Billion USD in turnover according to Neil Gorenflo, founder of Shareable, and are now buying their suppliers All this is serving their mission to get people to buy less (and higher quality) good and services as the collective economic clout is making the residents a political player in the city.
However, cooperative models are not without their limitations.
For one thing they can get very insular and hard to enter as new arrival, as they can have high boundaries between "insiders" and "outsiders". Also, while they have been around for a long time they are less well known that the Limited Company or Charity as an organisational form. The main challenge is potentially huge governance overhead which is not great when you are starting up with few resources time- or moneywise.
Edgeryders differs in that we are a predominantly online community, emergent by design (people work on and discover things across themes and contexts) and mutual support network for people doing work in different parts of the world. Across borders, generations and ideological divides. There is a strong desire to ensure the economic benefits of what we build together are shared by the community members but with light governance overhead, self selected participation and work in loose networks. So far we have focused on information exchange, inter-project collaboration, and transnational cooperation: collective intelligence at work. With the unMonastery prototype we took tentative first steps towards building hybrid infrastructure to allow new kinds of social, economic and political relations to emerge in online-offline communities. We have learned a lot from it, but there are many things we would do very differently in the future if this is to be sustainable in the long run.
What could we try to achieve?
A coherent and evidence-backed strategy for responding to current social and economic crises and decomposition in Europe and beyond. In this strategy second and third tier cities are the key players offering real opportunities for the young and anyone looking to build richer, more interesting and meaningful lives together with others. Ideally in the places where we already live today, or would really like to. We can coordinate across platforms and networks through common hashtags. I really like the work Shareable is doing with Sharing Cities and would like to support it, so why not #sharingcities?
The work has already begun, check out this beautiful repository of Stewardship Case Studies built by Lauren, Maria, Jeff, Hazem, Donahu, Ben, Anna and hopefully you.
What next?
Introducing the model for discussion att #lote4 next week where those interested will explore a first sketch and set of activities to get the ball rolling on this. To get involved you can join us at the event in person, or write to nadia@edgeryders.eu to be included in the #CountOnMe mailing list.