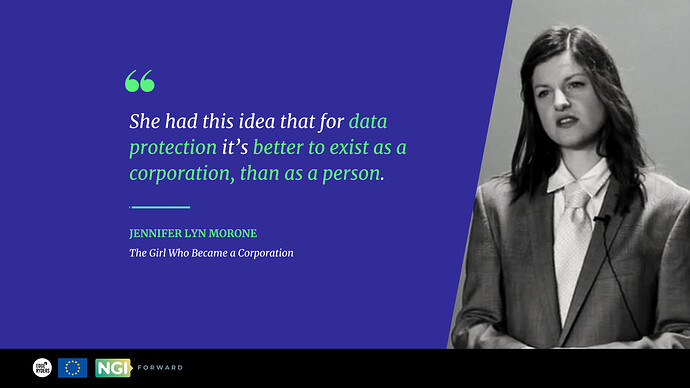 On Data as Labour
A conversation with Jennifer Lyn Morone


Jennifer Lyn Morone is a visual artist, activist, filmmaker, and CEO of the RadicalxChange Foundation. Her work examines connections between the influences that technology has on society and seeks tangible change in social, political, environmental, and economic conditions. Her work has been exhibited internationally, Aksioma (Ljubljana), Carroll/Fletcher Gallery (London), ZKM (Karlsruhe), the HeK (Basel), and at transmediale (Berlin). Morone's projects and practice have been covered by media outlets such as the Economist, WIRED, WMMNA, the Guardian, BBC World News, and the Observer, as well as being the subject of research in theses and political theorist publications.
In 2013, Morone was focused on how the Internet might be redefining the human experience.
During this time Snowden's revelations about widespread surveillance had come to light and her research shifted to data - what it is, who has it, and why. What Morone noticed was that this network of surveillance could be linked to a rapidly growing data industry with big tech giants, data brokers, and other services. This industry put great value on the data of people, thereby making everyone valuable merely by existing, but depriving anyone from engaging in the data economy.
When she looked at the data harvesters there was one unifying characteristic: they were all C-Corporations, registered in Delaware in the USA.
Further research into corporations, particularly C-Corps, explained the wild west behavior occurring in the data economy. Besides the lack of regulation, there was the legal and financial standpoint that it was arguably better to 'be' a corporation (legal person) in terms of rights, than was to be a human (natural person).
Hence Morone had the idea that if a corporation can be a person then a person can be a corporation. The added benefit would be that, in theory, albeit to an absurd degree, a corporation can be used as a legal container to own and protect one's data as intellectual property, as well as use the data created to create an internal feedback loop for efficiency and as a resource to develop an endless array of products.
The project, while created in earnest against the issues we are now contending with, was developed to highlight the futility in trying to solve the issue from the capitalist perspective of individualism, particularly within the confinement of private property and personal ownership in what is in reality a interpersonal world.
The challenge Morone set about was to locate where data emanated from the person and mingled with others' data, because the value of data is made up from the aggregate sum of the whole, not its parts as related to individuals.
Her initial idea was to create a DOME, a database of me, with a dashboard where she could gain an understanding of the data she created or co-created, and then a "Platform" which would serve as the intermediary host that would act as a data cooperative where the data creators could take hold of their data, have an entity that bargains their behalf, and mediates the exchange.
Satire and sincerity created disparate interpretations of the intention of the work.
Confronted with this experience, Morone embarked on her newest project - The Scheme of Things - without the satire. The Scheme of Things starts with the hypothesis that "we have a failure of imagination" when it comes to imagining the world we want. So, Morone started to ask questions such as this to engage others in imagination.
She has developed a process that involves identifying individual and common values and principles, identifying aspects of our systems that we would like to change, and what might be alternatives that would result in outcomes that more closely match our values. This happens through workshops, where narrative fictions are developed, and then turned into film and other media featured in the film.
To Morone, this is an effort to regain a sense of imagination that has largely been relinquished by leaders, to corporations.
As perceived from her endeavors, Morone believes that artists are at a unique advantage to help lead in igniting imagination as well as bringing to the forefront the absurdities that we live within.
---
November 29: An International Event on Alternate Paths for Internet Technologies and Society - imagined through Science Fiction
Join edgeryders at this event to explore divergent futures and discover how you can use your own work to help shape a better tomorrow.