Hello @rebelethno, we have an interesting decision to make.
It can happen that a code is used multiple times to code the same post (in multiple annotations, of course). This is perfectly fine, of course, but it does mean we must make a choice when building the codes co-occurrence graph.
Imagine we have a post with four annotations. One uses the code catholic church, and the other three all use the same code, tradition. When building the graph, we can do two things.
The first one to is consider that there are, just in this post, three co-occurrence edges between catholic church and tradition. The logic is to count an edge for each pair of codes in the post, and it does not matter if they are the same code. Then, we discard the edges between tradition and tradition: the codes co-occurrences network has no self-loops, because it is tautological to say that a concept (as represented by a code) is associated with itself. This leaves us with three edges between catholic church and tradition.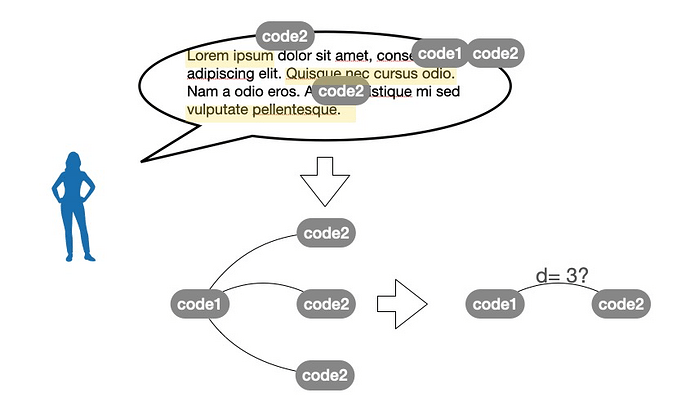 The second one is to consider that a post is a unit: the informant is expressing herself using a certain number of concepts, each encoded into a code. She may need to recall the same concept more than once as she writes (or speaks, if we are talking about a sub-unit of an interview), but that is just for the sake of the exposition. She does not mean to reiterate the importance of the repeated concept. In this case, the logic is to count an edge for each unique pair of codes used in the post. Our example post would have only one edge between catholic church and tradition .
Which one do you think is more appropriate?