Hi all, this is a wiki with summary info from the workshop, please add as you see fit! At the bottom of the topic, see Edit button. For extensive unedited notes consult: bit.ly/ReefW3
Attended: @manuelpueyo @BaobabUrbain @CynthiaWeber @LouiseB @alberto @irene_1 @Kai @ugne @ralu @matthias, Matthew, Clementine, Carlotta, Vincent, Luc.
1. The Reef: where we are now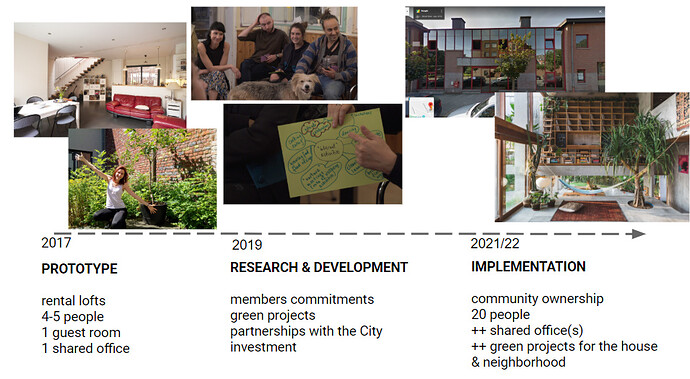 2. Who is the community?

cca 35 members aged 20 - 56+, most of whom are aged 25-45
Belgian, German, French, Lithuanian, Spanish, Romanian, Italian, British, Luxembourg, Uzbek, Bolivian!
urbanists, sociologists, climate advocates, teacher, lawyer, architects, researcher, organisational developers, IT account manager, designer, agroecologist, receptionist, mother, entrepreneurs, community facilitators
aspire to a sustainable community, to living together 'more than being just flatmates', or to 'a new type of family'
3. Designing the key components of The Reef
Instructions: If we imagine living there in 6 months, what do we prioritize? What principles and processes do we want to uphold? How do we formalize the commitment?
3.1. Living Together – What is the Dream?
Start with a small group: 6-9 people

Shared principles, not 'rules' that can be reviewed and adjusted over time

Values: Acceptance, tolerance to difference, diversity: socio-economic, cultural, linguistic: 'To put the diversity of the City of Brussels in a house'. Younger and older people, people living different lifestyles -students, working professionals, people living life in different stages of their lives.

Talking circle once a week

Facilitator? This role is strongly endorsed by some, and not so much by others. A more professional, paid role: gather people together, someone who spots talents and pushes them to organise something; mediates conflict.
Compartmentalization:
Individual spaces have different sizes depending on needs

Creative space: handcraft area; dancing room; other living arts which strengthen communal life

Coworking space / Cafe / Tool library connected to the street, like a front shop. Acts as bridge between the inside and the outside world and can be the space for organising more public events. Maybe those in the neighborhood could rent space when they need it.

A place for agroecology: a collective garden or terrace, because that is the place for a healthy lifestyle. Either the house is close to a forest, or if it's in the city center The Reef would have a garden inside.

A large, 4.50 m high garage is a very handy, multi-purpose space to include in a communal living setup. Good for storage space, guest parking or as a provisional space for other facilities.

A big kitchen needs to be at the very centre of the place. It's good to have a smaller kitchen if you want to eat on your own 'without feeling pressure' [like in communal meals]. The community meals should be vegan friendly - proposal, not rule.

There needs to be access to the private spaces that doesn't involve going through the common room(s) (when you don't want to see people or socialize). 'Buffer zones' - It doesn't even have to be a space, it could be a vacant corner or something. Ideally the building would be structured on different floors to separate private and common areas.
3.2. Living Green - habits of consumption, sharing and energy saving
Clothes repair. As a response to fast fashion and consumerism: If there is 1 person that knows how to sew they can offer to everyone else this service of mending and preparing clothes. This is the type of service that if ends up working well, it can be offered as a service for the neighborhood. It's not high impact, but it will have an effect on buying less clothes.

Learning through skill sharing. Takes a long time to learn on your own. Ex: programming, or gardening.** A board where you can write a skill that you want and what you can offer - it's pretty organic. Something semi-formal would work best, to have a certain regularity. It could be every Sunday at a certain time, and actually you need to implement it at some point. Whoever is interested throughout the week they can get in touch.
NB: 1) the people offering their skills should not be oversolicited, or instead they can pay lower rent. Also a solution could be timebanking.

Sharing with the wider community - 'house projects' Most people don't want to take it on as a project and be 'in charge' of a public activity, rather they want to be part of something - they could allocate 1-2 days a month in an activity if more people take leadership. The only way The Reef could be self-sufficient and things be organised organically is if someone is passionate about something and organises activities that they already do and love. Otherwise it creates overhead.

Modular kitchen. Shared space for the inside of the house, but once per week you can open it, or even make it a pop up kitchen in the city (example: Cultureghem in Abbatoir, Brussels). You can introduce the rest of the community to the impact you can produce inside - by using recuperated food, being part of a food coop for local produce, means of preservation and storage, and other good examples.

Membership in food cooperatives. If one person in the house has this practice, maybe it can become a house practice through a common subscription.

Energy saving: how much can you go off the grid? Try to produce as much as you can but have a safety net. We don't need to heat all the places all the time. In Belgium you need to be connected to the grid, but people live in the hangar and they have a little place there where they need only a chimney. Or you can have a smaller place that's better insulated. Either way, everyone in the house needs to preserve the confort levels they wish, to be able to feel good in their home.
This is also part of learning (see above): have tools and classes that teach people to consume less.
Proposed mitigation: Agree on a midterm goal ex. 'in two years we will have done a system for creating rainwater.' If it only depends on individual choice/ behavior it will be difficult.

Ecological toilets: Toilets are the most underrepresented or uninteresting/ inefficient technology - you flush with your drinking water, but after the system mixes them and it has to be filtered again for you to drink it. Composting toilet is a very simple technology and safe, hygienic if you do it right, there's books about it. in Brussels, the normal house is - the house, garden, and the toilets near the stairs. It's not so hard to make it natural - it's cold, far from shower, kitchen, living places.

Bathrooms: It makes sense to invest some more money / equipment in having more and different kinds of bathrooms (private and shared; toilets / bathrooms to brush your teeth) – some people might prefer to pay less and share more; other bathrooms need to be more public, when others visit or attend events in the house. Also: there is a very relevant, influential book from the 1970's about the architecture of the bathroom, which was and is a neglected topic: Alexander Kira: The Bathroom (there and here available in fulltext online).
More:
3.3. Governance
What structures are optimal for a healthy way of organising?
A mixed model between ownership and rental would be ideal. Fractal ownership is a way like this seems to be Woon Koop's mixed rent-buy model (see below). Equity crowdfunding (crowdfunding into equity) you have a share of the space But sometimes this model appears as not fair. Because the ones with more money are in a way those with more power.
Models
Matthew from conscious coliving made a brilliant analytical study on coliving… you can get a copy of his publication oncoliving insights
Gravity: someone leases existing building, then rents them out

Co-House: someone buys existing buildings, then rents out for co-living. By now the model is stuck on rents

Someone develops existing buildings, then rents them out for co-living

In all these models the inhabitants are renting. There is a trade-off between convenience and community: co-living is an inclusive model, everything is taken care of, so when convenience goes up community goes down. On the other hand, co-housing is about buying: it's an ownership model. When convenience goes up, community also goes up. On the other hand, the need to stay liquid tends to produce conservative patterns of communal living.

Brussels model https://www.ikoab.com/

Cooperative model (Woon Koop): the cooperative owns the building, people rent it but they also own the cooperative. In Woon Koop cooperators can put money in the Coop, and that lowers their rent. This leaves the problem of exit. Luc: "it is very difficult, because we ask people that they change their concept of 'living', away from just talking about money."

Swedish housing associations: separate the right to live in the place from the ownership → OBOS livinglab

" we invest in skills rather than embed the skills into artefacts" Alberto

Matthew When community get stronger convenience get stronger

Create a rental model with more commitment → like 24 months of information before living

Whatever the model there is still some type of management needed
Wooncoop:
Some shareowners are also living in our houses

Others are just investors. We offer a 2% ROI. Minimum investment is 3 shares: 750 EUR.

Exists since 2017. We are now running 10 projects, hoping to go to 20 by end 2020.

You can use it to coordinate purchase, development, management of buildings.

People do not own their place. They rent, but they rent from themselves. They do buy the right to live for life, and are expected to "participate like an owner" in running the building.

The spaces do not have to be standard "but you can't have golden floors, still someone else needs to be able to live there potentially".

We have the ambition to allow people to move from space to space staying within Woon Coop. To do this, we estimate we need at least 1,000 units. For this reason, we do not create a coop per project, but keep everything in the one coop.

In the future, it will be compulsory to move from one apartment to the other. This is not as bad as it sounds, because there are communal services (eg. guest rooms).

They work on demand. A group goes to them, and they create the model on demand. They have to put in at least ⅓ of the cost of the project. The rest is split between a banking loan and other investors. The group then gets a reduction of 4% of the amount they put in.

Shares can be sold. The procedure is strictly regulated. The amount of shares sold in a period might be capped.

"Become a shareholder in my apartment, and it's still your money".
More: