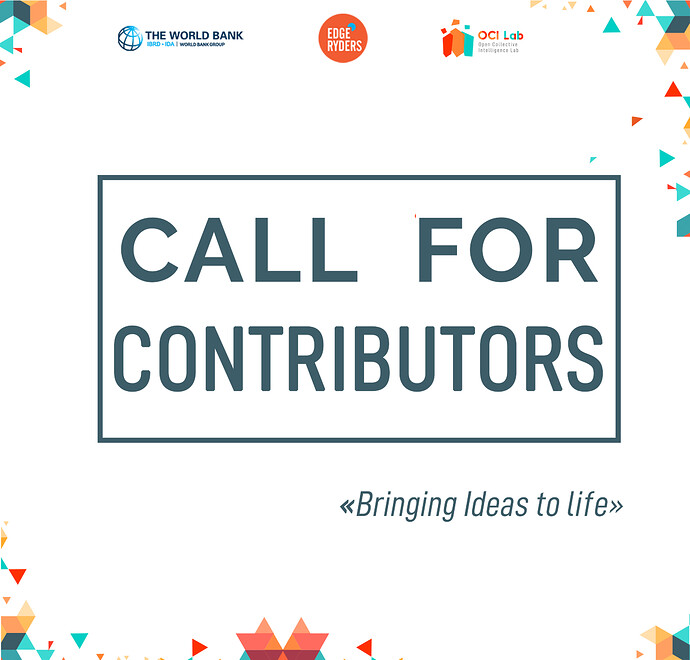 In the framework of OCI Lab online incubator program 19-20, we are calling for contributors in different fields
If you are a designer, web designer, web developer, IT specialist, event planner or have any relevant expertise join us through this journey and contribute to projects with High Potential
If you are interested, please check the projects description in this file and fill in this form before Tuesday, January 21, 2020.
Please note that by applying to this opportunity, an account will be created automatically on edgeryders.eu and your answers will be shared publicly with our community.
If you already have an account, please reply by leaving a comment on this post telling us more about you and your motivation to join us.
Note:
Please state your domain of expertise
Artificial intelligence
Business development
Crowdfunding
Data science
Event Planning
Game designing
Marketing and branding
Media & communication
Neuroscience
Photography
Product development
Production Process
Programming/web development
Social Media
Web Design
Youth management
What is OCI LAB
Open Collective Intelligence Lab is a P2P online incubator to support aspiring young social entrepreneurs in the MENA region through online mentoring and networking.
13 Project teams were shortlisted for the OCI LAB intense project incubation track of the program, which offers them one on one mentoring and specialized technical support to move their initiatives forward.
Until today, the project leaders had three online labs. The online labs supported them to identify the Social-Ecological Problem in their Communities, define their solution and their project value proposition, and Set up their action plan and draft their Lean Business Model Canvas.
These three steps helped them assess their project requirements that will be satisfied through a contribution process.