#PlantAtreeChallengeBD – Iffat-E-Faria
On September 8th 2016, I have initiated an online campaign called #PlantAtreeChallengeBD" The reason behind this was very simple. A country like Bangladesh, which is constantly facing threats of so many kinds of natural disaster, is being increasingly ignorant about its natural conservation. This country has only 17% of forests within. This by the way is getting narrower. Even the largest mangrove forest Sundarbans, which is an internationally recognized world heritage site, is also facing terrible manmade disasters and constant environmental pollutions. It has reached such a zenith, that the global-ecosystem is threatened with the loss of a majority of all species, by the end of this century. Everyone knows, but some chose to ignore it, some choose to remain silent about it. But I thought the simplest solution to address this problem is just plant more trees. It's a simple yet most productive solution to involve the youth, who first of all should be concerned about it; secondly should take initiatives to mitigate this problem. The idea to run an online campaign came to me due to the massive participation of youth in social media. My goals were very simple, engaging the youth to talk about the problem or at least make them realize how important it is to address the issue. Secondly, mobilize my community to take an initiative in real space so that they feel the necessity to do something about this particular problem.
Along with few friends, I started inviting people over facebook to join the event. All they had to do is plant 5 trees and nominate 5 other friends on facebook to replicate the same. This way it will work like a chain reaction and we will be able to see a huge number of trees getting planted in a short period of time. The campaign is still going on and more people are joining. I know it has not gone viral and the number is not that high. Because in reality if you want to mobilize your community for a good cause, you have to ensure some motivations for them. Social norms are something that people tend to follow. Online campaign is there to help create a buzz, to create an objective. Which means if someone can bring out the movement from online space to offline, it moves faster and better. This is exactly why I have planned to run this campaign both online and offline.
Primarily I even offered few things extra to carry on with the campaign. Since I am an online based entrepreneur and I have a client tale which is 3 years old, we kind of have a personal trust relationship with each other. So I personally offered my clients, I'll plant trees on behalf of them for every sell worth $10.
To bring the campaign to reality, a part of that plan involves talking to the civil society and involving them. Therefore, we are in touch with mayor's office to propose an idea to tell the citizens, if they plants 5 trees, they'll get a discount on their TAX. The CEO's of top notch companies to take part in this initiative where we want them to initiate a tree plantation program as a part of their CSR activities. Encourage their employees to plant trees so that they can get a better record at the end of the year in the ACR. We've asked the Headmasters of local schools to run the campaign along with the students, whoever plants more trees and takes care of them properly, will get an excellence award & certificate from the school. Recently our PM received the award of CHAMPION of the Earth for her outstanding initiative on increasing forests and going green. I am simply trying to follow her path to make a change. Because I believe, OXYGEN is the most needed thing on earth and one can not simply buy a healthy environment with money. It takes proper plan and interest to create a land full of trees and a lot of patient. I got inspired by watching BHUTAN be the very first carbon negative country.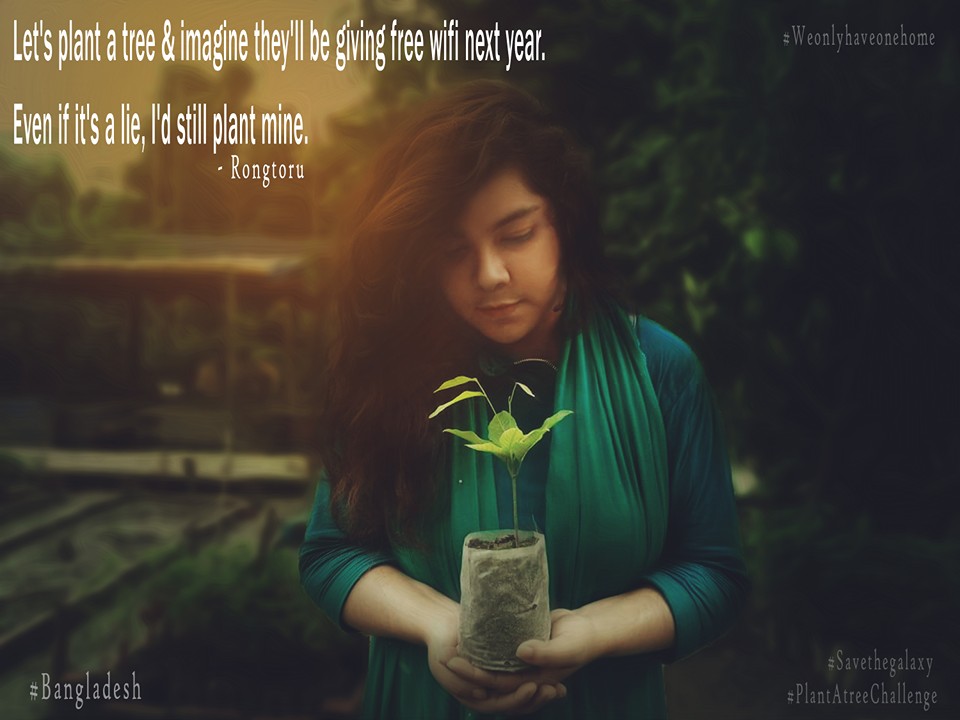 There is a chinese proverb saying ' The best time to plant a tree was 20 years ago, the second best time is now. ' So, I believe in trying for a good cause. To save our galaxy. We only have one home, planet earth. You should start too.
Because, if not now, when? If not me , who will?