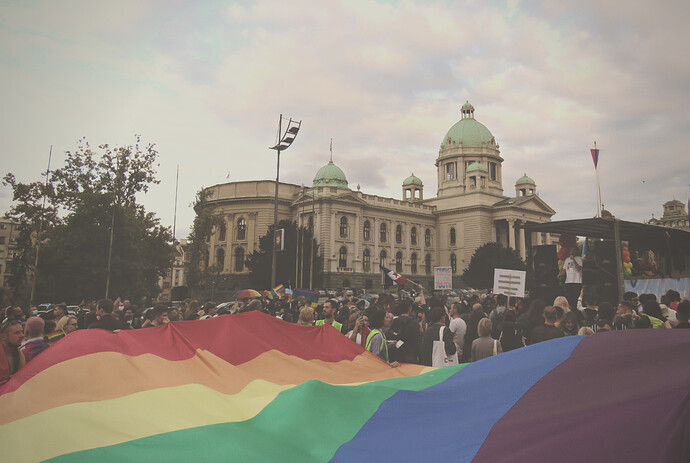 Photo by Mickey Mystique. Belgrade Pride 2021. Creative Commons Attribution-Share Alike 4.0 International license.
Introduction
The rights of women and LGBTIQ people are under increasing attack, from abortion rights being taken away to the creation of LGBTIQ "free zones." From Poland to Czechia, to Germany, anti-rights narratives are taking hold and are used by populists to gain power.
But why is this happening? Which actors and narratives are driving the decline? Which tools are being used? What can we learn from them? And what can be done to counter it?
In this panel, We will be exploring the following topics:
How do populists use homophobia as a strategic tool?
What is the role of the media in amplifying these anti-rights narratives?
How do and could nationalism, pride, and history play either negative or positive roles?
What can we learn from the tactics of anti-rights movements?
What are the most effective methods to counter the narratives?
This session will consist of a moderated panel, followed by a peer to peer discussion. The objective is for participants to leave with new insights and connections.
Agenda
11:15 CEST (pre event mingle): the video channel opens for people to drop in and connect before the session
11:30 - 12:10 Moderated panel
12:10 - 13:00 Discussion (open floor)
Panel
Zdenek SLOBODA, graduated in journalism and media studies at the Charles University Prague. He researched and published on media education, and on various LGBTQ+ issues such as parenting, movement's development or media representations. He is a member of Czech governmental counselling Commission for Human Rights, and Commission for Gender Equality.
Dr. Richard MOLE is the Professor of Political Sociology at UCL and Co-I/Director of Research of POPREBEL. His research focuses on the relationship between identity and power, with particular reference to nationalism, populism and sexuality. He is the editor of Soviet and Post Soviet Sexualities (Routledge 2019) and Queer Migration and Asylum in Europe (2021 UCL Press) - Open Access version available here.
Claire PROVOST, Investigative journalist, editor, and feminist. Previously at The Centre for Investigative Journalism and The Guardian. First book 'Silent Coup' out early 2023. Founder of the feminist investigative team trackingthebacklash at openDemocracy.
Rita ANTONI, freelance journalist and women's rights activist. She is the leader of the Hungarian feminist organization Nőkért (Association for Women) and a member of Szabadnem (OpenGender) intersectional feminist and LGBTQ community.
About the Organisers
The event is organised in partnership with University College London, UK, Tartu University, Estonia, Jagiellonian University, Poland, Charles University, Czech Republic, and Corvinus University of Budapest, Hungary). The event is the final conference of PopRebel, a European research project on neo-feudalism and neo-traditionalism. It is coordinated by Edgeryders OÜ, A non profit think-tank based in Estonia. We help groups and organizations to harness the power of collective intelligence for wiser, more effective ways to work together and make decisions. More information about the event can be found at https://poprebel-impact.eu.
Register
The event is free to attend provide you RSVP. To do that, please use the form below. You can find more info about the different panels on the main conference page.
This project has received funding from the European Union's Horizon 2020 research and innovation programme under grant agreement No 822682.