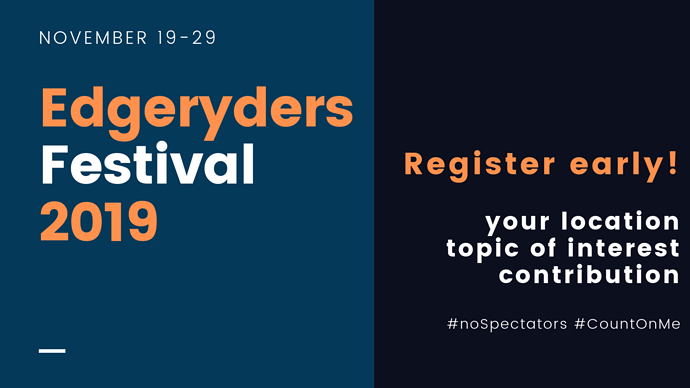 Dear community,
the Edgeryder Festival is happening between the 19th and 29th of November in multiple locations in Europe and online.
Tickets are not purchased with money, but with participation.
To register for the event and be part of building it together, tell us:
1. Where you are based
2. Your topics of interest
Technology for Good
Climate & Environment (& Technology)
Spiritual, Moral & Psychological Wellbeing
Work & Prosperity
Health & Social Care
Democracy, Justice & Rule of Law
Other
3. What can you contribute:
Contribute a talk
Contribute a workshop
Help organise an event in my city
Finding locations
Curating Program
Setting up at the location
Design communication
Invite an interested audience
Provide tech support
Other
You can send in the information required in two ways:
—> Leave a Reply below and/or
—> Fill out this sheet for general information: https://docs.google.com/spreadsheets/d/1D_CMPm43FDXg5EE_5zDk6C_A_yG6s25HrH4wPuRRP7I/edit?usp=sharing
—>And this one for the needs of your event:
https://docs.google.com/spreadsheets/d/1i5sOTG-zoRrLmACPe8eW62YFi5-xsz_aUSUlAqqsCo8/edit?usp=sharing
What happens after you register? We will follow up by inviting you to regular community calls for building the event and making sure you are the first to learn about the resources and opportunities that others are creating all over Europe on these topics!