It was strange meeting Believers. With the kind of work they'd done, I was anticipating a group of fifty really pumped up individuals working to "make a difference". But cliche is something that is as far from Believers as possible. They have their own reasons to work and continue doing so long after most people have stopped. They've worked in probably some of the toughest terrains of Earthquake stricken Nepal. And they still are working as a team. What have their experiences been like?
When I met Pemba Sherpa, less than a week back, he was coordinating a team to drop supplies to Solukhumbu. "So is it one of the affected areas of post-earthquake?" I ask him, sitting in a beautiful garden in a Bed and Breakfast he owns. "Yes," he smiles. I didn't know much about that. All we hear about post-earthquake are places like Gorkha and Sindhupalchowk but the destruction has gone beyond. We are yet to discover places. But these are people in places we have not thought about. People who have lost their lives and we are yet to hear about them. There was a part of me that found it profoundly sad. As a group, Believers have certain insights that are both rare and important. We share these insights today.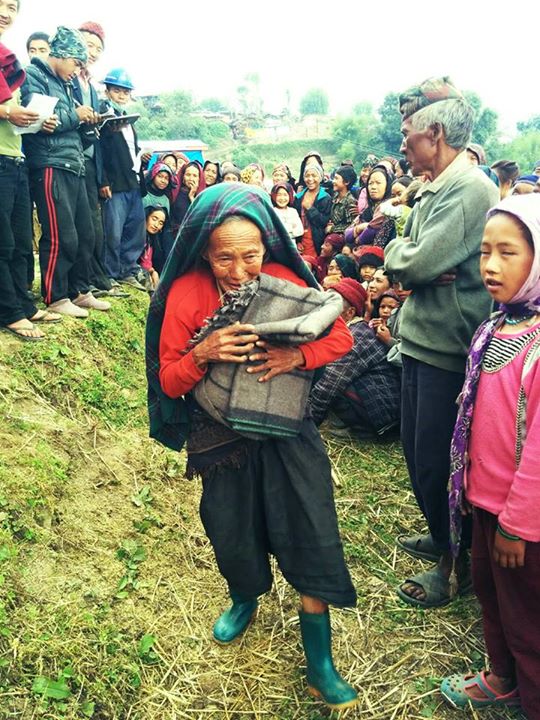 No rules, no cry
"Believers was established without rules. It was six years back when a bunch of us were still in Philippines, studying, when the flood hit us. We wanted to work. So we did. We united much like people did this time around in Nepal. There were donations made from friends and we started helping. Believers, has not stopped since," says Pemba.
And they most definitely haven't. With prior experience in working with disasters, Believers have organized themselves in a group of core members, that grew painstakingly from 3 to 12 over the last 6 years, all because Believers believes in the best. They wanted members they could rely on. This is followed by a wider group of volunteers who work on the group during the disaster but slowly dissipate as the crisis disappears. This model always leaves the core members open to move to another project that needs attention. In Nepal, their work started way before the disaster (they've been involved in a range of activities, the most impressive of which is collecting second hand clothes from Kathmandu and distributing it in the most remote regions of Nepal, in amount that is hundreds of kilos).
"We are just a platform to create experience." – Pemba Sherpa
Wasn't just a social service
Every work, especially one that aims to last for a while, needs to have an incentive that goes beyond emotion into satisfaction from the job. Bluntly put, no group can sustain without its members finding satisfaction in the work they do. So however, selfless their work in earthquake might look like, they don't want it to be presented that way. "It was just something everyone had to do. I remember going to Bir Hospital to help on the 2nd day of the quake. They were already saturated in terms of volunteers. We had to get out of Kathmandu. So we did," shares Pemba.
The scene in Gorkha was chaotic, to say the very least. Mostly because there were hundreds to help, but places were inaccessible. "International organizations had policies they couldn't move about. They were ALL waiting for the helicopters as they stayed in the district headquarters. We had to reach the distant places of Gorkha," says Pemba. Social service therefore is just a part of Earthquake Relief Stories. After a point it all comes down to continuous struggle to finish what we've started.
With the resources flowing from all directions, it was difficult to coordinate the capital and field but Believers managed to do it well. Slowly and surely, organizations and individuals started trusting them and the resources poured. They worked and made sure the resource reached whom it had to. The group grew because members joined them and connected to their initiatives.
Need Assessment
With the disaster came the rampant help, that was accused of its mismanagement just as much as it received appreciation for the initiation. Speaking realistically, citizen driven efforts can be chaotic. It is wrong to expect management in the throes of emotions, when everyone was helping, or at least trying to. But the best way to go about helping people, is to make sure they need our help. Or at least our help in aspects we assume they do.
"Need assessment is a must. We had to send our volunteers to places to know what was needed. There was no point in gathering materials if we couldn't distribute it to people. Things would have been much easier if we could just take the things to the places. We had a hard time, because we wanted people to get it. Right there in front of us. We wanted them to get what they needed. So we had volunteers assess in every place we went, no matter how remote," shares Pemba.
Social work is permanent
Another part of Believers' story that I connected to was how permanent social work actually is. "We are not bound by rules and regulations. We are not an organization relying on donors. We are just a bunch of people who work driven by their interest, doing work that makes them happy," shares Pemba.
And that is an interesting way of looking at social work. So there are thousands of reasons people come together and work, especially during earthquake. Some do it for their friends while others do it for they know their responsibility. But relief work is temporary. And it has to be. We want long term plans in the future. However, social work doesn't have to be temporary. It could be a permanent habit developed among the youth as a result of this experience. We could all have our lives we've returned to, but this experience has opened us up and introduced us to our strengths. Now it is up to us to carry it forward and be an active member of the society that needs us, most definitely, long after the threat of earthquake is over.