We received the first draft concept for the visual of Science Fiction Economics Lab graphic design. As Lorenzo said,
This is just a concept, that means that if agreed upon, I will design it, add details and develop it further, so the final result will be visually different from this, but it will follow this basic idea/content/style.
It also contains a first draft for Sci Fi Econ Lab logo. This one as well, if client is happy with it, will be developed further and turned into a polished logo. This logo will then be delivered as standalone element to be used on any other project.
Same goes for the main visual and deliverables.
Let me know if you have any question.
I gave him the event concept idea, the solarpunk art and the cover of "Walkaway" as references.
So, this is the draft visual concept: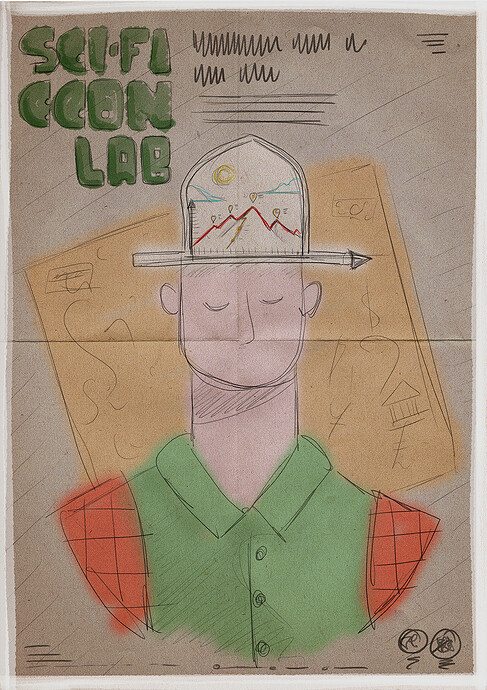 I showed the picture to @augusto and we agreed on a few feedback we can give to Lorenzo.
As we intend to have a participatory event (a lab), where basically two different worlds meet to talk about the future, one single human figure wouldn't represent the dialogue. So we suggest to represent at least the two worlds - science fiction and economy - and that could be done through human figures but also in a more conceptual way.

It would be better to have the event name written in full. The proposed logo is what you see on the top left of the image. I already told this to Lorenzo, but he suggested, in his experience, that a logo with long words doesn't work. So we previously agreed on what you see: SciFi Econ Lab. But with @augusto we agreed also that "Econ" could be misleading.

We decided to give Lorenzo a moodboard with some more images to be inspired by. We need your contribution for this too.
Also, we have to keep in mind that we gave him a very short time (15 days) and a limited budget (1k), so by contract they will propose us up to 2 sketch options for the main project visual. The main visual will dictate all other deliverables. Also, consider that for the time and the budget, we couldn't have a very complicated design

Now, we need your feedbacks!

@alberto @matthias @haf @anon82932460