Hello @reeflings,
With a thousand thanks to the people in Team Building, we now have everything in place to kick off the scouting exercise for real.
This is a very important task, and we need everybody to contribute as much as they can. So with the exception of those who have tasks and responsibilities related to keeping our group running, please prioritise the scouting over everything else. Many hands make light work!
As a guideline I would suggest that we aim for scouting two hours every one or two weeks. If everybody who is able to do it contributes something like that, we'll spend 20-40 hours of scouting every week. This is what will help us to win this game!
What we know from experience so far is that this is actually quite fun, and also a good opportunity to get to know somebody, so this should be a double win. The days are long these days, so for most of us it should be possible to squeeze in a small excursion after working hours.
Here's a short summary of the steps you need to undertake:
1. Find a buddy and a zone
Fill in the sheet with your availabilities (on a regular basis) [note: link incorrect, changed after posting] and proactively contact the other Reeflings with shared availabilities to see whether they would be willing to go together.

Contact Sébastien to ask which zones still need to be scouted. You can of course express your preference (e.g. "easy to reach from XYZ" or "in this or that commune"), but please be aware that it may not always be possible to get it.
2. Get prepared to scout
If it's your first time: go through Sebastien's presentation to make sure you are well aware what we are looking for

Please also have a look at the scouting fiche template – maybe even take a paper copy – so that you know what information you will have to report.
3. Do the actual scouting
Go to the zone you have been assigned and scout all streets in a systematic manner.

Highlight the streets that you have scouted with a marker on a printed copy of the map.
Note: The map is divided into squares (pink lines) of 500 x 500 m. Please scout the streets as much as possible in line with these squares (instead of randomly wandering around), so that we don't need to send a team to the same zone afterwards. (see example)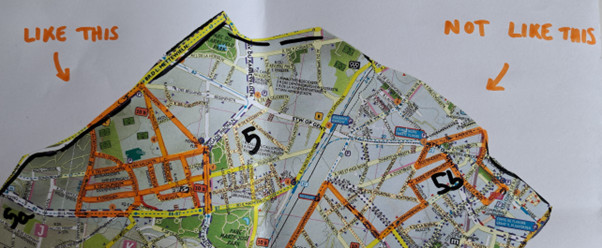 4. Report your scouting / fill in the fiches
When you come home, save a copy or picture of the printed copy of the map with the streets that you scouted in a folder named "Scouted zones" and ping Sébastien.

Fill in a scouting fiche for every site that possibly meets The Reef's criteria and save it in the folder named "Fiches".