Hello @reef-finance, making a proposal on this item is on our table. Tonight I had a bit of time and I made a simulation. It compares two scenarios:
Scenario 1: equal total contributions. All households make the same contribution to funding the purchase of an option on the site, regardless of the size of the different units.
Scenario 2: equal contributions by square meter purchased. Households fund the purchase of an option on the site in proportion to the square meters of their desired unit, as reported in the document Mark and the architects call le programme.
Since we do not have le programme for The Reef, I used data I invented. For simplicity, I imagined a cohousing made of only five units of different sizes, with the same purchase price per square meter across all units (no "price fork" between units). The result is something like this: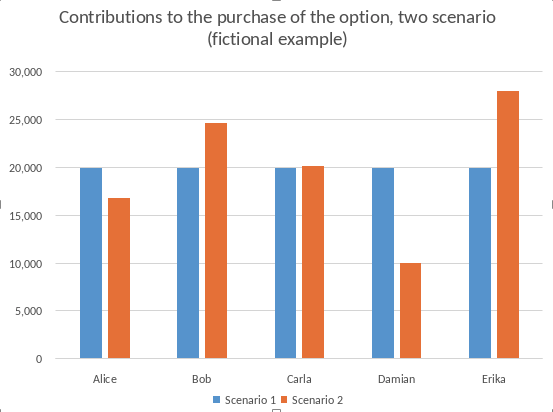 Does it make sense to present this in its present form so that people can get their heads around the issue, or do we need to wait for @reef-building to make le programme? The latter could take a while, as Building needs to start a form or spreadsheet or something, then we all need to provide some numbers.