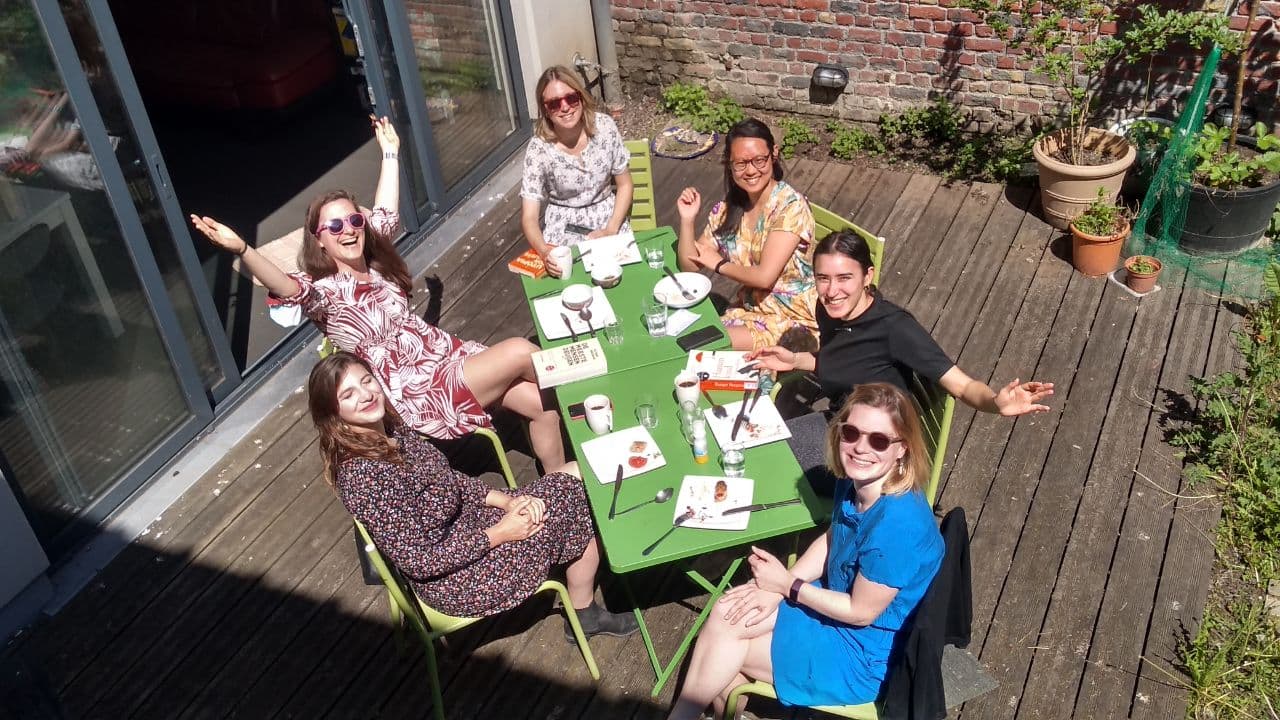 The Reef
A cohousing project aspiring to a green, sustainable and social lifestyle for the 99%
Diverse, easygoing and Bruxellois
We would like to bring together a group of people of all ages (from 0 to 100), of all colors, origins, backgrounds and sizes, because we believe that this will create plenty of opportunities to learn from each other, create a sense of belonging and form a thriving, resilient community.
We go with the flow: we respect everyone's private life and world views, we adapt to new challenges as we go and we cultivate a culture of compassion and collaboration.
We are proud to be Bruxellois(es): we speak een mix van toutes les langues del mundo, flavored with a sense of humour that keeps the dikkeneks away.
The space
Green
We strive to lower the building's environmental impact: (almost) energy neutral, reuse of rainwater to lower the consumption of drinking water, use of sustainable materials.
We try to lower our consumption footprint by sharing stuff and some common spaces.
We aspire to a green style of living, but we respect everybody's choices made in the private sphere.
We would like to have a little shared garden, to stay connected with nature and maybe grow some fruits and vegetables.
Inclusive
We would like to include some units that can be rented to youngsters in a precarious situation (getting professional assistance to learn how to live independently).
We would like to welcome one or more people or families who came to Belgium to seek asylum.
We would like to look into the possibility of renting out some units through a social housing formula.
Together yet private
We would like to bring together a group that is big enough (15-20 units) to allow for spontaneous, non-contrived interaction.
We will have a large common space with a kitchen, a dining table and a quiet corner where people can get together to share a meal, organize events, etc.
Efficient
We get extra comfort on top of our private units by sharing a number of spaces such as a guest room, a laundry room, a playroom for children.
Through smart architectural design some units will have the possibility to be connected. This way a small studio can be rented out when a couple has no children and turned into an extra bedroom when the need is there. This should also make it possible for people with a lower income to join the project.
Interactive
We would like to welcome and interact with the neighbourhood we live in, by including one or more commercial spaces that can be run by a small business.
We imagine a common home office, to be shared with the neighborhood as a co-working space, or a quiet place for children to study and do their homework, or a room for organizing events (courses, repair cafès, clothes swapping).
We trust that the diversity of the group will facilitate the possibility of exchanges and a sense of connection between the inhabitants. Everybody is of course welcome to join in as much or as little as they like, but whoever is looking for a friend to do some gardening together, help with homework for the kids or people who would like to cook together, is likely to find somebody to do these things with.
What we are looking for
Fellow residents
If you see yourself living in The Reef, maybe you belong with us. Let's meet up and we'll take it from there. Get in touch
Building
We are looking for a building to be renovated, that would allow for:
12-20 private units, large and small, some of which can be connected to each other.
A number of spaces to be shared with all the inhabitants: a big common space with a kitchen and dining tables, 1-2 guest rooms, a playroom for children, a utility room, a workshop, a bike shed, …
Commercial spaces, to be defined.
A small green garden where we can spend time outdoors.
Do you own or know one? Get in touch
Partners
Are you an architect, real estate developer, bank, civic association, government agency? Someone with hands-on experience on building up a co-housing? Do you believe that you can help? We would love to talk! Get in touch