I like that route. It's also in line with the style in Nadia's examples, and we'd get material with full copyrights on our side, so we can publish it under an open source licence if we want to (as per the contract with Lorenzo). It still depends on a bright idea on the designer's side to transport the solarpunk theme with this style of illustration, but that should be possible to some degree.
A futuristically looking stock image would not be taken seriously for The Reef materials, I think. I prefer an illustration for this.
For the Sci-Fi Economics Lab it could be different since that is clearly utopian already. @alberto's call to make I'd say.
That was confusing at first but now I think he says: a minimal illustration (shown left and right in the mockup) can be done as part of our contract. A bespoke illustration (center in the mockup) is way beyond the scope of this contract and would cost upwards of 2k GBP. @ilara is that what you discussed? (Just make sure we don't misunderstand our designer and get into budget related discussions in the end.)
As for the "works of solarpunk" art, I have to agree with Lorenzo that you can't get that for our budget in Europe. The most polished works that Alberto showed as examples are all detailed, photorealistic 3D renderings, and that is a ton of work. I use this kind of 3D software (Blender) every now and then … so I think I have an idea about the amount of work. For this one for example, my guess is that 3000 GBP would not be enough at European rates: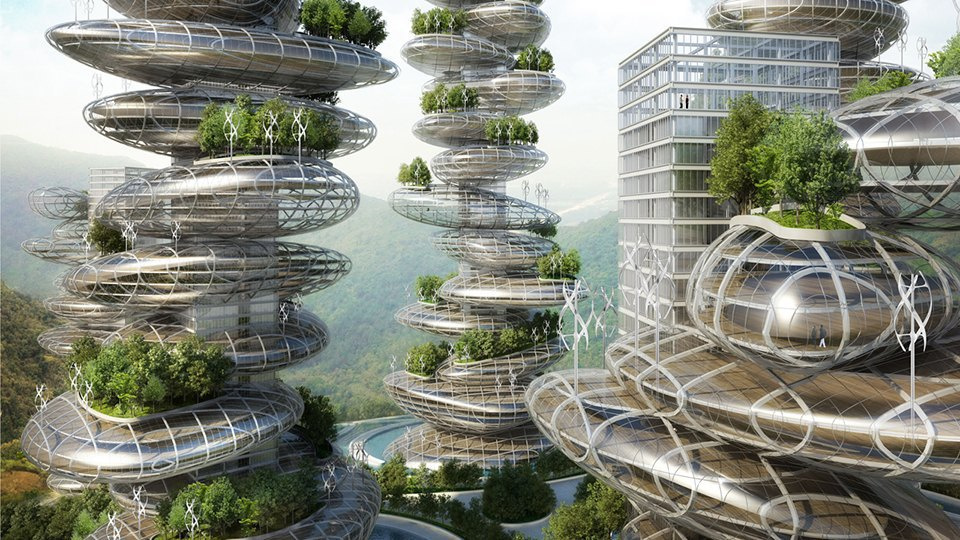 I will of course be really cool to have a solarpunk 3D rendering for The Reef materials. But the way to get to that with limited money is different and more medium-term than a fast-turnaround design by a professional designer in Europe.
Off-topic: how to get to our own solarpunk renderings

We would provide some 3D raw data (3D scans / photogrammetry) of a candidate building to my favourite Indonesian 3D studio, and ask them to transform it into a solarpunk styled building. We'd get the 3D model (which is no problem with these guys them, I did that kind of deal with them before) and with that model we can do our own 3D illustrations, as many as we like and from any angle. In a second step (with some more budget) we'd ask another 3D designer overseas to provide proper textures and background objects into that model. Over time we can build a little solarpunk 3D world from that model, which then provides the material for all our illustrations. And publish it open source, to fix that absence of open source solarpunk design materials that I noticed when looking for that a few months back. But as you see, all this is definitely more of a medium-term task.