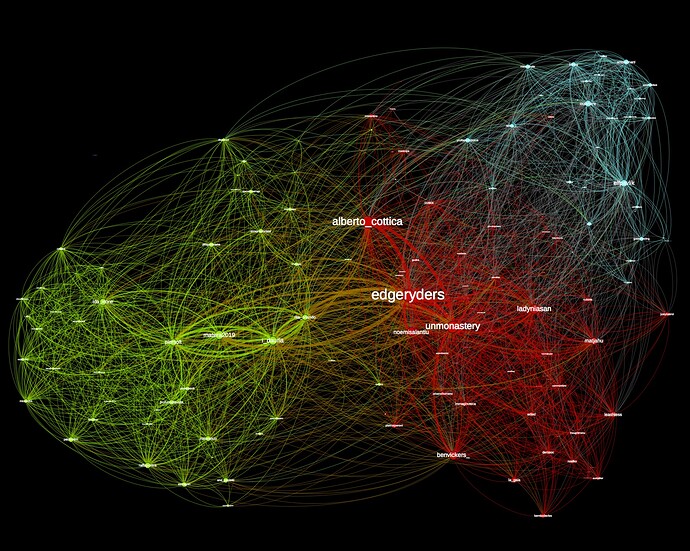 Learn more about this initiative at: work.edgeryders.eu
How it works
You introduce yourself to the community on our online forum let us know about yourself and your needs, or what support you would like to offer, here: https://edgeryders.eu/c/campfire or via community@edgeryders.eu
We help you shape a request for support and instructions for how people can help.
We publish it on the community forum. Members of the network can then ask you questions and you can answer them in one place, so you can direct people to one place with the key information.
Our community managers then draw the attention of the right people in the community etc (see example here)
Community managers organise a video chat with the community to help coordinate community members efforts around projects and organisations that have asked us for help- and structure it into a concise call for participation (like this)
The call for participation is blasted out to a broader audience via our personal and professional networks via word of mouth, social media, newsletters, partner organisations etc.
People show up on the platform and our community managers help coordinate efforts so people who are busy building the projects don't have to.
Once the crisis is over, we throw community gatherings where everyone meets, shares experiences and celebrates in person ( local groups organise them in different parts of the world - see last years edition here)


Who this is for
Project leaders: Need support to build, develop or drive adoption of a solution
already have an initiative up and running
are looking for mentors, partners or any kind of support
willing to have shareholders, and commit to start new entreprises
Project contributors: Want to support promising initiatives to achieve impact
Want to invest some time into building new paths to generate income for themselves
Want to develop new skills
Want to grow their professional network
Problem owners: have a problem that you care about and want to see fixed
Want to be involved in developing and testing solutions to the problem
have some kind of leadership role in a context where the problem is very present
are willing to invest financial or nonfinancial resources into self-sustaining solutions that come out of the incubator
Organisations that need help with their work: You want to contribute to and benefit from a network of mutual aid efforts
Are part of project, group or organisation doing work in response to the current (and future) crises.
Are up for putting in 1 hours to come to a webinar to introduce your work and answer follow up questions from participants
Are willing to put in some effort to support someone else's work (adapted to your availability and constraints)
Mobilisers: You see people doing important work you want others to support
Know of a project, group or person doing inspiring work
Are up for putting in 1.5 hours to help them
---
Where is this initiative coming from?
In this discussion about how we take back the internet Howard was pointing to about a key function we can take on to be useful in the context: "What can we do to help your organization and to help grow a network of mutual aid efforts?"
The exchange between @howard_rheingold @alberto @ton
What these exchanges and many more we have had here over the years, is the need for people to reach out beyond our respective "homes" on the internet, and interact in other spaces.
To find and make visible the unsung heroes and invisible efforts required to achieve impact in tackling the current and future crises.
This needs to move beyond collecting static repositories of information like links or manuals. Rather we need a combination of first hand accounts, conversations as well as dedicated people to synthesise and structure it all into concrete calls for participation/support. Then carry the weight of coordinating the people who do show up to help.
In the end it all comes down to building meaningful, active, relationships between a lot of people. Building, growing and activating dense networks. Making visible and accessible the knowledge carried within these networks, yes. But more importantly, making it possible to find, learn and interact with the individuals with whom we can get things done.
Our mission with this effort is to contribute towards this and engage others to do the same within their own settings. Because we believe this is needed for communities and societies as a whole to get better at responding to these crises in the future.
---
FAQs
Are people paid to work on projects?
Whenever possible, we try to find money to pay for people's time. Our ability to secure resources relies on a lot of unpaid work such as researching and writing grant applications. We all pitch into this and whenever paid work opportunities are born out of our collective conversations, they are advertised on the community platform: community members who either have, or demonstrate aptitude and will to quickly develop, the required skills are then first for the paid work opportunities.

Our reasoning around this is that we prioritise pay for people who carry the brunt of the "boring" work like coordination, or administration which requires significant commitment, specialised skills and personal accountability. Freelance work which requires a concentrated full time effort for more than a day or two is next on the priority list. These often require significant administrative overhead due to the complex resource management and reporting requirements attached to our funding sources. What is easiest for us to cover is small expenses e.g for servers, materials or rental of equipment.
Where does the data on the platform go?
For more information, partnership enquires etc: write to community@edgeryders.eu