2020-03-31T10:00:00Z
How has your work been affected and how has your day to day life changed? What tools have you used to cope? What help or resources do you need to deal with the situation? How have the lives of friends and family who work been affected (potentially in ways different from yours)?
I am going to organise weekly calls in March/April to talk about this. For all of us who are staying home and worried about your work safety, income and opportunities in the future. Many people I know are feeling despair, and turn inwards. What if we could just talk about it and see what others are doing?
Rant!
Share about situations in different countries
Offer some thoughtful advice or resource to other people
Connect people who could offer gigs and projects with others.
Not judge, but listen.
Do you want to participate? The calls happen each Tuesday at 12:00PM. Register at this link: http://bit.ly/coronawork
I offer to facilitate the first ones. It would be helpful if you tell in advance what is your situation, and a question you have or want to ask others, so please leave a comment below.
For the issues which gather more responses and for which we see that are common between many people, we can host more specific themed calls.
If you have a project you are working on, let us know - we are finding and mobilizing mentors from all over to help with specific issues - so we'll match and make!
See you on Tuesday?
P.S. Working Languages: En, Fr. If you speak only your native language, don't worry! We will invite other facilitators who can translate.
Please share this call with others you know.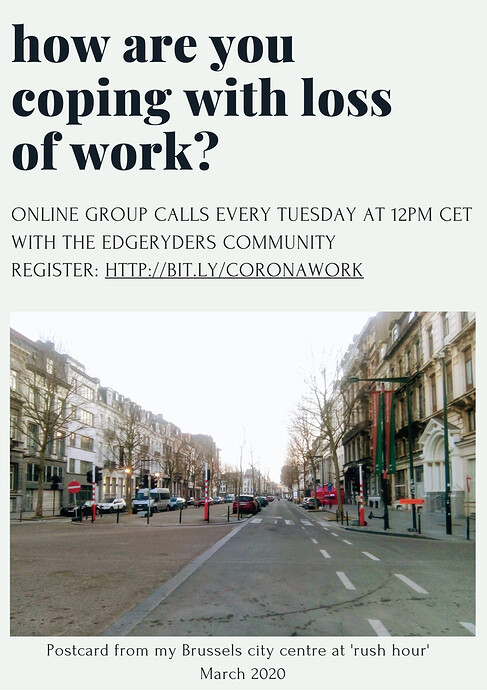 {
"host": "https://now.edgeryders.eu/community",
"info": "Our weekly call to discuss this topic!" 
}