Hi everyone a status report from our outreach & engagement work for the past month
Visitors vs Signups: 59.4k visits / 32 signups
Sign up vs Contribution rate: 32 signups / 12 new contributors
New Visitors vs Returning visitors: 87.6% / 12.4%
Organic Search vs Direct vs social Media: 20.83 % / 11.3 %
Social Media Engagement vs Platform signup

Twitter: 98 Tweets / 512 clicks / 32 signups
Facebook: 48 Posts / 695 Clicks / 32 signups
Linkedin: 42 posts / 38 Clicks / 32 signups
How do we engage more of the visitors to signup and contribute to the conversations?
It's pretty easy to get people to engage in posts like the one of open source coffee sorter, because the benefits are immediate. But that kind of participation does not meet our goals for engaging people in deeper, more thoughtful conversations with one another around topics like care, wellbeing etc.
1. Link contribution to the right benefits
In edgeryders the value people get out of participation is meaningful interactions with others.
Because the value for the individual is co-created by generous interaction with others, this cannot be based on one-on-one transactional logic. Nor can it be custom made around each new for our work to be sustainable as we grow in diversity. This is what I see
A Process with a plan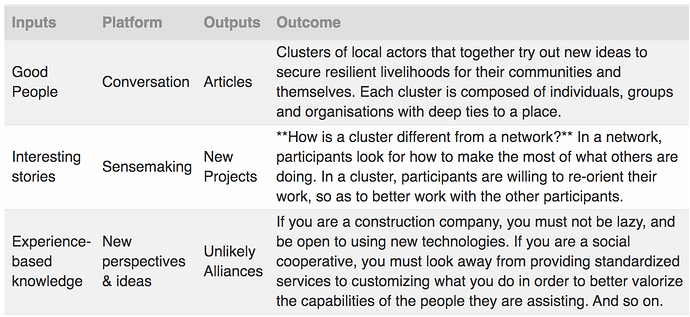 Individual Benefits
Find the right conversations
Learn from others' experiences
Co-create new projects and programs
2. Add prompt to action at the bottom of each post.
I believe that when a person has read a post, unless there is a clear prompt to action they are less likely to engage actively. So we need a way for a call to action to be visible reader follows a link from the newsletter, or the weekly summaries, on the page they land they get a call to action. So what should this prompt to action be?
This post is part of a conversation on … depends on the project (e.g NGI and POPREBEL)
What will come out of it is… **
You access it by leaving a thoughtful comment
Any thoughts on how to best make this happen @matthias @hugi @alberto @noemi @MariaEuler @johncoate @lroddy @stefanoboski ?