Edgeryders is currently developing a software provisionally called OpenEthnographer, with the support of the Rockefeller Foundation. The idea is that online conversations, rather than be exported (often via copy-paste) as text to some external ethnographic software, is coded on the platform itself. We believe this move to be have potentially disruptive applications for how ethnography is done and what role it plays in societal advancement (here is a more detailed explanation). The very very rough prototype we are using looks like the screenshot below. Color-coded triangles identify coded snippets of text; ordinary users do not see them, but researchers are given a special set of permissions (very easy with Drupal).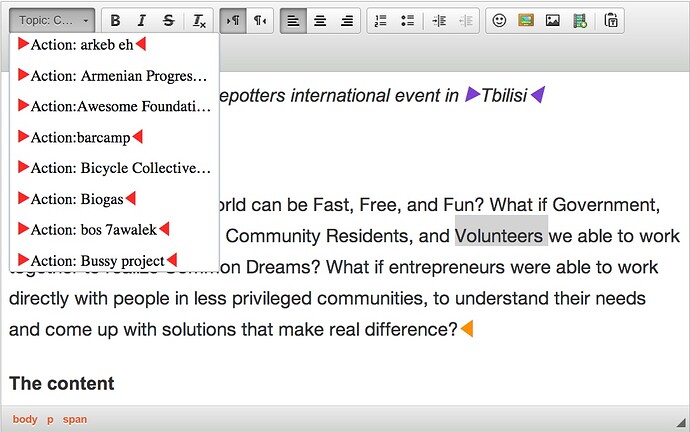 However, we have a major architectural choice to make. We want any piece of text on Edgeryders to be usable by as many ethnographers as want to to research on them. Now the question is: should each researcher be able to keep her coding hidden from other researchers? The way it is now, OpenEthnographer is powerful, but you can only do open notebook science with it; other researchers will be able to see your codings as you work. Some people think this is the highest, nobles, most accountable form of doing science; others are very uncomfortable with it. So we need to decide whether to continue developing the existing architecture or to make significant changes to enable each researcher to make her codings invisible to everyone else.
If you are an ethnographer, know one, or otherwise have an opinion to share on this, please let us know: we cannot proceed without making this decision.