Available in:

English /

Romanian
---
English version
A community intervention project to reduce food waste and have better access to food for anyone who wishes to reduce their costs buying food every day. The project is a pilot and there is no organisation behind it.
What we want to do
we want to place 2 fridges: one in Cluj (provisionally in a central neighborhood) and one in Bucharest (with an organisation doing work with drug addicts which is already storing food)

the fridge should have an aesthetic to it so that it's attractive and reads trust - otherwise people can be reluctant

the community should gradually take responsibility to check in every day.

dealing with legal authorities: should not be a problem since we are not incorporated so we are not breaking any law.
Timeline
6-10 Jan: first design conversations with interested people in both cities

10 Jan - 10 Feb: concrete planning and field scouting

10 Feb: launch

10 Feb - 30 March: make sure a number of volunteers are rotating to check the fridge and replace food gone bad, encourage people to store food there run awareness raising campaigns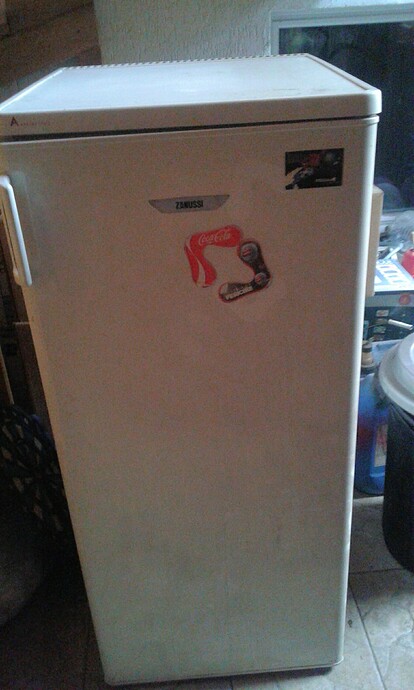 Used fridge we bought for almost no money. Another two are already being donated by friends.
Resources

---
Un proiect de interventie in comunitate pentru reducerea risipei de hrana si acces la mancare pentru oricine doreste sa reduca din costurile zilnice de cumparare de alimente. E o initiativa pilot si nu apartine niciunei organizatii. Suntem un grup informal si oricine poate da o mana de ajutor. Folosim platforma EdgeRyders pentru a ne coordona mai usor (te poti inscrie si tu aici). Ai intrebari sau nu stii cum poti ajuta? Lasa un comentariu mai jos.
###Ce vrem sa facem
dorim sa amplasam doua frigidere: 1 in Cluj (intr-un cartier relativ central) si 1 in Bucuresti (in cartierul Obor unde lucreaza cei de la Carusel). E important sa fie langa incinte private ca sa evitam probleme legate de autorizatii legale.

ar trebuie sa fie un super frigider comunitar - ideal o vitrina uriasa in care mancarea sa se vada, sa arate ingrijit, si care ar fi mai greu de vandalizat. poate il facem pe roti, sau poate ii construim un fel de dulap in care sa stea, cu etajere in plus unde sa se poata amplasa materiale despre food waste si contactele celor implicati in caz ca oamenii vor sa se ofere voluntari. deocamdata am facut rost doar de 3 frigidere normale, nu vitrine

frigiderul e un loc liber, al comunitatii, si de socializare. ar trebui sa fie preluat de comunitatea unde e amplasat si oamenii sa se organizeze sa verifice zilnic ce intra in frigider si sa arunce eventualele produse stricate

pe langa schimbul de mancare, se mai pot organiza in comunitate cine pop up, cursuri de gatit. Uite cum fac cei de la Carusel cu Care Cafe: https://www.facebook.com/marian.ursan1/posts/10205184202823154

frigiderul ar fi responsabilitatea unei comunitati, nu a noastra, noi incepem dupa care recrutam oamenii de pe strada/cartierul x sa il ingrijeasca si aprovizioneze ca pe un bun public, iar noi ne mutam si incepem o noua iteratie in alta zona a orasului. ceva ca o miscare, nu ca un proiect care depinde de echipa initiala.
###Parteneriate
Cateva propuneri care s-au facut, dar multe sunt doar in faza de idei: cu Carousel, Visini Hub, Atelier Adhoc (Bucuresti), Food not Bombs, Piata Autonoma Cluj, Adi Hadean, Food Waste Combat (Cluj)
###Timeline orientativ - pentru cine vrea sa se implice
in ianuarie 6-10 ne intalnim in Cluj si Bucuresti sa ne organizam si sa gandim impreuna designul (branding or no branding?), amplasarea, mesajele de comunicare, cum luam legatura cu oamenii din cartierul sau zona unde va fi frigiderul.

10 ianuarie - 10 februarie: munca de planificare concreta si deplasat la fata locului pentru a vorbi cu oameni si organizatii interesate sa participe

10 februarie: prima zi de aprovizionare

10 februarie - 30 martie: un numar de oameni voluntari fac prin rotatie cateva actiuni minime: verificarea si inventarierea produselor, activitati de informare si constientizare etc
Cine vine la primele intalniri? ping @Ruxandra @predoiu_alexandru @bogdan_alto Alto (Buc) @Andra_B (Cluj) si restul oamenilor care pareau interesati cand am mai vorbit.
Frigider folosit cumparat aproape pe gratis in Cj. Pe alte doua le vom primi ca donatii de la prieteni din Bucuresti. Va trebui sa muncim ca sa le facem atragatoare - vezi poze in prezentarea de mai jos.