After some frustrating experiences, we decided to purchase a Zoom Pro account. This post documents our current state of best practices for our Zoom video conferences.
Content
---
1. Basic instructions
In general, Zoom is intuitive and well documented. See the Zoom Help Center for tutorials and resources.
1.1. Logging in
Go to https://zoom.us/signin

You are going to need the Zoom software. If it is not already installed, please install it. You do this by selecting the "host a meeting" option.

Log in with our Zoom login credentials (protected).
If you do not have access to the link above but still want to use our Zoom Pro account, ask one of us. If we are not using it ourselves concurrently, and you promise not to abuse it, we will give you access.
1.2. Scheduling a meeting with the web interface
The below process is our convention for all conference calls in Edgeryders. It includes calendar integration and even reminders by e-mail before the event.
To create a meeting:
Go to "My account → My meetings".

Click on "Schedule a meeting" and fill in the information and click "Save". This brings you to the meeting's details page. Details to note:

Enable the option "Use personal meeting ID 306-321-0325". Doing that consistently will slowly get rid of the task to always distribute a new meeting ID / Zoom Join URL, as we have a fixed one this way. And with our single Zoom account, only one meeting at a time is possible anyway.

Add the meeting to our Google Calendar "Edgeryders Events", or to your personal Google Calendar in case you are using Zoom for non-Edgeryders purposes.

(The following explains the semi-automated process provided by Zoom, but there's nothing wrong with creating the event manually in Google Calendar – just add the "Zoom Join URL" to the location field.)

Click "Add to: Google Calendar".

Log in to your personal Google Account. (Probably you are already.) A screen to create a Google Calendar event will appear.

Details: This allows Zoom to create events in your calendars, but only on your computer, and only until you sign out of that Google Account again. It does not create a permanent Google Calendar integration – that setting is only for viewing Zoom meetings in the Zoom desktop client.

Select "Calendar: Edgeryders Events". If you can't see it, you need to get access first – see our Calendar Manual.

Invite participants with their Google Accounts to the event. This will add the event to participants' Google Calendars and also send them reminders before the start.

Add reminders to the event as appropriate.

Click "Save".
To re-schedule a meeting:
Go to "My account → My meetings".

Click on the title of your meeting to go to its details page.

Click "Edit this meeting" at the bottom, make and save your changes.

Click "Add to: Google Calendar" again and add the meeting again to the "Edgeryders Tasks" calendar. (This is a bug in Zoom.)

Delete the old calendar entry of the meeting in the "Edgeryders Tasks" Google Calendar. (This is a bug in Zoom.)
To delete a meeting:
Go to "My account → My meetings".

Click on the title of your meeting to go to its details page.

Click "Delete meeting".

Delete the calendar entry for the meeting in the "Edgeryders Tasks" calendar. (This is a bug in Zoom.)
1.3. Scheduling a meeting with a browser extension
TODO: It is not clear yet if our account's fixed personal meeting ID can be used with the process below. If not, we don't recommend it as always-changing meeting IDs are confusing.
As an alternative to the above process, you can download Firefox and Chrome extensions to create Zoom meetings from inside Google Calendar. Usage:
At first usage, click the Zoom button the browser toolbar that was installed by the extension and log into the Zoom Pro account there.

Create an event in the "Edgeryders Events" Google Calendar and click on the "More Options" button. Alternatively, edit an existing event. Alternatively, click the browser extension's button and then "Schedule a Meeting". All bring you to the detailed event edit dialogue. Always use your personal Google Account for this step; if you don't see the "Edgeryders Events" calendar there, get access first.

Click "Make it a Zoom meeting". (If still needed.)

Invite participants and add reminders as usual.
The meeting will now automatically appear in the "My Meetings" section in the Zoom website, and the Google Calendar event will contain the URL to join the meeting. This process is a bit more comfortable but not much: re-scheduling and deleting events need the same workarounds documented for the process in the web interface (see above).
1.4. Testing your bandwidth
The quality of the experience with conference calls depend a lot on available bandwidth. Please, before hosting a meeting always test your internet speed and choose the location that will give you more headway. You can use Google's Internet speed test. In the Reef, the best way to host one is connect via Ethernet to the router in the office.
Internet bandwidth in different locations:
| location | downstream | upstream |
| --- | --- | --- |
| The Reef, office, connected via Ethernet cable | 64 Mbit/s | 26 Mbit/s |
| The Reef, office, connected via the router's wifi | 42 Mbit/s | 26 Mbit/s |
| The Reef, living room, connected via range extender's wifi | 10 Mbit/s | 22 Mbit/s |
1.5. Always use a headset!
Never do video conferencing using your laptop's microphone and speakers. This setup is unprofessional, because it is likely to trigger Larsen effects and echo effects. The person using the laptop's mic and speakers can not hear the latter, but they annoy everyone else. The best solution is to purchase a proper USB headset for your laptop. In an emergency, turn off your camera, wear earbuds and speak close to the laptop's microphone. Laptop speakers are almost never OK.
1.6. Starting a meeting
When creating a new meeting, there is an option to allow joining before the moderator, enabled by default. (The moderator is the Zoom Pro user who created the meeting, in our case always the person at the time using our one-and-only "Edgeryders" Zoom Pro account.)
When keeping the options at that, no step is necessary to start a meeting – anyone can join at any time using the same "join URL", which is specific for each meeting and would look for example like this: https://zoom.us/j/207791476 . There is not even a need for the moderator to join at all.
When changing that option, the moderator has to join first and only after that other people can join the meeting. This makes sense for webinars and the like.
1.7. Joining a meeting
To join a meeting, you need its meeting ID. That's a 9-digit or 10-digit number that may also come as part of a "Zoom Join URL". Usually, we use our Zoom Pro account's fixed personal meeting ID:
However, if the event's organizer distributed a different meeting ID / Zoom Join URL with the meeting's invitation, use that one of course. And if the personal meeting ID above just does not work, ask the event organizer for the right one because they forgot to distribute it.
There are two main ways to join:
Open the Zoom desktop client yourself, click "Join Meeting" and in field "Meeting I or Personal Link Name" enter the number at the end of the Zoom Join URL. For example 207791476 if the URL is https://zoom.us/j/207791476.

Open the Zoom Join URL (for example https://zoom.us/j/207791476) in your browser and confirm to allow it starting the Zoom desktop client to join the associated meeting.
2. Our setups
A successful videoconference depends crucially on how much care you take of the audio part. This section contains tips and tricks, both technical and organizational, for organizing video conferences.
2.1. "Reading group meeting" setup
In reading group meetings we have a hybrid situation: a physical gathering with 3-8 people, plus some more people joining from remote. We are trying the following:
No video – saves bandwidth, and there is nothing to see anyway.

We share our screen with an on-topic image like the meeting's e-flyer.

Audio-out: at The Reef, we use an AKG C 414 B-TL II professional condenser microphone. Any good quality condenser mic will do. It's important that it is a condenser, because it means that it can pick up with great clarity sound sources at 2-3 meters from the microphone. No need to pass it around, so no disruption to the conversation in the room. The polarity selector on the AKG is set to omnidirectional. The microphone is then placed on the table, or in the middle of the circle where people are going to be discussing. Omnidirectional capacity is also important. A boom is a good idea.

Audio board: we use a Centrance MicPort Pro USB board to connect the mic to the computer. Industry standard for microphones like the AKG dictates they run on 48 V "phantom" power carried by XLR connectors; the MicPort provides that, so all you need is a normal XLR cable to connect your mic to it.

Interaction with remote people is provided by chat and an audio return channel. The chat needs a local MC to "stand watch" to the Zoom application, and tell the room remote people want to speak.

Audio-in is provided by any computer speaker. The laptop's own speaker are not a bad idea: in our tests, they can be turned on at full volume at the same time as the microphone, without any feedback at all and without the remote speaker hearing her own voice echoing back.

It is probably a good idea for the local MC to keep the audio in muted, unless when a person wants to speak. This is to prevent sounds from remote (for example people sitting in cafés) to disturb the local meeting.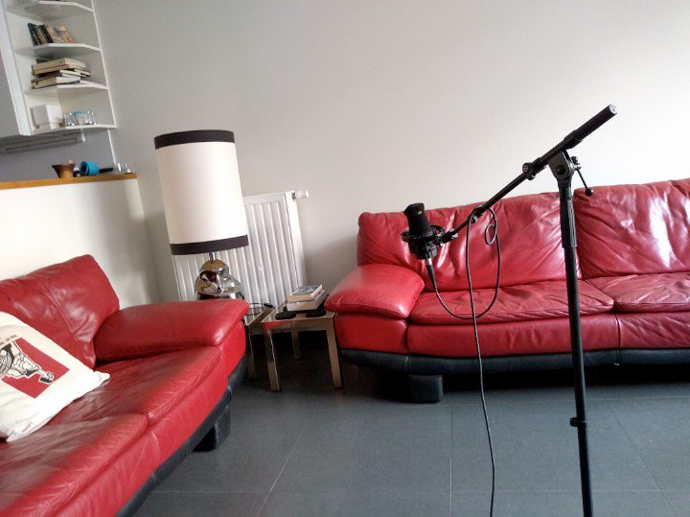 3. Advanced topics
3.1. Remote logout
An attractive feature of Zoom is that, if you inadvertently share in a non-secure location your login data, or if your laptop/phone/tablet with access to Zoom is stolen or lost, you can "force sign out" all devices using your Zoom account. If this happens to you, do the following:
Go to our profile page: https://zoom.us/profile
Click on "Sign Me Out From All Devices"
You are prompted to change your password
Symmetrically, changing your password will sign out the account from all devices.
3.2. End-to-end encryption
A Zoom meeting host can enforce end-to-end encryption of all content of a meeting, which is advisable for sensitive topics. We currently do not have it enabled by default, but could if tests confirm that there are no issues with joining or CPU load for any participant.
To enable it:
In the Zoom account's web interface, go to "My Meeting Settings → Meeting → In Meeting (Basic)".

Enable "End-to-end encryption".
3.3. Viewing upcoming meetings in the desktop client
This allows to see your upcoming Zoom meetings in the "Meetings" tab of your Zoom desktop client software.
For participants (logged into a free Zoom Basic account). Set up the desktop client calendar integration as described in the Zoom Help Center. Then, the Meetings tab of your Zoom desktop client will list all events of the current day to which you have been invited via an invitation sent to your Google Account.
For hosts (logged into our Zoom Pro account). This works automatically because:
"The Meetings tab of your Zoom desktop client will show any Zoom meetings found on your calendar for that day [and] […] any meetings that you have scheduled on your Zoom account, regardless of day."

(source, emphasis ours)
And according to our tests, "meetings that you have scheduled on your Zoom account" includes meetings scheduled with the Zoom browser extensions, as the Zoom browser extension has to be connected to this Zoom Pro account before it can be used. So it will all just work.
3.4. Use with virtual desktops
At least under Linux, the Zoom desktop software has an annoying behavior: whenever switching to a different virtual desktop, the Zoom main window will be minimized into a small 4×3 cm window hovering on top of whatever window you have on the other desktop.
This can be fixed by pinning the main window to all desktops at once. It will then be not automatically minimized, and you can put other windows you work with on top on some desktops, while having it the top window on the desktop you use for the call.
3.5. Useful keyboard shortcuts
Since the toolbar of the Zoom main window will only be active on hover during a call, the most comfortable way to access some functions is by using hotkeys. (You can however change that in the program's accessibility settings screen under "Always show meeting control toolbar".)
The hotkeys are all described in a Zoom support article. The most useful ones are:
Mute / unmute audio. Allows to use Zoom without a headset, as you can just mute yourself except when you speak, which prevents any echo feedback for others.

Alt + A on Windows / Linux

Command ⌘ + Shift + A on Mac

Display / hide the chat window.

Alt + H on Windows / Linux

Command ⌘ + Shift + H on Mac