You will read here what Edgeryders community management is about and how to do it well and consistently. Original writeup by @noemi, and you're welcome to contribute - click on the Edit button below!
Content
---
1. Introduction
Community management in Edgeryders. As of 2020, the Edgeryders community spans over 40 countries and keeps on growing in numbers and diversity: We are at 5600+ members. Most of our interaction happens here, on the edgeryders.eu platform, and collaboration is our engine. That's how we get things done, and to be able to do that effectively there's a need to constantly inspire, help each other and acknowledge our peers' efforts.
We call it community management, although we don't get to "manage" anyone, but we do take responsibility for some processes which I outline below. This is a manual which I hope is useful for any of you thinking of learning key, hands on tools in community building.
Required skills. A genuinely friendly attitude and empathy (see above): that's pretty much all you need to get started in community management. The rest can be learned and you'd be surprised of how intuitive it all is. We're all social beings after all.
What you get out of it. Some of the perks of volunteering to do Edgeryders community management are the following:
You become an expert in online communities and really understand the social dynamics behind them: put that on your resume or on LinkedIn. Plus, Edgeryders the social enterprise or fellow community members can give you a recommendation!

By developing interpersonal relationships with others and evolving into a highly respected member in the community you get to grow your own social capital and a global network

You get to be an empowered online platform user & learn basic Drupal tweaks (beginner level, yet it feels empowering!), but most importantly, you become proficient in online collaboration: a much needed skill in the times we're living.
2. Onboarding
New Edgeryders sign up and step into the space all the time and risk getting lost unless there's someone to show them the way! Automated confirmation and welcoming messages rarely do the job for us, so we very much foster a human approach.
How can you as community manager get in touch with new Edgeryders? You go to their user profile, look for the Message button and write them a direct message which also goes into their email box. Simply say hi and introduce yourself, or tell them about the latest that's happening; it also helps if you make a connection with a topic they seem to be interested in based on their user profile. This is probably the most routine work in the community management, but highly rewarding when it pays off - people stay involved and enjoy being part of a community of like minded peers.
Learn more:
3. Nurture conversations
What this means in a gist is:
Oversupply understanding
Keep a human face and tone
Stay empathetic
Assume the best
Pay attention to what others are saying. This tells the most about who the community members are and what they are interested in. A big part of community management is to read and comment what people are saying, encourage a diversity of voices, and foster a culture of respectful, meaningful interaction.
We don't need to become an automatic voice. Being a community manager doesn't make us robots or call center operators, we're humans with biases and opinions, and different interest levels in different topics and people. You will at some point choose to comment or highlight certain efforts more than others. Same with trolls, you can feed them or not.
On empathy: This gives relationships more chances from the get go. We want to cultivate generous behaviors through listening before making assumptions about why people say certain things (read more). If in doubt, ask for clarifications.
Many community members share common interests and although the platform is designed to increase serendipitous encounters, they can still miss each other. The good thing to do is, whenever you know people are doing similar things, invite them into conversations using @mentions whenever key content could be interesting for them, or directly introduce them to each other on Twitter, Facebook etc… As a community manager, you'll get to know most of people's social handles, so this will come easy to you.
3.1. Synthesize, curate, engage
I don't know if this is part of the professional community manager's job, but Edgeryders is entirely volunteer driven and the more we teach ourselves to work with content aka communicate properly, community managers and not only, the better! Sharing information and latest about what Edgeryders are doing is key, and it can be done mostly through periodic blog posts or platform posts in various relevant projects, and through our mailing list and social media. Communicating and articulating thoughts in writing and also in public/for larger audiences is key to:
Conveying our values, our work, our successes: eg through curation "a form of pattern recognition – pieces of information or insight which over time amount to an implicit point of view" – says one of my favourite writers Maria Popova

Tip: never assume everybody follows what's happening in the community. We need to re-package & summarize content all the time, even if it may seem obsolete.

Gathering and making use of relevant resources online: an additional challenge is to communicate in an engaging style, one that prompts responses and enthusiasm among fellow Edgeryders and triggers collaboration.

Tip: the simplest structure when writing for engagement can be this:

What is the context or perspective from which you are writing the post?

What challenge are you trying to solve/ what do you intend to achieve with the post?

What are the steps to get started?

Call to action: what do you want those reading the post to do? What action should they take in order to support you?
3.2. Organise community calls
Community calls are online gatherings:
facilitated by a host or the community manager.
rigorously documented (preferably this role is extended from community managers to participants).
multiple formats: sometimes they are an introduction to the project, or present opportunity for participants to find out more about the ongoing calls for participation; other times they focus on discussing a good community story and will have as guests the community members who can interact live with others; and other times they will be open work sessions where participants build local events
an opportunity for sourcing new stories, people and projects! if participants are not yet registered on edgeryders.eu, community managers invite them for a one-on-one chat later which will be meant as an informal interview where (a) community managers ask questions and take notes (or record it); (b) help write the story in 1st person; check with participants if it is accurate and can be posted under their name; if needed, we create accounts for them, and they can log in after and change their password; That way, we support people who are just coming into contact with the project to share their story on the platform and answer questions to their story in the comments.
Steps to run a call:
Launch an invitation to join the call in a +New Topic on edgeryders.eu in any of the subforums (Wellbeing in Europe, Internet of Humans, Campfire etc.)
Make sure to include a topic of the call + date + time + place with link where the call is happening (choose a channel like Zoom or other - see below). If there is a registration form, add it.
Send everyone who registers a reminder 1 day before the call.
Facilitate the call - present the agenda; do a round of introductions so that each participant can tell why they are there; moderate a conversation where everyone shares their input with the group
Record the call/ Take notes during the call
End the call with a list of what each person is going to do after - small tasks of 30mins are OK.
Publish the summary of the call and reminder of the tasks agreed
Circulate the summary to get new input into the topic discussed
If needed, rinse and repeat - organise the next call to continue the conversation!
The calls are hosted:
1) on Zoom.
Zoom is an easy to use communication platform and suited to our needs because:
It allows people to respond to our invitation ahead of time, by leaving an email address and name and making it possible to stay in touch before and after the meeting
Requires minimal installation effort: when people click the meeting link to join, it prompts them to install Zoom video meetings on their computer
It hosts more than the maximum 10 people allowed on google hangouts or skype (thanks to our edgeryders annual subscription)
It allows audio, video, chat, screen sharing and moderator options
References:
2) on Edgeryders live room: http://now.edgeryders.eu
Pro tips for hosting healthy conference calls are described in our Distributed collaboration manual - see section here.
To get help with organising a call, contact @Noemi.
3.3. Support for outreach
This is not entirely relevant to community management, but it is useful to learn especially when working with limited resources and when almost everyone involved in maintaining the ER infrastructure needs to step in and help cover the need.
It means we:
share updates through our personal social media accounts. In most active and financially supoorted projects, the updates are provided by the communications team directly to you in a visually friendly format.
for core collaborators: you can get access to official ER social media channels: facebook, twitter and other social media to post relevant updates about what's happening with the community and latest posts. You can also shed a spotlight on something great someone has achieved. Highlighting members' efforts is an advice I've been given a lot (thanks Dorotea!) and we need to get ever better at acknowledging individual efforts. Luckily, a Social Media team is here to help, but not surprisingly, this too needs (re)activation and constant inspiration
4. Platform admin
To be more effective as an online community managers we all need to use our web platform as efficient as possible, meaning we can learn to make use of functionalities which ease the process of getting in touch with others and getting information or updates across.
This goes beyond becoming a proficient platform user (by pinging Edgeryders, creating tasks and other things in our Discourse User Manual), and also involves content editing and content clean-up when needed. Make sure to read our Discourse Admin Manual and the official Discourse Moderation Guide.
If you become an Edgeryders community manager, we'll get you admin powers and make sure someone in the developers' team can give you a crash course in using Discourse platform features.
SPOTLIGHT: Edgesense - a tool for monitoring and intervening
Edgesense is our own tool for social network analysis helping detect emergence. The dashboard allows community managers and anyone interested to monitor network growth in terms of number of users (nodes), relationships (edges) and specialized subcommunities (modularity) over time. You can start by testing it with the interactive tutorial.
Edgesense has been initiated by @Alberto & the Wikitalia team under CATALYST. Read more about it in its own platform group here and about the techs behind it on GitHub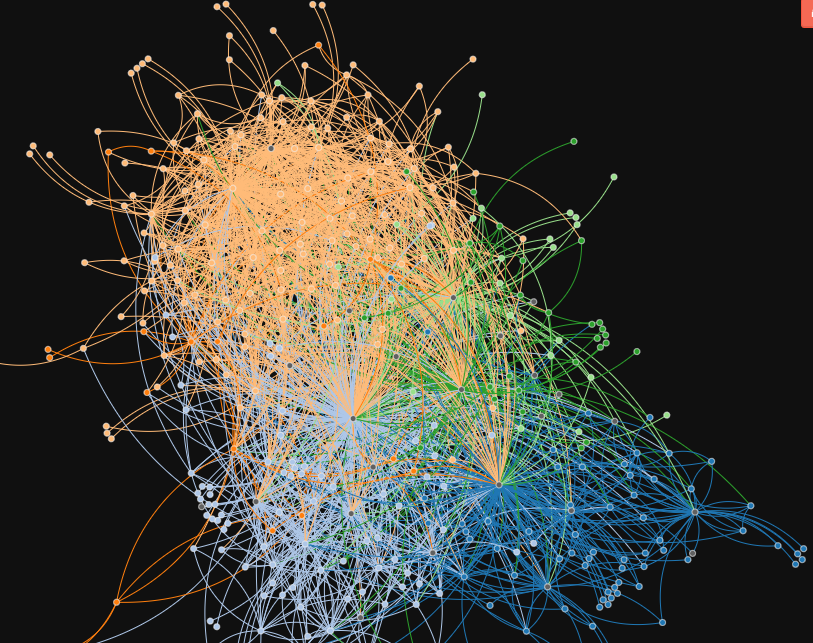 The Edgeryders network on the 8th of July, 2014
5. Further reading
5.1. Edgeryders course materials
The Edgeryders Academy
Starting May 2018, a detailed course on community management is available on the EDGERYDERS ACADEMY. It consists of written lessons and practical exercises for you to become acquainted with what an online community is and how you can immerse yourself in it, as well as community manage it.
We recommend taking on a webinar with Edgeryders lead community managers before taking the course. It will give you a better understanding of what is available and help you make the most out of the online lessons.
Get in touch with noemi at noemi@edgeryders.eu!
Course materials
Here is the full training content (presentations and toolkit) of the Edgeryders course in online community management held by @johncoate and @noemi:
The material comes from the two-day course that we held in December 2017 in Matera for their Matera 2019 Community project, but it will surely be useful in other contexts as well.
Community Workshop: Problems that Arise by @johncoate
From the Community Management Workshop for the POPREBEL project, this set looks at more specific areas of trouble that one should consider.
5.2. Others about online community management
Principles of Cyberspace Innkeeping
A book (full text here) written by the legendary John Coate (a member of Edgeryders too!). Core principles:
The currency is human attention. Work with it. Discourage abuse of it.
You are in the relationship business.
Welcome newcomers. Help them find their place.
Show by example.
Strive to influence and persuade.
Have a big fuse. Never let the bottom drop out.
Use a light touch. Don't be authoritarian.
Affirm people. Encourage them to open up.
Expect ferment. Allow some tumbling.
Don't give in to tyranny by individual or group.
Leave room in the rules for judgment calls.
Encourage personal and professional overlap.
Think "tolerance."
The art of hosting good online conversations
Originally published, 1998, by Howard Rheingold. The article in full can be read here.
A Host is …

A host is like a host at a party. You don't automatically throw a great party by hiring a room and buying some beer. Someone needs to invite an interesting mix of people, greet people at the door, make introductions, start conversations, avert fisticuffs, encourage people to let their hair down and entertain each other.
A host is also an authority. The host is the person who enforces whatever rules there may be, and will therefore be seen by many as a species of law enforcement officer.
A host is also an exemplar. Good hosts model the behavior they want others to emulate: read carefully and post entertainingly, informatively, and economically, acknowledge other people by name, assume good will, assert trust until convinced otherwise , add knowledge, offer help , be slow to anger, apologize when wrong, politely ask for clarification, exercise patience when your temper flares.
A host is also a cybrarian. Good hosts nurture the community memory, pointing newcomers to archives, providing links to related conversations, past and present, hunting down resources to add to the collective pool of knowledge — and teaching others to do it. Well performed voluntary cybrarianship is contagious.
A host can be a character in the show, but the show is collaborative improvisation, with the audience onstage.
All hosts are members of a community of hosts. You can't host communities without communities of hosts.
An Abecedarium For Community Management
By Meg Pickard. Available online here.
Others
5.3. Lessons from our members and projects
An attempt to gather here important reflections from the life of our community:
5.4. Your future "job"?
Community management is definitely among the buzz words in the labour market today, alongside other interesting and similar "jobs" (should we still be interested to think in terms of jobs):
Network weaver: is someone who is aware of the networks around them and explicitly works to make them healthier. They do this by helping people identify their interests and challenges, connecting people strategically where there's potential for mutual benefit, and serving as a catalyst for self-organizing groups. (source)

Catalyst: nurture and care for the company's inner spirit, provoke new ways of thinking, and motivate and inspire

VP of Happiness: keep the people happy, sing to them when they're down (for more funny names see Job Titles of the Future)

Cybrarian: nurture the community memory, pointing newcomers to archives, providing links to related conversations​ (by Howard Rheinghold)
The detailed roles of what you really do on a daily basis are best described by @johncoate in the Edgeryders Academy (see below).
5. Get in touch
If you want to learn more about online community building and want to help Edgeryders thrive, get in touch. Contact me at noemi@edgeryders.eu and I'll be happy to share more things I've learned in the last years, and especially learn many more from you.