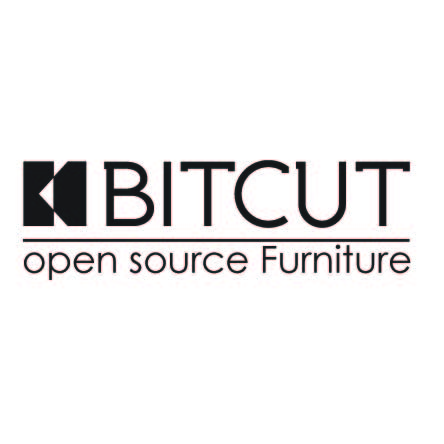 Bitcut – Bitcut is a design lab for open furniture, we believe that open source systems will be the future, so we are building the future of design, based on two young Architects dreams Bitcut was their solution for the qualification and overpricing and shallow design in the Egyptian Furniture market, open source systems is providing a full chain of production begins with (Designs – virtual market – Recycled Material – Client – Producer ) through this model we looking analogy for Bitcoin but on the product design field, having the power form social innovation and common dream to have proper product with feasible price.
We dream that our designs cover all livings spaces needs, in the same time have the interlocking parts property which will the client part of the production-installation chain. sturdy construction makes it the perfect functional unit for the user, finally we aim to target the Arabian-Islamic culture therefore we are looking for an identity signature in the designs as well. maker or hacker. Whether creating a 3D print station or model making lab we are looking for simple-practical design which you can depend on.
[text-direction=rtl]
Bitcutهي منصة مفتوحة المصدر لإنتاج الأثاث. نؤمن أن العوالم مفتوحة المصدر هي المستقبل , على يد مهندسين معماريين مصريين كانت Bitcut هي حلهم لمشاكل لعدم الجودة و السعر المبالغ فيه والتصميات الباردة التي ملأت السوق المصري ، توفر النظم مفتوحة المصدر دورة إنتاج كاملة بداية من ( المصمم – منصة البيع الرقمية – مواد صديقة للبيئة – العميل – والمصنع ) . من خلال هذا التصور نعتبر أنفسنا امتداد لفكرة العملة الرقمية ولكن في مجال تصميم المنتجات . نستمد قوتنا من طاقة الإبداع المجتمعي و الحلم المشترك للجميع للحصول على منتج جيد بسعر مقبول .
نحلم بأن توفر تصميماتنا حلول لجميع فراغات السكن المتاحة .و في نفس الوقت تحمل خصائص التركيب التداخلي (من دون مسامير إلا للضرورة ) كي يكون العميل جزء من عملية التركيب و الإنتاج أيضاً ، الهيكل القوي يوفر فعالية لوحدة الأثاث . أخيراً وبما أننا نوجة تصميماتنا لثقافة العرب والإسلام فسنحاول أن نضع بصمة هوية خلال التصميمات . سواء كنت مصمم أو مستفيد من التصميم . سواء كنت تستخدم نقنية الطباعة ثلاثية الأبعاد أو النماذج المعملية نحن نحاول أن نخرج بتصميم بسيط و عملي يمكنك الإعتماد عليه .
[/text-direction]