A weekly online meetup for Edgeryders everywhere to catch up and scheme ahead over a cup of coffee.
This month's community calls focus almost entirely on getting better at collaborating with one another and ensuring that Living on the Edge: The Stewardship will be meaningful for all attending. It's our major event each year, and it tends to inspire breakthrough ideas like the unMonastery.
On Thursday we'll be going through the current program, tag sessions according to the 3 conference tracks they belong to (stewarding digital assets, physical assets, and communities), see what is missing and who is hosting what, ask each other what else we should be proposing and how can we feel more encouraged to propose a session. Got something to propose on the agenda? Put it in a comment below…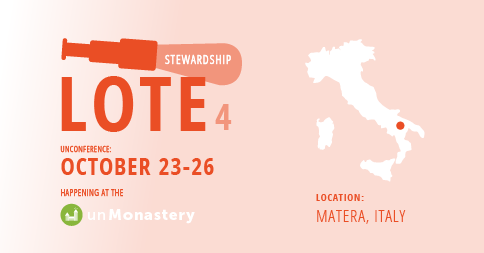 JOIN OUR GOOGLE HANGOUT, starts Thursday the 25th at 11 am, central European time (The hangout can host up to 10 people, so please confirm here if you're joining to manage the space)
Date: 2014-09-25 09:00:00 - 2014-09-25 09:00:00, Europe/Brussels Time.