I have found Counterattack art protest group on Facebook and I've been trying to contact/interview them since the beginning of June but these guys were completely unreachable, ignoring my fb messages and emails (the recent protests are to blame) till I finally got hold of Tatul, an ex-member of the group, who turned out to be a friend of a friend and he introduced me to the members recently.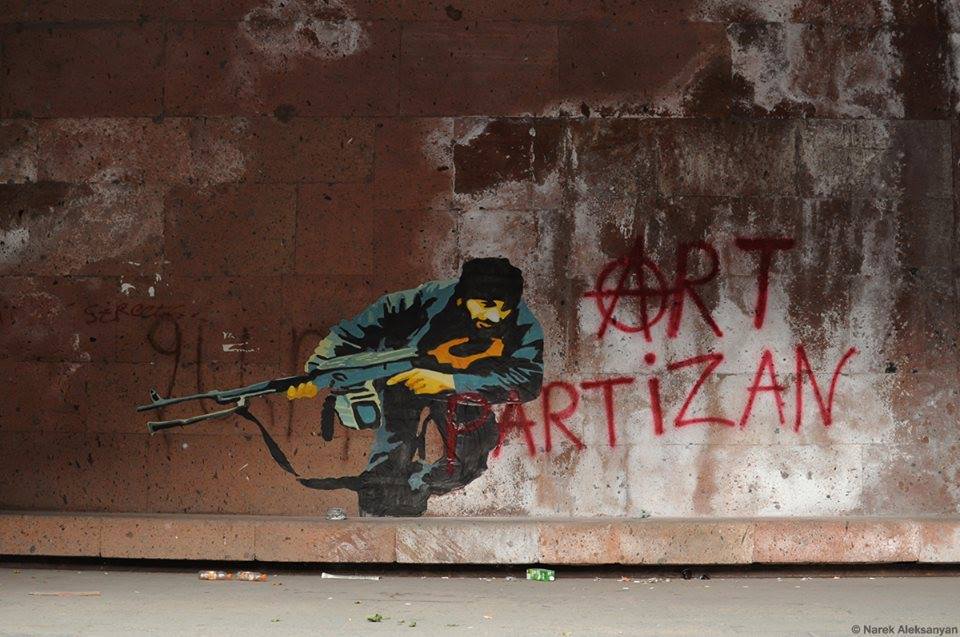 After making several attempts we finally met with Lusine and Herbert (Artak the 3rd member was out of town for an undetermined period) at their art commune Home 45 - a unique art union in Armenia located in a historical building in the center of Yerevan and had a conversation about their project.
Counterattack is an art group that was initially created by 2 artists - activists Herbert Gevorgyan and Tatul Saroyan in 2012 right after their friend and activist Tigran Arakelyan and some others were falsely accused of starting a fight with the police and imprisoned in Yerevan.
This happened in the city center while Tigran and his friends were walking peacefully on the street when the policemen approached them, took them by the Khnko Aper Library where they were beaten by the policemen and then taken to the police station with accusations of assaulting the police.
So the guys prepared a painting representing a police officer beating a citizen and glued that on the wall of the library. Their first works became known thanks to their friends who were journalists and photographers and came to document their art and spread it in the media after which people started calling it street art.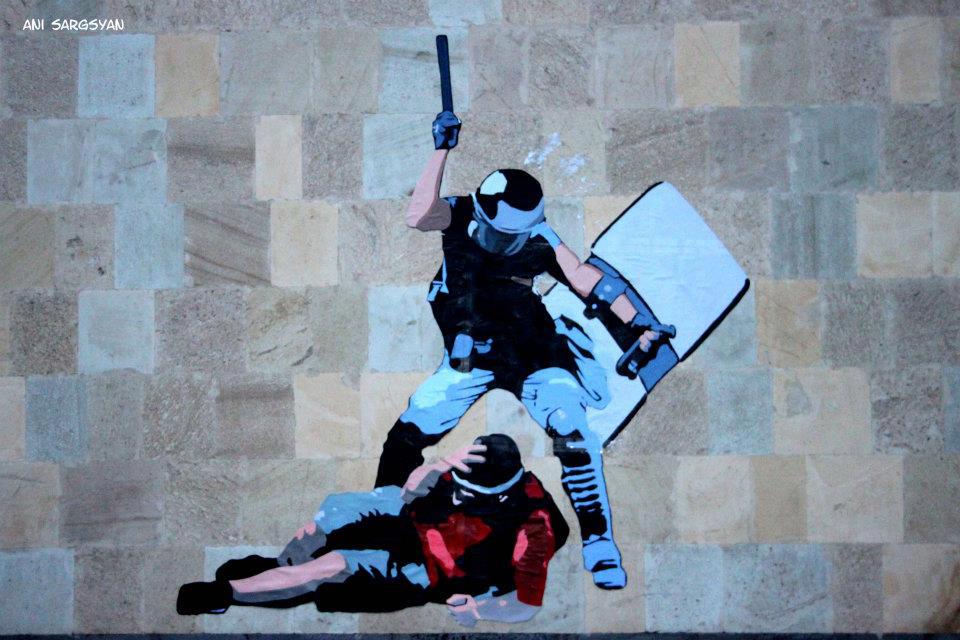 After a month their childhood friend Artak Gevorgyan returned from army service and joint the group and after several months Lusine Hayrapetyan joins them to become the only female member of the group.
Having an artistic background these guys decided to start Counterattack as a way of self-expression to spread awareness about political situation and events in Armenia(both positive and negative). They only use paper, tape, paints and glue made of flour to create and paste their paintings on the walls of buildings. Their works have a short life on the streets as they are removed by the police very quickly(max. 24 hours) but there are always photojournalists documenting the process and the progression, so it reaches media and some public before it is all gone.
Tatul Saroyan is no longer with Counterattack now because he belongs to a political opposition(though he still helps and supports them) and the guys do not want to adhere to any political power whatsoever, so for the moment the group consists of Artak, Herbert and @Lusine.
The boys get arrested regularly while Lusine has always managed to get away, and the boys do everything to protect her as they need her to contact medias and tell their story when they are in the police station. They were charged by numerous cases(mostly disobeying the police order when they are asked to take off their posters from the walls) and attended many hearings in the courts. Usually they end up paying a small fine or getting a warning but they have lots of friends who are activists and have been imprisoned for years, so they never know what can happen to them next time as the police here is good at making false accusations and fabricating evidence.
They are very enthusiastic young people in early 20ies, their parents are also activists(apple doesn't fall far from the tree) and I loved their energy. I was so excited about their project that I even offered my help any time they would need it. Here are the questions they answered:
How you got started and what is your current situation?
"We started with the picture of a policeman beating a citizen on Knko Aper Library wall in Yerevan in 2012 and since then we react on political events that are happening in Armenia with our art works. Of course, when there is action happening, like the protests of ElectricYerevan at Baghramyan ave. we need to be there directly involved and our art takes second place as we mostly create in standstill moments. "
Who's involved: Who is in the team? Roles and responsibilities? Skillsets (what are individual team members good at?)
"We discuss the ideas and realise the works all together. However Lusine is good with languages and she helps us a lot with our texts and slogans. She also takes care of our Facebook page. Herbert is our pro of computing design and Photoshop, while Artak takes care of technical details, like finding the necessary equipment, organisation, logistics."
Any partnerships?
"We do not have any official partnerships, however we have a large community of friends(activists, journalists, photographers, etc) who are always there to help us whenever we need something. When we do not have the money to buy material and we need to create a poster urgently, our friends have always contributed. "
What your main objectives are/why you do this?
"We do this to self-express and to raise awareness of people in Armenia about existing political and social issues in the country mostly caused by the corrupt government. We want people to open their minds and think/act. We want an ideological revolution to happen and the corrupt regime to be toppled in Armenia. "
What you enjoy about the work and what you enjoy less?
"We enjoy every stage of the work process. The most important for us is people's reaction and attention which is mostly positive(there is some negative feedback from people who think we spoil buildings, but our message is more important than some piece of paper that can be easily washed away, though sometimes the police try to destroy the walls to remove the paintings). We enjoy less the technical problems, like when we can not find a projector to print a large poster. But these are all solvable problems."
In the beginning they would say that there is nothing they do not like about their job and I asked how they feel about the police which is always there to destroy their art right after they install it. They said that if the police is involved then their work is a success as it means they disturbed them in way and that is a good thing.
What kinds of tasks do you do on a regular basis? Yearly, monthly, weekly, daily
"We never have a routine and our days are all different. We are following the political events closely every day, meeting and discussing/sharing ideas daily. There is a pattern when we are creating though. We first need to find a projector, then paper(Herbert gets it from the printing house where he works), tape(which is quite costly and we need large amounts) and paints. We save money every month to buy the pains we need, but even if we are short of money, we can always reach out to our friends and they will help and support us any time. Once we get all the materials we start drawing, either at Home 45 or on the rooftop of Armenian Center For Contemporary Experimental Art building.
Once it's done we decide where and when we install the painting. We need a clean smooth wall to paste the paintings on, either in a popular place for people to notice the message or in a strategic point for the government officials to see.
Depending on the circumstances we do it at night if the installation is big and takes longer time to paste and during day time when the action is required urgently, the mission is not too dangerous and we need more people to notice it before it's gone. Generally we need to act very quick and it only takes us a couple of minutes to paste the painting on the wall. "
What, other than money, do you think could help you in your work?
"We definitely need connections with similar art groups from abroad to support and motivate us. Also when we are arrested, it helps a lot when organisations from abroad could interfere or stage a manifestation against our imprisonment as this influences the local police to release us. "
What help could you offer others and under which conditions (assuming no money is involved)?
"We could offer our experience, connections as well as political support , and accommodation at our art residency if needed."
Products or services that you currently produce?
"We react on political events by producing and installing paintings on the walls of the city with political context to raise awareness. Recently we have offered our help for any human rights organisations in Armenia no matter which political party they adhere to, to help with posters and design to make their messages more visible."
How do you go about doing this- what steps are involved? Technologies or processes used?
"No special technologies, except Photoshop and some other software for design."
Costs: What expenses are involved? Who benefits from the work? Who currently supports it, how and why?
"We pay ourselves for the materials, friends help as well. Sometimes we skip a meal or two to be able to buy some paints or tape. Citizens benefit from our work and it gives us a chance to self-express."
Existing alternatives: Who else is doing similar or relevant work/offering similar things- locally and or elsewhere?
"There is Art Lab in Yerevan but their projects are more artistic and have a social context vs ours works which mostly have political context. No one is doing similar stuff in Armenia."
Important players affecting the work? (locally and internationally)
"We love Banksy, Dolk and Voina art group from Russia. Art Lab is one of the most important players locally. "
Long term perspective: any Business or sustainability plan?
"Our perspective is as follows: to keep up what we are doing, work harder and produce more street art, without becoming commercialized and to be true to our ideas and philosophy. "
Transportation and logistics?
"Our friends help us with this. We got a large community of friends who support us. We are based at Home 45 artistic residence that Artak rebuilt with his own hands and which is going to be destroyed any time. We got a crowdfunding campaign going on Indiegogo to save that place. We plan to squat there till they come and take us out forcefully. "
Regulation and policy affecting your work?
"The problem with Armenia is that there are no regulations or policy. Ok there is the constitution which is quite ok and could be nice if it was applied indeed but it is not. So we do not know how to act according to the regulations as there are none and whatever we do can be considered illegal because the laws don't work here."
How about the concepts of Collaboration …and Mutual Support?
"We have hosted Russian anarchist/vegan activists' group that helped us install some of our works recently, it was a great collaboration and experience exchange. We are generally open to new collaborations with similar artistic groups from abroad"