I met Tatul Saroyan during the protests of ElectricYerevan and he was the one who helped me get in touch with the activists from Counterattack, a movement that he co-founded in 2012 but is no longer a member.
On June 23 when it all started after the police attacked the peaceful demonstrators and dispersed the protest, many more people returned on Baghramyan ave. to protest the same evening․ I went there and heard drums playing in the crowd that created a very special atmosphere at the avenue and I could not help admiring this initiative. I noticed Tatul and his friends being quite active during the whole protest (over 2 weeks): they would play music and assist with the logistics of the demonstration (speakers, sound system, etc) every night and I was curious to get to know these guys and find out what their motivation was.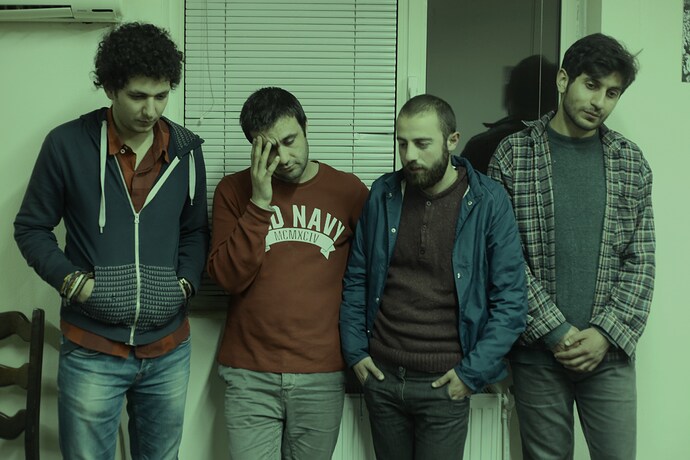 I asked some friends in common and found out the guys are members of the Armenian National Congress - a political party led by the first president of the Republic - Levon Ter-Petrosyan (basically the only real opposition to the current regime). Myself being non-partisan, I did not even consider including Zombies in the FutureMakers project till the day Tatul asked me why I wouldn't consider writing their story to share with our community and then I was like, yeah, but you guys are too politicized and I'm looking for grassroots initiatives!
He then invited me to visit the office of their party to just get to know them better and I decided that their story is indeed worth to be told irrespective of their political affiliations, so I met them all again and interviewed them for about 4 hours (the longest interview I had!).
It was quite a challenge for me to put this all together keeping it simple and comprehensive for someone who does not know the Armenian reality, so I encourage everyone to ask questions if you feel there is a need to clarify certain points made here.
Zombies(Զոմբիներ) is a music band consisting of four members formed in 2013. Their music has elements of Industrial metal, grange and electronic music, but in general it is experimental. Zombies' songs have purely social and political context. The group primarily uses methods of exaggeration to emphasize the negative, raising the social and political issues ( the main targets are the current corrupt regime of the president Serzh Sargsyan, ethnic nationalism and widespread cynicism). Their activity is based on the idea that art does not have to be ahead of politics but on the contrary, it can easily follow a political activism, because there is real potential to solving the issues in a number of major challenges.
How you got started and current situation
"Zombies is a result of the massacre organised by the government after March 1, 2008 elections, when 10 people were shot during the protests and many more wounded. The rock music scene existing in Armenia did not in any way reflect what happened during the protests and in the political scene while all over the world rock music has been a tool for addressing a wide variety of issues that are frequently social or political in emphasis.
Nothing honest existed in the Armenian rock scene - only popular covers, mostly general subjects like love, peace, etc. were the themes of the songs of the rock bands here, so we thought this niche must be taken, and because all the issues were close to us and we actively participated in the protest movement, we decided to get together and be the change.
We consider rock to be the music of protest but in Armenia it was not the case, so after March 1, 2008 together with Herbert we decided to do something to reflect the protest of the Armenian society in a way. We wanted to create a music band but we did not have the funds to buy the equipment, so instead we decided to do it in a form of street art.
In 2013 February @David_Vardanyan came back from army service and together we decided to do music to show our protest against the current oppresive regime by the means of arts and later Sarkis learnt bass guitar and Albert aka Buch joint us. We became friends long before the group was formed as we were all activists and participated in the protests of March 2008 and others and that is how we got acquainted. Each one of us thought about a way to express our protest against the current regime and forming Zombies seemed the right thing to do.
Who's involved: Who is in the team? Roles and responsibilities? Skillsets (what are individual team members good at?) Any partnerships?
"Buch is the only professional musician in the band - pianist, he was an activist participating in the protests and he is also the founder of "The Clocker" band from Vanadzor. Tatul is a professional artist but previously he was also a member of Ajap Skandal - a punk rock group where he played drums/percussion.
Tatul Saroyan - Vocals, mixing
David Vardanyan - Solo guitar
Sargis Gevorgyan - bass guitar
Albert Isahakyan aka Buch- drums, percussion
For several months after we got together we were discussing the concept of Zombies and what kind of music we want to play. Only after we started creating the music and lyrics.Everyone is involved equally and we try to reach consensus for all of the decisions that we make. Partnerships with The Clocker band from Vanadzor. We use the party office as a space to rehearse."
Hypothesis guiding the work: "I believe that to achieve x, we need to do y, through z"
"We need to be improving ourselves to have a better quality of the product - the music we create. Except Buch we are all self-taught musicians and we always feel the need to progress and improve.
We also plan to open a music school for teenagers and youth with the purpose of contributing to the formation of the field of music in Armenia which will reflect and respond to the political and social realities in the country. The school will be specialized in teaching and sharing information about Armenian and international music history, mastering(mixing - which is not taught anywhere in Armenia yet), programs for writing music on the computer, montage and videography, as well as drums/percussion, guitar, vocals, etc. The school is going to be a platform for information exchange where young people could come and learn about music history and theory as well as have space to create their own music. The participation will be completely free of charge which means we need to look for an alternative way to be sustainable.
Sargis has a space that we have been refurbishing in order to use for this purpose and we hope to get some funding to finish it. We may also do some crowdfunding but we have never done this before so we would need some professional help to start."
What your main objectives are/why you do this?
"We want to raise social awareness about the political issues Armenia is facing nowadays. There is an overall apathy and philistinism prevailing in our society so we want people to stand up and fight for their rights and to topple the corrupt oppressive regime we live in".
What you enjoy about the work and what you enjoy less?
"We like the creation process, discussing the topics of the songs, the lyrics. We like the fact that we stand out and there is no one else doing something similar. No matter how hard it is and we are all different we always arrive to a consensus.
We lack resources, which is a fact but we can deal with it and find solutions. "
What kinds of tasks do you do on a regular basis? Yearly, monthly, weekly, daily
"We do not meet regularly, Albert is not always in town as he is from Vanadzor, we have rehearsals at our party office, so we can only rehearse at certain times as during the day there are meetings held and at nighttime it is impossible to play loud music. Currently we all have full or part time jobs, but the main reason we do not meet regularly is because we do not have space to meet up during the day and at night the neighbors are a problem so we can not rehearse. In order to prepare for special concerts and gigs we need to hire a space to rehearse and pay for it.
We normally manage to have the rehearsals between the meetings and before the nighttime at the party office. We follow closely the social and political events in Armenia on daily basis and discuss them whenever we get together. "
What, other than money, do you think could help you in your work?
"We would like to exchange experience with similar projects abroad. We would also like to have gigs in the regions of Armenia and other CIS countries. We definitely need more quality equipment.
We would appreciate any help or tips from Edgeryders community members who have any experience in writing grants, getting funding as we have never done this before. "
What help could you offer others and under which conditions (assuming no money is involved)?
"We can share experience, equipment, mix music and teach music. "
How do you go about doing this- what steps are involved? Technologies or processes used?
"We normally record at Tatul's place or in the office. All the lyrics are written on the basis of consensus. We use exaggeration in our lyrics to showcase the social and political problems in our society and to protest against it.
To record songs we use Cubace and Waves which are not licensed but hacked, we record the instruments separately then we mix it. "
Costs: What expenses are involved? Who benefits from the work? Who currently supports it, how and why?
The expenses involve the equipment, rehearsal space, we are still paying for the equipment that we took with a credit from bank. People who do not accept the reality of the regime benefit from our work, as well as activists. Armenian National Congress supports us(sometimes even financially) so do our fans on our Facebook page.
Existing alternatives: Who else is doing similar or relevant work/offering similar things- locally and or elsewhere?
"Nothing really in Armenia, except Jrimurmurner, LSD band and Lav Eli band's Mher Manoukyan to some extent - we do collaborations and plan to work with them in the future."
Important players affecting the work? (locally and internationally)
"No one locally really. Internationally I'd say Rage against the Machine, Pantera, Does it offend you, yeah?, etc"
Long term perspective: any Business or sustainability plan?
"Our perspective is to form a base of protest music in Armenia. We want to establish a platform where people interested in music can gather and create projects around protest music to echo the events in the political and social spheres in Armenia.
We want to get better at what we do, learn and share more, find means to invite more professionals to use their knowledge.We always want to stay actual and reflect the problems in our society."
Regulation and policy affecting this
"We can not use public/social spaces like have a gig in a park or broadcast on TV. There is no law against it but they will just not let us do that. Overall the laws don't work in Armenia and that is the main problem. We know we can never be broadcast on mainstream media which is completely owned by the state. "
What do you believe are the most important projects that are relevant to the work you are doing at this moment?(locally and internationally)
"Locally there is Art Laboratory and Counterattack groups that do relevant work. I'd name Rage against the Machine on the international level. "
How about the concepts of Collaboration …and Mutual Support?
"The only way to change something in this reality is to support each other and collaborate."